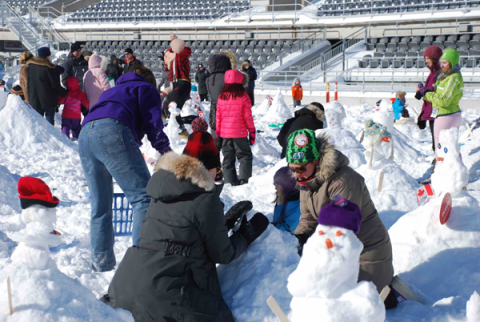 Building snowmen is usually considered kids' stuff, but over 1,200 participants — adults and kids — united on the snowy field at Ottawa's TD Place Stadium recently to beat a Guinness world record and raise $9,000 for eight local mental health charities in the process.
Organized as part of the city's Cracking-Up Comedy Festival, a volunteer-run festival founded 11 years ago to highlight mental health issues, the Feb. 1 event saw 1,299 snowmen built in one hour in Lansdowne Park. The ultimately successful attempt to set a new Guinness world record bested the previous one of 1,279 set in Salt Lake City, Utah, back in 2011.
"We built 1299 snowmen as per our officials, but we will still need to send our footage off to Guinness for the official record to be ours," Marcy Galipeau, publicist for the event, told Samaritanmag in an email.
Twenty teams who pre-registered online were able to choose the community partner they wanted to support. Proceeds from the event will be directed to seven charities, among them the Amethyst Women's Addiction Centre (which aids "diverse" and "marginalized" women in the Ottawa area), The Royal (an organization that treats patients with complex or resistant mental illnesses), Partners for Mental Health (which advocates for improved mental health nationwide), the Wabano Centre for Mental Health (dedicated to supporting the aboriginal community of Ottawa), Do It For Daron (an advocacy group for teen mental health issues inspired by the 2010 suicide of teen Daron Richardson), the Dave Smith Youth Treatment Centre (which involves family in the treatment of addicted youth), the Youth Services Bureau (which aids high-risk youth) and the Causeway Foundation (whose original mission of finding employment for the mentally ill has expanded over the years).
The Salvation Army received donated mittens, hats, and scarves used to decorate some of the snowmen.
CBC broadcaster Ricker Mercer was also on hand to encourage the crowd and help count the end results. Coverage of the event will appear on a future episode of the Rick Mercer Report.
The Cracking-Up Comedy Festival — which staged one show a night over six nights (Feb. 3 to 7) — also raised money for the aforementioned organizations via ticket sales. Galipeau says the figure from the festival overall won't be known for a few weeks. 
Supreme