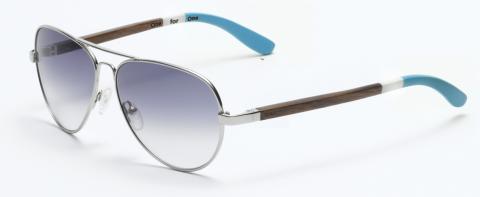 TOMS Shoes, the One for One company that for the past eight years has been donating one pair of shoes to a child in need for every pair it sells, is now doing a similar thing with its brand new Italian-made eyewear collection.
Available beginning March 15 at TOMS.ca and select retailers across Canada (Holt Renfrew, Little Burgundy, Over The Rainbow and Stance), the line is priced between $140-$150.
Continuing its One for One concept, when one person buys TOMS eyewear, one person is helped. TOMS will help give sight to people in need through medical treatment, prescription eyeglasses and sight-saving surgery, administered by its first sight giving partner, Seva Foundation.
Started in 1978 by World Health Organization's Dr. Larry Brilliant (now the president of Skoll Global Threats Fund), Seva is an international non-profit that fights blindness and poverty.
Working in Asia, Africa, and Latin America, Seva-supported programs and partners have helped nearly 3 million blind people to see again through affordable cataract surgeries. The organization has reduced the cost of restoring eyesight to just $50.
Seva also works on health projects in Native American communities throughout the United States, particularly on rebuilding diabetes-free communities.
TOMS will also be introducing new styles of footwear for spring, made out of burlap, rope soles, perforated canvas and chambray, in different colours and patterns, women's lilac wisett desert botas ($85), corbel wedges ($80), men's chambray alarco desert botas ($85), men's ade seasonal classics ($65), youth cruz seasonal classics ($45), youth natural burlap bimini ($45), and kids tiny red clea seasonal classics ($35) and tiny Marley botas ($40).
Summer styles include women's strappy wedges, available in six different colours.
Since TOMS started in 2006, founder Blake Mycoskie has give more than one million pairs of new shoes to children in need through Giving Partners. The American traveler was inspired to start the company after he befriended children in Argentina and discovered they had no shoes to protect their feet. Later that year, thanks to TOMS customers, he returned to Argentina with a group of family, friends and staff -- and 10,000 pairs of shoes.
On April 10,  TOMS will host the 5th annual One Day Without Shoes. The company will challenge people worldwide to go a day without shoes in order to raise awareness for the millions of children who go without shoes every day.
Kopačky na fotbal