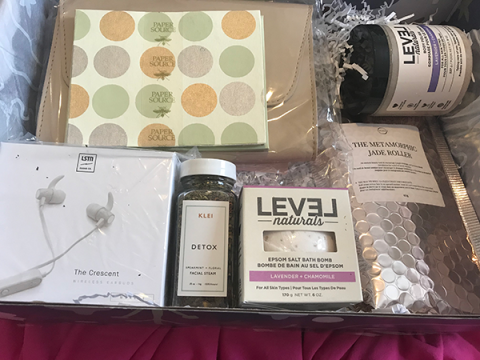 There are many thriving subscription boxes for women. Some, like Fat Fit Fun and Karma Box, donate a portion of their proceeds to a selected charity, but California company Causebox are double-do-gooders — donating to charities and ensuring every product in its lifestyle box is socially conscious.
Co-founded by Matt Richardson and Brett McCollum, the products could have a specific charity attached, but all of them are perhaps environmentally-friendly, cruelty-free or made by artisans in a developing country to help provide a fairtrade wage.
Described on its web site as "a seasonal delivery of 6-8 hand-curated products for women, every product in CauseBox has a story and makes the world better."  
Subscriptions are $49.95 (USD) quarterly or $54.95 for a one-time purchase; they place the overall value of each box at no less than $200.
The spring box is available for order now, but Samaritanmag got the winter welcome box to see what kinds of items are included – and why.  
While some of the selections aren't as obvious in their socially conscious message, one can read their stories in the accompanying booklet to find out more.
"We don't just send a box full of products and let you figure out what they are and why we chose them," it says on their web site's "about" page. "Our editorial team digs in deep and talks to the founders of our partnering companies - we get the nitty gritty. We tell you why a brand gives back, who they are directly impacting, and where their products are made - and we publish it all in a beautiful magazine that comes in each box. Because, transparency matters."
The Paper Source handmade stationary, for example, "are handmade and printed by artisans in India on paper that is made of recycled cotton scraps." Something we wouldn't know by looking at it.
Likewise, Klei Beauty's at-home steam facial in a small glass bottle looks is a blend of flowers and herbs. Founded by Valerie Smith, the booklet states that "conservation is an integral part of her mission," so she uses food grade and biodegradable ingredients. "good for people and the environment." 
One particularly cool inclusion was the LSTN's wireless bluetooth earbuds ($100 USD value), co-founded by former music exec Bridget Hilton. For every set sold, LSTN donates to The Starkey Hearing Foundation, which "gives the gift of hearing to people in need in the U.S. and around the world."
On Cause Box's "about page," is adds, "We don't just support brands that give back. We also give back.
"We partner with and serve different charities to help them raise funds, reach more people, and tell their stories of empowerment and impact," followed by a list of some of the charities the company has supported: Freedom Firm, which rescues those in the child sex trade; Speak Your Silence, which helps those affected by sexual assault and abuse; The Jessie Reese Foundation, encouraging kids to fight cancer; Trees for the Future to help end hunger and poverty in sub-Saharan Africa; and the self-explanatory Books for Africa.
"We tell you why a brand gives back, who they are directly impacting, and where their products are made - and we publish it all in a beautiful magazine that comes in each box. Because, transparency matters."
(Please support Samaritanmag's original journalism by making a PayPal contribution or EMT transfer using  info@samaritanmag.com so we can increase the amount of content and writers we hire. Samaritanmag is the anti-tabloid, covering good people trying to change bad things. Let's make this thing bigger than TMZ.)
Nike Air Force 1 07 White Bicycle Yellow White AH0287-106 – Buy Best Price Adidas&Nike Sport Sneakers