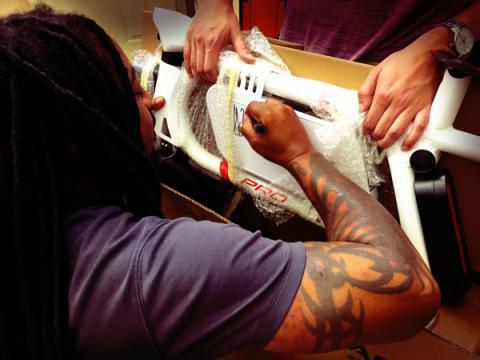 The new "Giving Is Swag" promotional campaign from light electronic vehicle maker Swagtron will be supporting the charitable Toys For Tots program
Until Dec. 31, 2019, the hoverboard, e-scooter and electric bike maker will donate five percent from any purchase made in the U.S. using the "Giving-Is-Swag" discount code to Toys For Tots, up to a total of $10,000 USD ($13,210 CAD).
Started in 1947 and operated by the U.S. Marine Corps Reserve, Toys For Tots collects and distributes toys, books and other gifts to disadvantaged children during the Christmas holiday season. According to Toys For Tots, last year they provided gifts for seven million children in more than 800 different communities. The organization estimates it's given gifts to more than 251 million children since its inception.

"We wanted a way to give back to kids that was in line with the spirit of the brand," said Jason Wakefield, Swagtron CMO, in a statement. "And I can't think of a better way than teaming up with a world-class organization like Toys For Tots and some legendary friends to spread some swag this holiday season."
Wakefield's "legendary friends" include musicians and extreme athletes and personalities who've leant their support to the campaign. Swagtron and Scott Stapp of Creed's With Arms Wide Open Foundation enlisted the likes of Sid Wilson of Slipknot, New Kids On The Block, Five Finger Death Punch, Sevendust, Shinedown, Papa Roach, Three Days Grace and more to autograph a number of Swagcycle Pro electric scooters which will be given away as part of a contest to help promote Giving Is Swag.
"I've been a big fan of Swagtron since I first threw a leg over a Swagcycle," said Stapp in a statement. "And when I found out they were working to give back to kids, it was something close to my heart. I was happy to help."
Added Wakefield, "We're beyond ecstatic to have support for this cause from so many world-class musicians and athletes. Once word started spreading in the music community, it really took on a life of its own. It's been an incredibly humbling experience."
Watch a video about Toys For Tots
Nike