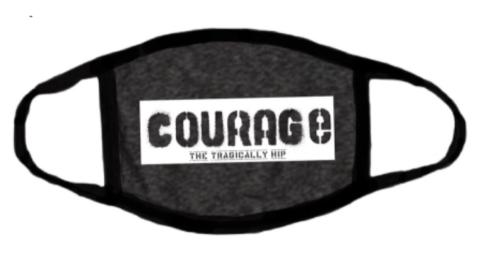 The Tragically Hip's Courage face mask is still for sale, but the rock band is already donating a good chunk of money from the sales to Unison Benevolent Fund, which provides emergency financial aid and counselling services to the Canadian music community.
In a joint press statement, the band said, "We want to thank to all of you who have bought Courage masks to support the Unison Benevolent Fund. With your help, we have raised over $40,000 so far to provide ongoing emergency financial relief for musicians and crew members during the COVID pandemic. Until we are through this, please continue to follow the guidance of public health officials. Stay safe, wear a mask and continue to support the Unison Benevolent Fund."
The reusable non-medial cloth masks are still available for purchase for $15.
"Courage (for Hugh MacLennan)" is the name of a song from The Tragically Hip's 1992 album Fully Completely. The song took on new meaning when frontman Gord Downie went public with his brain cancer diagnosis in 2016, and proceeded to tour and help shed light on the treatment of Indigenous Peoples in Canada and the need for reconciliation. He died in October 2017 at the age of 53.