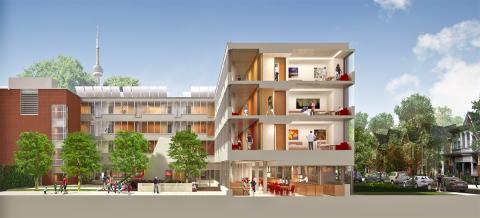 , for families to stay close to their hospitalized child, is expanding. Although more than 10,000 Canadian and international families annually require the services of the dozen Ronald McDonald Houses across Canada, demand is constantly outweighing supply.
"Upwards of 70 percent of the families that turn to us for help, we are not able to help," says Judy MacGowan, Ronald McDonald House Toronto's director of development, speaking specifically about her location. "So now we are tripling our size, from a 28-bedroom facility to a 96-bedroom facility that will support 81 families." 
The story is similar throughout Canada, as the majority of Ronald McDonald Houses in major Canadian city centres — Vancouver, BC; Edmonton AB; Calgary, AB; Saskatoon, SK; Winnipeg, MB; London, ON; Hamilton, ON; Ottawa, ON; Montreal, QC; Quebec City, QC and Halifax, NS — all have waiting lists ranging from 25 families to more than 1000.
That's all about to change. By the time 2014 rolls around, Ronald McDonald House Charities will have completed expansion plans  — some through remodeling, others through new buildings — to increase the 217 rooms they currently have across Canada to 478. Brand new Ronald McDonald Houses, currently under construction in Red Deer, AB and St. John's, NL, will increase the number of facilities to 14. 
The first Ronald McDonald House to open outside the United States was in Toronto in 1981 on Gerard Street. That will close when the new $32.5 million building, currently under construction on McCaul Street, open its doors in November.
MacGowan can't wait.
"With the new location, we anticipate that we will be able to help a lot more families and greatly alleviate our waiting list," she says.
With each location independently owned and operated, the mandate of a Ronald McDonald House is to provide a home away from home for families whose seriously ill or injured child suddenly needs treatment that requires immediate travel. Working in partnership with nearby hospitals, Ronald McDonald House is a haven for those who have to drop everything to tend to their child. Worldwide, Ronald McDonald House Charities has chapters in 52 countries.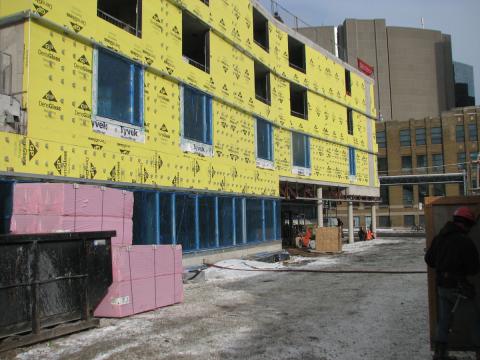 "It's very uprooting," notes MacGowan, who says qualifying families are recommended by hospital referral. "A family may go for an annual checkup, and the next thing they know they're being airlifted to Toronto. They come with nothing. They come with the intention of doing everything they can to help their child.
"Many are coming from Ontario, some from across Canada, some are international families, so they've been completely unfamiliar in their surroundings, and they find themselves in a big city and they feel fortunate to receive the care from the world-renown Sick Kids and Mount Sinai. They leave everything they know, so families often say that when they walk in the Ronald McDonald House doors, they felt like they're coming home."
Although families are expected to provide their own groceries, Ronald McDonald House provides all the remaining amenities: a bedroom, bathroom, kitchenette, laundry facilities, a computer, Internet access, big screen TVs and DVDs.
Welcoming families with children up to the age of 18, Ronald McDonald House also provides schooling as accredited by the Ministry of Education and a number of programs, like Paws At Work, Scrapbooking and Home For Dinner. In Toronto, a donated Subaru is available for excursions to the grocery store, or to drive families to the airport.
House capacities range from 13 bedrooms (Vancouver, also slated for expansion to 60, and Saskatoon), to 50 in Montreal (able to handle 1068 families yearly.)
The average stay of each family varies anywhere from six days to 9 months, although Toronto's MacGowan remembers meeting a family who had spent two years at the Toronto House.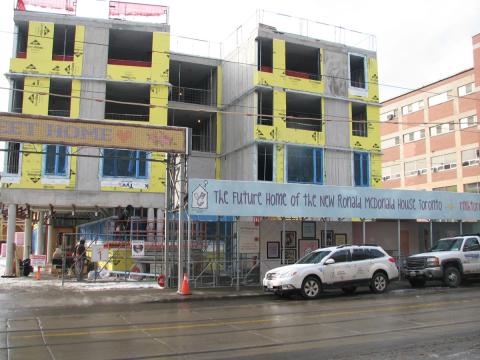 In exchange for accommodation, families are also asked to contribute $10 to $15 per day to what, in Toronto, is estimated at $175 per day. If they can't afford it, however, MacGowan says families aren't turned away.
Much of the funding comes from corporate and individual donors. While Ronald McDonald House Charities has its administrative and operating costs fully underwritten by McDonald's Corporation of Canada, each House still relies on the generosity of others for its survival.
"We are very fortunate to have the incredible support of both the McDonald's Restaurants of Canada as well as Ronald McDonald House Charities," says Toronto's MacGowan. "We do have a significant need to fundraise in the broader community, and we're very fortunate to have individual corporations and foundations and supporters, helping us raise about 80% of the funds we need to operate annually."
Although the Toronto chapter, which employs a full-time staff of 19 and appreciates the efforts of 250 volunteers, hosts a number of fundraising activities, including the upcoming 2011 RMH Toronto Golf Charity Classic on August 15 at Coppinwood Golf Club, their corporate parent's largesse extends far beyond its annual promised commitment.
Since January 2004, McDonald's and its owner/operators have raised $33 million alone by donating $.10 from the sale of each Happy Meal; have hosted an annual McHappy Day; collect public donations from boxes placed at their restaurants and have volunteered hundreds of thousands of hours at local Ronald McDonald Houses.
Ronald McDonald House Charities Canada has also awarded $67 million in grants since its inception in 1982, to the Ronald McDonald Houses, Ronald McDonald Family Rooms and other local children's charities.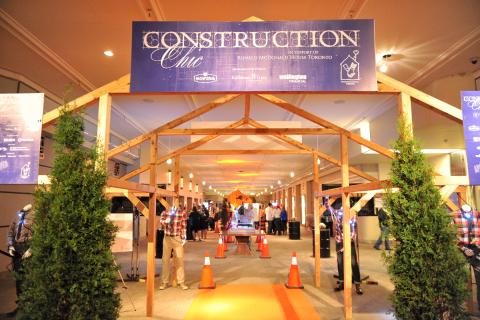 Currently there are three Ronald McDonald Rooms, located within partner hospitals (McMaster Hospital in Hamilton, ON; one in Winnipeg's Children's Hospital in Winnipeg, MN and another in Halifax, NS) that provide private and calming environments just moments away from the hustle-and-bustle of hospital intensive-care units and equally intense medical activities.
Open from 9 a.m. to 9 p.m. daily — and available to anyone with a patient at a Children's Hospital — each Ronald McDonald Room offers a large living room with a TV, children's play area, laundry facilities, computer and Internet access, bathroom with a shower, and a full kitchen.
Sleeping rooms at Ronald McDonald Room are also available to families in Pediatric Intensive Care Unit (PICU), Neonatal Intensive Care Unit (NICU) and other areas of a Children's Hospital if space permits, signed out on a nightly basis and reserved for families with the most pressing need.
Two more Ronald McDonald Rooms are slated to open in 2011 in Moncton, NB and London, ON.
As for the new Toronto Ronald McDonald House — partially funded by the Ontario government with a $9 million grant and the Feds throwing in another $8.7 million — the McCaul Street location will offer a first: 15 two-bedroom suites.
"Those are for long-term families who are staying with us," MacGowan explains. "This provides families with a little more privacy."
Judy MacGowan, who has been with the charity for 10 years, says that one of the most positive developments of those who stay at a Ronald McDonald House is the strong sense of community.
"In what we all know about Ronald McDonald Houses across Canada, is that we are all about keeping families together when they're going through a nightmare," she explains.  "And what is consistent across the board, no matter what it is what they're going through, parents do everything they can to fight for their kids.
"They will give up everything they can to be here and support them. And when they do find themselves here, what is so incredibly special is the magic that happens in this house: families become a community of support for one another.  Somebody might be having a tough day, and you know another family is going to give a smile, give a hug and they're going to help them get through that; everybody understands what each other is going through.
"They know that Ronald McDonald House is here for them. They can get up the next morning, well rested, and continue their fight to support their kid.  We make a difference and we can never do enough to support our families," says MacGowan.
NIKE AIR HUARACHE