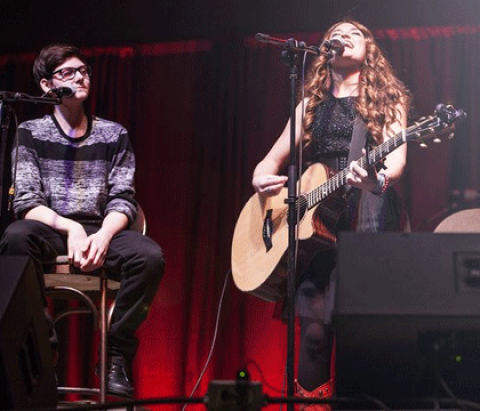 Nineteen-year-old Albertan country singer Tenille has been "playing it forward" for a number of years now, knowing there are many kids that don't have it as good as she may. Her annual fundraiser, Big Hearts For Big Kids, has raised $350,000 so far for Sunrise House, a youth shelter in her hometown of Grande Prairie.
"After hearing about Sunrise House and the work they do for people in our community, I was shocked at reading statistics at how many kids my age, from 12 to 17, were turning to this shelter and sleeping in those beds every night," Tenille — who doesn't use her last name Nadkrynechny professionally — tells Samaritanmag. "This was in my own community and neighborhood, kids who were in my hallways at school. It really hit home, the realities for people right in my area, and I wanted to be able to do something."
In 2010, upon hearing the shelter was close to closing down due to lack of funds, Tenille sprang into action. "I called up some musician friends, typed out a sponsor letter and went door to door to local businesses," she recalls. "So many people said yes to participating in a concert fundraiser. We wanted to use a passion for music to bring people together and help out people in our own community."
That inaugural concert raised $30,000, enough to help keep the shelter operating. Subsequent Big Hearts For Big Kids fundraisers have been even more successful. "I'm proud to say that in the last four years we've taken a large step in raising awareness about Sunrise House, gaining government involvement, and helping to renovate and re-staff it," Tenille says. "It has been life-changing, watching people come together to make that happen."
Helping Tenille reach the formidable figure of $350k has been a Who's Who of Canadian country music. The latest Big Hearts concert (in Feb.2013) featured such artists as Deric Ruttan, Victoria Banks, Jason McCoy, and Sean Hogan, raising $160,000, while earlier events attracted the likes of Michelle Wright, Aaron Pritchett, Hey Romeo, Duane Steele, and Jason Blaine.
Described as a youth emergency shelter, Sunrise House is operated by the Grande Prairie Youth Emergency Shelter Society (GPYESS) and its mission "to provide safe, temporary emergency shelter for youth ages 12-17," according to its web site.
Tenille's other charity work has included visits to Ronald McDonald houses and a close association with the Tim Horton's Children's Foundation, which provides a camp environment for children from economically disadvantaged homes.
"I absolutely loved my experience at their kids camp," she says. "I loved watching the kids come to this camp for 10 days and observing the change in them. It is great to be part of the Foundation. I have a song dedicated to them for download, 'Dare To Be,' with all the proceeds going to helping send more kids to camp. We also get to visit a lot of the schools associated with the Foundation."
Another Tenille song to have had a tangible charity-boosting effect is "Home Now," from her 2011 debut, Real. "It was written in dedication to those serving overseas and those left at home," she explains. "I wrote it from the perspective of a little girl whose father went abroad. The proceeds of that song from iTunes downloads went to the Wounded Warriors project."
She gave further support to Wounded Warriors Canada by participating in their event at Nipawin, Saskatchewan last year. "That was incredible, seeing and hearing about their personal struggles," she recalls. "There were some heartbreaking stories but it was great to watch the veterans have fun and enjoy the music. The fishing was fun too," Tenille adds with a laugh.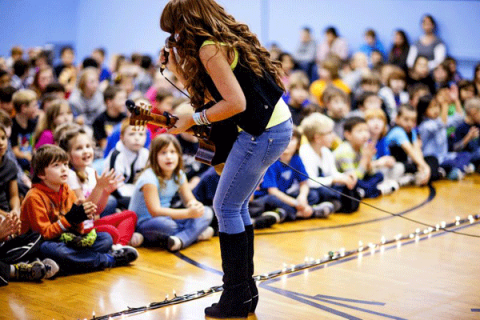 The teen's commitment to charity and worthy causes was recognised by her peers at the 2012 Canadian Country Music Association (CCMA) Awards in Saskatoon. There, Tenille became the youngest-ever recipient of the prestigious Slaight Music Humanitarian Award. "That was an incredible honour because this is an industry built on people who are very much involved with doing incredible things that make our world a better place," she says. "To be recognised amongst those kind-hearted peers was almost overwhelming." Tenille says her acceptance speech was  "filled with many tears and nerves. It was quite a moment."
Tenille's trophy case is filling rapidly. In 2011 and 2012 she won the Alberta Country Music Association's Award for Female Artist of the Year, also scoring the Fan's Choice Award in 2012. Last year she was also recognized by the Grande Prairie & District Chamber of Commerce with their Business Excellence Award for Young Entrepreneur of the Year.
In March 2013, Tenille released her second full-length album, Light. Unlike some young country singers, she writes much of her own material. Her charitable work has already had a strong effect on her songwriting, she explains. "Just being able to experience these things and watch how they do make changes and have impacts, it is easy to write about the emotions associated with that."
Tenille is now in the middle of an extensive cross-Canada tour, one she terms the Play It Forward tour. On her website, she explains its origin. "Play It Forward is one of the first projects my company is launching to inspire youth to do what they do best: play. And then, Play It Forward. My vision is for Play It Forward to travel across Canada reaching youth to show them the power of an opportunity."
A driving force behind the tour is the encouragement of leadership qualities in youth. In the middle of her hour-long performance at each school she visits, Tenille presents prizes to three students selected by teachers and administrative staff as showing leadership. Each leader receives $75 to be played forward to their school however they see fit. Then, at the end of her Canadian tour, a mass draw will be held in which one of these students will get a $10,000 prize package.
"The chosen leader will give $5,000 to a charity of their choice that they are passionate about," Tenille says. "The other $5,000 will go to an initiative or a program they get to create that keeps that Play it Forward spirit going." The $10,000 prize comes from an anonymous donor and will be administered by The Greater Community Foundation of the Grande Prairie area.
"We ask kids to name some qualities they think a great leader has. One that is always consistent is helping others or being kind to those around you," she says. "It is neat that they are aware that is such a necessary value in their lives, to know they have the potential to make an impact with kindness. We do give examples of things they can do within their own school and community."
The Play It Forward tour premiered in Alberta last October, covering 29 schools and over 10,000 students. B.C. followed this March, and then Saskatchewan, Manitoba and currently Ontario (through to early June). Plans call for a Maritimes tour in the fall. Such corporate sponsors as Tim Horton's and Petro-Canada help offset the costs of touring, while Tenille also recently launched a crowdfunding-style campaign through Alberta BoostR to help cover expenses. "We are at about 35 per cent of our goal of $9,100, so we are excited about that," she says.
Tenille is determined to keep trying to affect people positively through music. "I believe music is really powerful in the way it brings people together. It's an awesome platform for sharing messages and connecting and talking about things that are relatable to people everywhere. Music shows people that they are never alone, but that we are all going through similar emotions and experiences. I love that about music."
Ανδρικά Nike