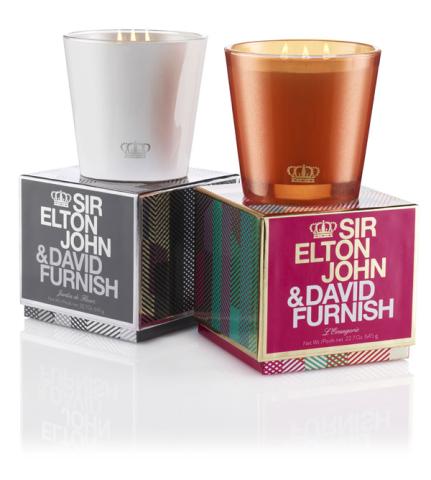 Sir Elton John and husband, Toronto native David Furnish, have teamed up with Canada's luxury department store chain Holt Renfrew and leading American home fragrance company NEST to create two limited edition, exclusive scented candles to benefit the Elton John AIDS Foundation.
Holt Renfrew's goal is to raise $100,000 for the Foundation through the sale of the $50 candles.
"David and I were thrilled when Holt Renfrew invited the Elton John AIDS Foundation to participate in their growing charitable initiative program, which connects customers to charities through fashion and builds awareness for great causes," Sir Elton said in a press statement for Holt Renfrew.
The candles are available in two scents, the floral Jardin de Fleurs and citrus-based L'Orangerie. They are set in white or orange glass vessels and elegantly packaged with the couple's name on the outside.  
The three-wick candles from which a portion of the proceeds go to the Foundation are currently on sale online at holtrenfrew.com and in Holt Renfrew's nine stores across Canada, starting Sept. 8. 
The famed singer-pianist, who is in town to headline the final Fashion Cares HIV/AIDS fundraiser on Sept. 9, will make a public appearance at Holt Renfrew's Toronto Bloor St. W. store on the 8th at 11:30 a.m.
"Sir Elton John and I have been working together for many years to create beautiful scented candles, which he adores, to raise funds in support of the critically important work being done by the Elton John AIDS Foundation," NEST Fragrances founder and CEO Laura Slatkin said in the release. 
"I am extremely proud of my latest collaboration with Sir Elton and David Furnish — particularly in the year in which the Foundation celebrates its 20th anniversary — and I applaud Holt Renfrew for their efforts in bringing awareness to and raising money for such a tremendously worthwhile cause."
Now in its 20th year, the Elton John AIDS Foundation has raised more than $275 million for HIV prevention, stigma reduction, treatment, care and service programs in 55 countries worldwide.
"Partnerships like this really do make a difference and help bring important messages — like ours — to the general public," added Furnish.  "The $50 price point is great, because it allows people to make a tangible difference for a reasonable cost.  We are very proud of the end result."
Nike