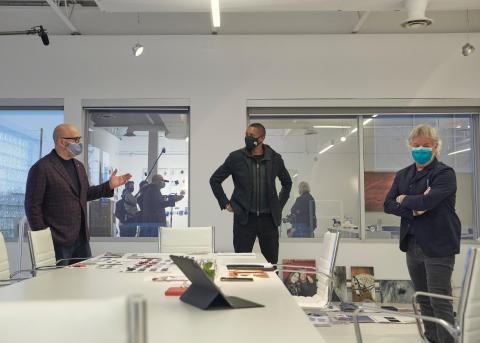 Menswear retailer Harry Rosen has teamed up with Toronto Raptors president and Giants of Africa founder Masai Ujiri and Canadian fashion designer Patrick Assaraf on the new Humanity clothing line to benefit Black Youth Helpline.
"This year we have been consumed by the twin pandemics of COVID and racism. We need to find a cure for both, urgently," Ujiri said in a press statement. "No one expects a t-shirt to change the world, but each of us committing to look at one other as human beings and really see the humanity in everyone is a good start. See the word. Have the conversation. Really talk to each other. Remember that our humanity is the first thing we all have in common. Once we recognize that we share that connection, we can find others."
Black and navy blue T-shirts ($95) feature the very subtly raised word "Humanity" in Ujiri's handwriting on the front, while the collection also includes hoodies ($165-$295), zip-up jersey track jackets ($295), track pants ($245) and cargo jersey joggers ($265).
Net proceeds from the sale of the "Humanity" collection will go to Black Youth Helpline, an organization that provides young people with access to culturally relevant, high-quality services and resources in their local community.
Black Youth Helpline was established in Manitoba in 1992, branched into Ontario in 2003 and is now Canada-wide. Its mission is the prevention of social and psychological breakdown in communities through a focus on education, health and community development.
"We are incredibly grateful to Masai Ujiri and Harry Rosen for their steadfast commitment to youth from Canada'sunderrepresented backgrounds and under-resourced communities." said Black Youth Helpline's founder and executive director Barbara Thompson in a statement. "Now more than ever, there is a need to support and empower Canada'sdisadvantaged youth. This transformative partnership will propel us as we develop and execute new strategies for education, and community well-being in support of keeping Canada's vulnerable youth on track to successful futures."
The registered charitable not-for-profit organization provides: a multicultural youth phone helpline and services; professional, culturally relevant youth and family assessments and intervention; stay-in school initiatives; parent and family support; and referral assistance.
Fifty-year-old Ujiri grew up in Nigeria and created Giants of Africa as a means of using basketball to educate and enrich the lives of African youth. It aims to provide quality facilities, gear and coaches with the goal of growing the game. It creates awareness and support for underprivileged children and young adults through basketball camps that emphasize hard work, accountability, honest living and positivity.