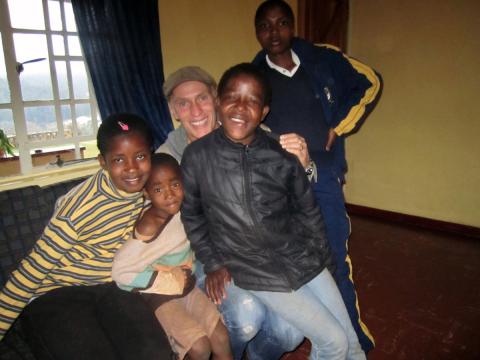 Imagine an entire population wiped off the face of the earth, due to the spread of HIV/AIDS. That is the startling reality of Swaziland, Africa, the only developing nation in the world with a negative population growth. The United Nations estimates that without assistance, the country will cease to exist by 2050.
In 2006, the abandoned mining town of Bulembu in the northwest was purchased and put into trust with the Swazi charity Bulembu Ministries Swaziland (BMS) in order to help the estimated 120,000 orphans and vulnerable children of Swaziland and build a self-sustainable community — and hopefully ensure the future of the Swazi people.
Vancouver singer-guitarist John Mann of long-running folk-rock act Spirit of the West heard of the ambitious project and has visited the town twice with Vancouver-based Bulembu International. Tomorrow (November 29), the band will release ansprightly, upbeat original song, "Bulembu," on iTunes, via Warner Music Canada. Proceeds will go to the Bulembu Child Care Program. (* Note: The iTunes link goes live at midnight tonight, eastern time).
"I initially traveled to Bulembu, Swaziland thinking there was something I would be able to do to help change the lives of the kids living there," stated Mann for a press release issued by Warner Music. "In the end, I left realizing that their resilience and joy gave me so much more in return.  I love Bulembu, no ifs, ands, or buts.  This song is about a love affair with the town and its people, but mostly it's for the kids."
Mann first visited Bulembu in 2010 at the invitation of Bulembu International. When he returned home, he wrote the song "Bulembu" and enlisted his bandmates — Vince Ditrich (drums), Geoffrey Kelly (guitar, flute, tin whistle, vocals), Hugh McMillan (guitar, mandolin, bass) and Tobin Frank (bass, keyboards)  — to record on the track, produced by Ditrich.
On Mann's second trip to the town earlier this year, he brought along some portable digital recorders and captured the singing of the Bulembu Children's Choir.  The tracks were later added to what Spirit of the West previously cut.
According to Bulembu.org, the death of so many parents to AIDS and many of their children born with HIV has threatened Swaziland's future and resulted in "a country wide orphan crisis." An estimated 120,000 orphaned and vulnerable children, 15 percent of the total population, have been left to fend for themselves.  The goal of Bulembu is to ultimately provide all the necessities of life for these kids, including access to quality education, health services, family structures and employment.
The transformation of Bulembu is happening through two complimentary strategies — community care and community enterprise. 
Nike