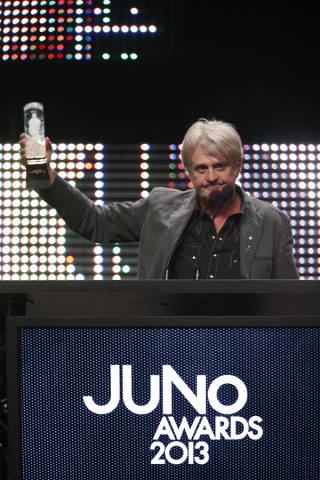 Tom Cochrane's Juno Award honouring his humanitarianism was given out last month during a private, industry-only gala dinner which was not webcast or shown on television. Footage of his acceptance speech is now online and shows the multi-platinum-selling singer-songwriter, best known for hits like "Life Is A Highway," "Big Leagues" and "Boy Inside The Man," talking about the wake-up call that inspired him to continue helping others as well as giving credit to others in his circle who have helped with some major charity initiatives.
The Allan Waters Humanitarian Award recognizes an outstanding Canadian artist whose humanitarian contributions have positively enhanced the social fabric of Canada. It is named after the CHUM radio and television founder who started the CHUM Charitable Foundation to provide financial assistance to charitable organizations and social service agencies.
"I think that if somebody gets up here and they think to themselves, 'Yeah, I really deserve this,' then they've kind of missed the point," Cochrane said from the stage at Regina, Saskatchewan's Credit Union Eventplex. "So humanitarianism, to me, is about the practice of the ethics of kindness and compassion among other things I suppose, but that's mainly what it is to me.
"And I've been so inspired by my family, my friends and fans over the years in those areas," added Cochrane, whose wife and manager Kathy Cochrane and daughters Evanne and Cody were in the audience.
Just before he got up on stage to accept the award, Cody and Broken Social Scene's Kevin Drew — a close friend who initially cold-called Cochrane to sing on his song "Lucky Ones" from his 2007 solo album, Spirit If… — said a few words about Cochrane's warmth and generosity as a person.
Reading from a speech he wrote on a napkin, Drew said of Cochrane, "Tom is someone who I think when he got into World Vision and he got into his work with Africa — he didn't do it for, you know it's hard to get outside of the self importance world of this stuff — narcissism is a bitch people — and he kind of took it and he went beyond himself — and he didn't make it a hobby or a PR thing. He did it and he continued and he made it consistent and he made it a mission and that's what needs to be rewarded tonight."
Cody had a more personal and heartfelt anecdote.
"When I was 17, I was afforded the unique opportunity of accompanying my dad and [World Vision president/CEO] Dave Toycen and the rest of the World Vision team on a trip to Mauritania in the southwestern tip of Africa," she began. "Not really knowing what to expect and curious to see and experience what my father had experienced so many times before  — on what I only understood to be times when he was away throughout my childhood — I found myself inspired in ways that I could not have anticipated.
"My father, a man I had known all my life, in so many other ways inspired me with his kindness and generosity and genuine interest in the culture and stories of every person we encountered, those people that he brought home in so many ways. That trip that resonated with me informed what has become the source of my moral conscience and full understanding of his personal contribution to all the causes that he's given time and holds dear to his heart," Cody explained.
"Knowing how humbled and honoured he is by this award is what makes me endlessly proud to be presenting my father with the Allan Waters Humanitarian Award."
Cochrane began his acceptance speech after a video tribute (not available online) which he called "overwhelming" and thanked the requisite people involved with the honour from the Allan Waters Foundation to the Canadian Academy of Recording Arts & Sciences (CARAS), the music industry organization behind the Junos.
"We touch more people than any other industry in the world, we touch people, okay? We touch people; we write songs about people; we write songs about issues; you can't divorce that; you can't divorce that from the commerce of it. That's the reality," Cochrane said. "So if we're gonna touch people and we're gonna write songs about people, and we're gonna produce music that's gonna touch people, we should present this humanitarian side first…
"I'm very honoured and humbled by this acknowledgement. And I really hesitate to call it an award because after all in light of the tremendous advantages and good fortune I've had in my life, and career, it's strange to get an award for trying to do the right thing from time to time," he explained, appearing to get choked up.
After presenting his definition of humanitarianism, Cochrane told a couple of quick stories about his children and then got into the heart of why he was there, his work with World Vision (read more in Nick Krewen's full interview with him here) beginning in the late 80s.
"Anyway, talking about my girls, I think back to the first trip to Africa with World Vision and the impact it had on me," he said. "And I remember being in a war-torn refugee camp with World Vision in a part of Mozambique. And we went into the wet-feeding tent where they brought people in such severe states of starvation that they had to feed them in stages with rehydration solution, then wet feeding, and then solid feeding because if you fed them with solid food, they'd die right then and there. Their systems would be in shock.
"There was a little girl. She was maybe 10 or 12 years old. It was hard to tell; she might be older.  She was so emaciated; it was very hard to tell.  And she had her mother's head in her lap. In a few moments, her mother went into the death rattle and she died.  Now, she looked up at me with her big eyes, as if to say, 'How can you stand there with your pens and your cameras and let my mom die,' and at that moment, I saw Evanne; I saw Cody; I saw my girls as clear as day in her face in her eyes, I saw my girls. And I walked out of that tent and I could hardly breathe.
"And I guess psychologists would call it transference and I call it a bit of a wake up call — and that was a heavy moment.
"In the time that followed," he continues, "I became more and more galvanized in my resolve and my support with World Vision's efforts. They save hundreds and thousands of lives every year and they work towards sustainability in the poorest of the poor nations.  They're close to being the first responders in disaster areas in Third World and developing countries.
"And you can bet that Dave Toycen — who is here tonight — is one of the first guys within three days in a disaster area whether it's a flood or a famine or a war zone. You can bet that he's there within three or four days with a team on the ground seeing what he can do with World Vision.  Anyways, I've been on a lot of trips with my good friend Dave Toycen, World Vision's president," said Cochrane, asking him to stand up and take a bow. "Dave spends 90 percent of his time saving lives; he's a true humanitarian and he's a big inspiration to me; he's my mentor."
Cochrane also praised his wife Kathy and said she deserves most of the award, explaining that she worked 24-7 organizing the Canada For Asia tsunami relief initiative, alongside her assistant Chrysta Collens; fundraising specialist Jim Rawn, World Vision staff, Gil Moore, Denise Donlon and Rush's Alex Lifeson [Dr. Rudy Ghalla and Jerry Grafstein also spearheaded the event with Cochrane].  Proceeds from the concert went to an unprecedented partnership of World Vision, The Canadian Red Cross, UNICEF, Oxfam Canada, Care Canada, Save the Children Canada, Development and Peace and Oxfam Quebec.
"When I think of the concept of humanitarianism being the practice of the ethics of kindness and compassion, I think that sums up Canada at its best with bravery and tolerance thrown in at its very best. That's what it is," he concludes before wrapping up with more thank-yous and acknowledgments, mainly pertaining to charity work and help he's received from those in the music industry.
"I look out and see all of you and I'm very proud to be your countryman; you inspire me.  I see so many faces I know out there who have helped me in my career and who have supported me and without that, without the music, I would not have a voice.
"[Former EMI Music Canada president] Deane Cameron, you're a ferociously loyal Canadian; you're one of the most generous people I've ever known and you keep a lot of that well hidden most of the time…And without you I wouldn't be here. I wouldn't be here. In the last 10 years or so, [Universal Music Canada president] Randy Lennox has been hugely supportive. He was there for Canada For Asia; he helped rally his artists or that.  Randy, with my buddy Gary Slaight, and Bob Ezrin spearheaded the Young Artists For Haiti initiative to aid the earthquake victims down there.
"And Gary, like a zealot, every year he'd round us all up for Beachfest to raise money for the United Way and other local charities.  Gary was also hugely supportive of War Child and World Vision and other charities like Save The Children, as well as music initiatives like [CARAS'] MusiCounts, which is very important. They've proven that kids learning music at school become better citizens; they become better students. So we gotta keep that going so well done. Allan [Reid, director of MusiCounts] keep that going.
"[The Feldman Agency's] Vinny Cinquemani, thank you so much for 25, 30 years being my [booking] agent, supporting me through all this, also trying to round up people for things when they were happening; you're an incredible man. You've got a big big big heart and everything that happens to me in my career, you feel every minute of it and I know that and you respond to it. You're such a good man…
"I see so many familiar faces, this is like homecoming and I really appreciate it. From all the small gestures, you guys inspire me and from all the small gestures like the proverbial walking the old lady across the street to NGO work overseas, keep that Canadian human spirit of kindness and compassion alive because that's what we are at our very best? You know that, don't cha? Okay. This country is etched on my soul and it's like a tattoo and this here (picks up award) this isn't mine; it's all of ours okay?"
KITH TOKYO 入店抽選 (キス トウキョウ 東京) , Fullress , スニーカー発売日 抽選情報を掲載!ナイキ ジョーダン ダンク シュプリーム SUPREME 等のファッション情報を配信!