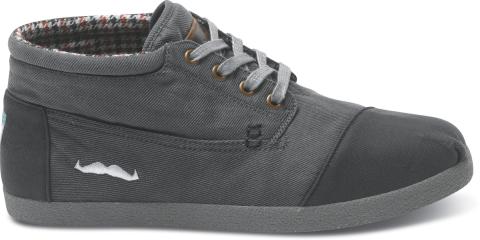 Long after you've shaved off that moustache you're growing this month for Movember to raise awareness and funds for prostate cancer, you could have a pair of shoes that will not only be a reminder of your charitable gesture but that gives to two causes.
For the second year in a row,  socially-conscious shoe retailer TOMS is offering its limited edition Movember shoes, distinguished by a small white moustache that appears on its Grey Black Wax Twilled Botas and Classic designs.
And ladies, if you feel left out of the 'stache-growing bro-fest, here's where TOMS really digs in its heels: these shoes are available for both men and women, so now you can support the cause without worrying about that fuzzy facial growth that the men are struggling to raise.
An even better kicker: not only do proceeds of the Movember shoe go towards fighting prostate cancer and help bring awareness of men's health issues to the forefront, but TOMS continues its mandate to donate a second pair of shoes to a child in need for each pair of shoes bought.
The "One For One" campaign is the idea of TOMS American founder Blake Mycoskie, who was traveling in Argentina five years ago when he discovered most of the children had no shoes to protect their feet. Since 2006, TOMS has donated more than one million pairs of shoes to children.
So if you can't gro a mo but want to help promote the Movember cause, TOMS offers a great alternative that is a lot less itchy.
The shoes, which retail for $70 and $105, are available for a limited time online only from Toms.ca.

Air Jordan 11 25th Anniversary Black Silver Eyelets CT8012-011 2020 Release Date