Los Angeles electro-hip hop group Far East Movement is one of the mentors for the 4C The Power program, a national organization based in California, which provides arts training to youth by professional artists. The idea is that the students become more engaged in high school, ultimately leading to an increase in graduation rates.
Far East Movement (a.k.a. FM) — Kev Nish, Prohgress, J-Splif and DJ Virman — is the first Asian-American group to have a top 10 pop hit in America with "Like A G6." The song reached No. 1 on Billboard's Hot 100 chart and has sold more than 3 million copies. It is off FM's 2010 album, Free Wired. The second single, "Rocketeer," hit No. 7.
While they are frequently on tour, they have made appearances at many 4C The Power events, including a benefit for the University of California Autism Center and the Red Scarf Project, which supports children in remote areas of China suffering from life threatening heart condition. They have also conducted workshops for kids on how to create a song.
"Ever since the beginning [of Far East Movement in 2003], throughout highs and lows, the communities, the people, support us," Prohgress told Samaritanmag when FM was in town for the MuchMusic Video Awards (MMVAs) in Toronto on June 19.  "We definitely want to give back to them, so we teamed up with a person [Diann Kitamura] who's a superintendant in Sacramento [Calif.] and she has all these events and we go out there and support.
"We bring out a lot of our artist friends, whether they're dancers, whether they're photographers, movie directors, people like that and we hold little workshops for like two hours and teach the kids to write a song or something like that. And they get to express that afterwards. There's not a lot of arts focus in American schools right now."
4C The Power executive director Kitamura, reached via email, told Samaritanmag, "What the guys don't say is how well they teach the kids to write lyrics and select beats.  They make the kids feel so special and valued for who they are and what they like to do creatively.  The kids can't believe they are actually learning from the Far East Movement."
In addition to Far East Movement, the mentors include Lady LA, a Phoenix, Arizona morning show radio host and MTV TR3 veejay; David Garibaldi, a Los Angeles performance painter who rapidly creates paintings of notable rock musicians; Wong Fu Productions, a production company which created a major concert brand with Far East Movement called International Secret Agents Concert showcasing Asian-American artists; Della and Meme of dance crew And So It Is Done (A.S.I.I.D.); Minnesota-based Tou Saiko Lee, a spoken work artist and hip hop activist; and Glenda of the dance crew Fanny Pak.
"We actually go into the schools and we teach them," says Prohgress.  "It's a lot of fun and the kids have a lot of fun doing it. So far we've done workshops in LA, San Francisco, New York and we definitely want to bring it to Toronto and just share because, in the end, what we want to do is inspire the kids. One day, maybe we will be in the front row at the MMVAs rockin' out to somebody else onstage that took a class with us."
Adds Kev Nish, "We've done live workshops and then seen them perform at different talent shows and [they have] confidence and rock it. You remember from them doing the workshops to them being on stage, it's crazy. It's inspirational."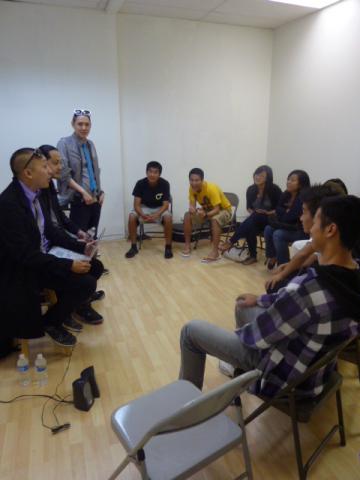 According to the web site, "4C The Power is also designed to assist students in building confidence through learning about their awesome potential through their own creativity, culture, and responsibility to the community." The program is committed to connecting youth to their school and community through the arts, education and entertainment.  
Program objectives include:
1. Mentoring youth and college students for leadership development.
2. Standards-based trainings for grades 7-12 that incorporates the 4 C's of "Creativity, Culture, Community and Confidence"
3. Evening performance by the professional artists conducting the standards-based trainings and selected youth identified from those trainings.
4. Professional artists are able to give back to the community by training youth and performing at the evening show.
Patike