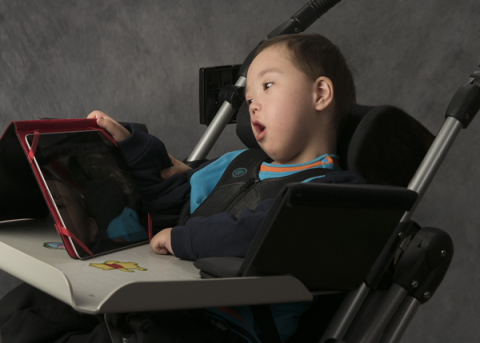 The playground isn't the only place where kids, particularly special needs kids, can suffer from cruelty and condemnation. The clique-y online world can be ferocious and judgmental as well.
Yet the Internet can also be a place of security, camaraderie and heaps of useful information; you just need to look in the right place. Enter Ability Online, which is — to crib from its website —  a "free and monitored online support community that links kids with disabilities or illness to other kids and adults who care."
In a rigorously vetted, password-protected online environment, Ability Online offers "monitored topical discussion threads, chat facilities, and games and activities where kids can come together and just be kids. Then, when they are ready, links to health information, peer support, and opportunities for skill development are just a mouse click away."
Simply put, children with, say, autism or Asperger's syndrome or other developmental delays who might find normal Facebook or Twitter communication challenging — but who want to make new friends and engage with them online — can do so in a secure space specifically designed to meet their needs.
Likewise, children with facial deformities such as severe cleft lip and palate can message using avatars instead of pictures and be assured they won't be bullied or judged by any criteria other than the content of their character.
At the same time, parents of children with disabilities using Ability Online can share stories while health care professionals can offer structured new avenues of support and communication for their charges.
Now in its 20th year — it began as Able Link phone service in the early 1990s, moving online in 1997 — Ability Online opens up whole new worlds to thousands from across Canada (75 percent of members), the U.S. (24 percent) and around the globe (one percent), helping to foster important connections along the way.
"I am so lucky to have been around and seen this grow," executive director Michelle McClure tells Samaritanmag. Though not a co-founder, McClure has been part of Ability Online since "day two." If you want to hear the voice of someone madly in love with their work, give McClure a call sometime. 
She continues: "The majority of kids we serve best are the ones at a moderate level of ability, not socially well-connected, many of them don't have any friends at all or they have been bullied and the parents don't want them on Facebook because of security concerns or fear of bullying.
"It's amazing what kids can give back when you give them a voice and when you see them flourish — feeling confident and accepted and loved and learning to communicate more effectively. That energy really comes through online.
"And having worked as a recreation therapist for 24 years [currently with Holland Bloorview Kids Rehabilitation Hospital], a lot of the kids I actually did therapy with back in the day are coming online as young adults and telling me about their lives, so we're getting these little mini-reunions. It's fantastic."
As McClure explains, part of what makes Ability Online so unique is its vetting process. Once a kid or her family finds the site, they don't simply register; McClure calls them personally to determine who they are and how they are best served on the site and then directing them accordingly. As a result, their peer-to-peer network boasts an "incident-free" track record dating back two decades.
"And our security doesn't stop there," McClure adds. "We have amazingly dedicated and trained volunteers called hosts who keep an eye on all the message areas to make sure it's a supportive environment without bullying.
"More importantly, our hosts can help facilitate communication because many of our kids have challenges, making sure there aren't misunderstandings based on curt replies or missing words, that sort of thing. So we really do have this safe, supportive environment where kids can learn to communicate and socialize with one another which allows them to continue that skill development offline, which is our ultimate goal."
The numbers behind Ability Online — which is a registered charity — underscores the importance of its work. McClure reckons at present, the site has between 1,300 and 1,400 active registrants. "A new and improved version of the site was launched in spring 2011 and we had over 5,000 names on our old site. If we add up what we've been averaging a month since we started, it's about 40,000 registrations," she says.
"We have pretty high turnover — some of our kids only come online when they're in crisis, some only come online when life is good. And unfortunately we do lose many to their chronic illnesses, so the numbers are fluid but our members range in age from as young as six up to early-30s.
"When we re-launched the site last year," she continues, "we created separate sections for various age groups — kids and teens, young adults for ages 18 to 30 and then separate sections for the parents and health care professionals so we can really tailor the content to meet their needs and keep the kids and adults separate.
"In addition to the social and emotional development we provide, we also have skill development modules for the youth, so there's homework help, help dealing with bullying, we're just about to add a whole new video collection on social skills to help the kids with autism.
"There's so much more than meets the eye with the site which unfortunately we cannot show until people come inside as vetted registrants," McClure offers. "But the whole parent network is really growing. One of my favorite quotes from one of the parents is 'It's easier to type through the tears than talk through them.'"
Girls Air Jordan