It's hard to believe that another chapter could possibly be added to the story of yoga, which already spans the globe and the millennia. And yet a new, perhaps unlikely group — at-risk and incarcerated youth — is discovering the stress relief, mood-enhancement and improved balance and fitness benefits of regular yoga practice.
That's thanks to the New Leaf Yoga Foundation. The Toronto-based registered charity brings downward dog, shavasana, meditation and conscious breathing — and the above-mentioned benefits they confer — to teens "overcoming histories of abuse, neglect, incarceration, gang-involvement, addiction, marginalization and other factors that have led them to be identified as 'at risk,'" according to the Foundation's website, www.newleafyoga.org. 
Those involved insist yoga teaches real-world coping skills (focus, relaxation and calming breath, for example) that youth can access to constructively deal with anxiety and anger rather than acting out.  Plus, it's fun. Judging by the testimonials of former students on the New Leaf site — not to mention zealous practitioners in stretchy pants the world over — the transformative power of yoga can't be overstated.
Not surprisingly, New Leaf instructors claim to walk away from the sessions with as almost many benefits as their students.
"Teaching these kids is one of my greatest joys. It's also challenging, but it is definitely so worth it," Michelle Corbeil, co-owner and teacher of Moksha Yoga Danforth, tells Samaritanmag.com.
Corbeil has taught at-risk youth enrolled in the Trails Youth Initiatives' four-year program — which serves 10 boys and 10 girls, aged 12 through 16, drawn from inner-city middle schools — since 2009, leading classes once a month and once in the summer.
"It's a privilege to work with kids in general, but also with New Leaf in particular, among people who have this mandate," she says. "Plus, giving these kids an outlet that is safe and empowering is very inspiring to me."
Founded in 2007 by Toronto-based Laura Sygrove and Jessica Robertson — both yoga instructors with ties to the Moksha Yoga franchise (as a studio manager and franchise co-founder, respectively) — New Leaf's mission, as stated on the web site, is simple yet sound: "To reduce suffering and increase peace in the lives of youth at risk as well as in our communities.
"We are dedicated to teaching life skills through the practices of yoga and meditation so that youth can cultivate a commitment to nonviolent, compassionate engagement with themselves and others. We believe that yoga can be accessible to all people and can serve as a practical, powerful tool in creating personal change."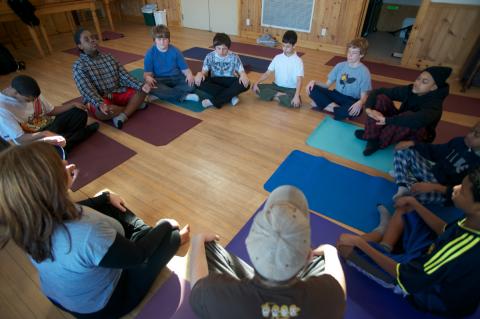 But if bringing the peaceful, mindful tenets of yoga to disenfranchised kids involved in community-based outreach programs — not to mention those incarcerated for actual crimes — made perfect sense to a couple of yoga instructors with hundreds of hours of teaching and training under their belts, it wasn't an obvious sell to those running the institutions and programs.
"To be truthful, in the beginning we were worried that it might sound a bit flaky," Sygrove tells Samaritanmag.com. "Considering the kinds of challenges the youth we were talking about working with were facing — being in custody, being in conflict with the law, growing up in violent neighbourhoods — those are pretty serious problems.
"So we were fearful that people might ask how yoga could help these youth, and how they'd even respond to it. Plus, with the custody facilities, there is a much higher number of male youth incarcerated so there were some concerns about whether boys would even be interested in yoga.
"Stereotypically speaking, most people think adult white women represent the bulk of yoga practitioners. The youth that work with obviously don't fall into that category. I have heard from kids who say that they thought yoga was for girls, but once they do it, they really see it differently."
Luckily for Sygrove and New Leaf, a "distant personal connection to a couple of people working," at the Bluewater Youth Centre custody facility in Goderich, Ontario opened some initial doors. Once New Leaf successfully launched a program at Bluewater five years ago, their track record and credibility were established. And they haven't looked back since.
Today, New Leaf oversees 12 instructors who work at nine program sites across the province, offering about 60 classes a month or an average of two a day.
 "We try to keep the class sizes fairly small — usually about 10 students maximum, but more often about four to six people," Sygrove explains. "In custody settings, smaller class sizes make it easier to connect with the youth because we don't get to see them for very long; maybe an hour or so. The bulk of students we teach are between 16 and 18 though we do work with youth as young as 12 and as old as about 22.
"We've been really lucky," she continues. "The yoga community has been so supportive and that's one of the main reasons we haven't had to look into government funding so far." New Leaf is supported through fundraisers, private donations, volunteers and the like.
 "A significant amount of our funding is provided through studios in the yoga community in Ontario and especially in Toronto," Sygrove adds. "Moksha Yoga studios have been an especially big source of funding and there are many other studios that have been regular supporters such as Kula Yoga, The Yoga Sanctuary and more.
"I think the reason this [work] resonates with people is because we were all young at one point. Most teenagers, even if they have it pretty good in life, go through stuff. So I think to some degree, people can relate. It's like, 'Oh, if I had yoga in my teenage years, that would have helped me through some of the challenges I faced.'
"For me personally, even though I had a very different background than many of the kids I work with, I can still identify with them. Anger is an issue that comes up a lot and I can identify with that. Yoga was  and is a part of the healing process for me. That's my personal story and I think everyone involved feels a similar passion.
"Yoga has played an important role in our lives and considering who hasn't been able to access it is a huge motivator."
New Balance P550 'Basketball Oxford' Release Info