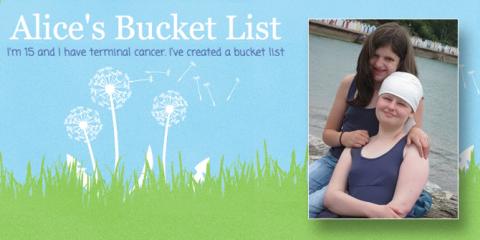 A 15-year-old British girl with terminal cancer has inspired the Internet and Twitter community to help her fulfill her bucket list.  Alice Pyne has Hodgkin's lymphoma that has spread throughout her body and her bravery, enthusiasm, commitment and compassion shines through in the blog she started writing recently, entitled Alice's Bucket List.
This past weekend, she met her favourite group Take That and her 12-year-old sister, Milly, raised £32,730 ($51,603 CAD) for cancer research for Race for Life, the biggest female-only fundraising event in the U.K. Her original goal was £1000 ($1577 CAD), before Alice's story hit the 'net.
"Hi, I'm 15 years old and live with my parents and sister in Ulverston," Pyne writes. "I've been fighting cancer for almost 4 years and now I know that the cancer is gaining on me and it doesn't look like I'm going to win this one :( I'm hoping to write in here as much as I can and I'm also going to show my bucket list which I'm trying to get done before I have to go. Hopefully, I'll update as I tick each one off the list :)"
Her most important wishes, she makes clear in her posts, is to get people to sign up to become a bone marrow donor.  It is at the top of her Bucket List, which includes 16 other wishes:
To make everyone sign up to be a bone marrow donor
To swim with sharks
To go to Kenya (I can't travel there now but I wanted to)
To enter Mabel in a regional Labrador show
To have a photoshoot with Milly, Clarissa, Sammie and Megs
To have a private cinema party for me and my BFFs
To design an Emma Bridgewater Mug to sell for charity
To stay in a caravan
To have a purple Apple ipad but I'm not really allowed to put that on  here and mum is trying to borrow one
To be a dolphin trainer (I can't do this one either now)
To meet Take That
To go to Cadbury World and eat loads of chocolate
To have a nice picture taken with Mabel
To stay in the chocolate room at Alton Towers
To have my hair done if they can do anything with it
To have a back massage
To go whale watching
"I've created a bucket list because there are so many things I still want to do in my life ... some are possible, some will remain a dream," she writes. "My blog is to document this precious time with my family and friends, doing the things I want to do. You only have one life ... live it!"
Unfortunately, as Pyne's story gets out (it has been covered on CNN, mentioned in the House of Commons and tweeted by Katy Perry), some unscrupulous imposters are cropping up pretending to represent the family and anonymous assh---- (no other word for them) are posting disgusting messages, giving this young girl and her family, already battling so much, added grief and stress.
On June 14, Alice writes:
"This should be a happy post because I had the best day of my life on Sunday, but it isn't because we're all upset that so many people are pretending to be either me or mum on facebook.  We only have the Alice Pyne Bone Marrow pages (which you can see were started a year ago) and then just ONE general facebook page relating to me and that is ALICE PYNE - please 'LIKE' this page and report ANY others.  It is making my mum really upset and I wish these idiots would stop it as we were going to go to the beach for a walk and now we can't because mum is trying to stop the groups getting bigger.  I hope that they are proud of themselves for spoiling my day."
And today, the 15th, in a posting captioned "WARNING to the low lives," her mother, Vicky, was forced to write: "With regard to all the not so lovely 'anon' comments been left, particularly the one asking if the bitch had died yet - you are only 'anon' on this blog, you are not invincible and you ARE traceable.  We will find and prosecute every single one of you.  I haven't stood by Alice for four years to be affected by a bunch of (can't say what I'd like to on here).  And to 'Ed Harding' and 'Scott' ... if you continue to advertise your seedy businesses in Alice's guest book, I swear to God I will reveal your personal details and get Alice to do the same on her Twitter.  Don't underestimate me ... I'm a mother."
Like mother, like daughter to be sure.
To read more of Alice's Bucket List blog, go to: http://www.alicepyne.blogspot.com/
Articles de sport pour homme