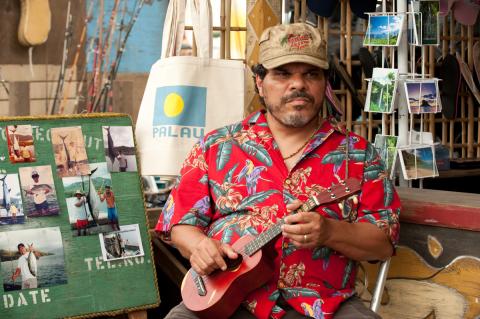 Sometimes bad guys make the best good guys.
Career bad dude, Luis Guzman — who got his start as an actor when a casting director for Miami Vice asked him to "kill me with your eyes" — was already concerned with giving back to his 'hood before the bright lights beckoned.
In the '80s, the Puerto Rican-born Guzman was a social worker in the Lower East Side Manhattan neighbourhood in which he grew up. His Miami Vice break came when "two young people didn't show up to my program, and I went out into the street looking for them. While I was doing that, I ran into a friend who was writing for TV and he gave me a phone number for an audition," he said during a small roundtable interview in Honolulu for the movie, Journey 2.
Now living in Vermont, he gives frequent motivational speeches in schools in troubled neighbourhoods. "I go and I try to motivate people to help themselves, to not become third, fourth, or fifth generation welfare recipients, to say there's a better life for you out there. It could be as an actor, librarian, teacher, working for the Coast Guard.
"We go through so many hardships to get to a place where you can appreciate life. I had a pretty rough upbringing. I lost a lot of my friends back in the day to drugs and hate, and I lost my first child, and I went on to adopt four children.
"Having a wonderful career and being in a position that gives me so much pleasure has always made me want to give back. I chose to be that guy people call when they're doing a fundraiser."
Case in point: After Hurricane Irene hit last year, Guzman put together a comedy/variety fundraiser in Vermont, with celebrity auctions, including bids on his own home cooking. "I can cook, man. Somebody paid $1,500 for me to come over and cook them dinner for four. It'll be a dish I call Chicken a la Luis. I sauté and I use cream cheese and anchovies with capers and mushrooms and I serve that over brown rice with steamed vegetables."
Guzman's a spokesperson for the Cristian Rivera Foundation, a children's cancer fund in honour of a young boy who died of inoperable brain cancer in 2009.
But the cause currently closest to his heart is The NIMBY Project (short for Not In My Backyard), a homeless charity that has inspired Guzman to become a producer for the first time.
"I'm getting into producing and I'm doing a little reality show I'm putting together with a friend of mine. It'll be a NIMBY Project TV show, and what we're going to be doing is a makeover of homeless shelters across America," he told Samaritanmag.com. "What I want more than anything now is to give back, be an example, make a difference, empower people to say, 'I can change my life.'"
sneakers