Canadian musician Barney Bentall, onetime leader of 90s roots-rock combo the Legendary Hearts, known for such songs as "Something to Live For" and "Life Could Be Worse," has raised some $150,000 for food-related charities in Western Canada in seven years by writing songs that include sponsors.
The B.C.-based singer-songwriter anchors what's called the Grand Cariboo Opry, an annual series of country and western themed variety shows featuring winking, quasi-off-the-cuff ads for local businesses that pay for the privilege of sponsoring a song in the Opry's set. In turn, said sponsors get a clever mention written by Bentall and Calgary-based songwriter Matt Masters and performed on stage by the sprawling, rotating Grand Cariboo Opry participants.
"I got the idea watching old clips of the Grand Ole Opry where it might be, 'This next song is brought to you by Gillette razors…" or whatever," Bentall tells Samaritanmag. "I thought initially that maybe this was a way to raise some money.
"The first show we did was a fundraiser for the Potluck Café Society in Vancouver. And I thought, 'Maybe if we could get local businesses to pay $250 for a song, we could introduce those songs and incorporate those sponsors into the intro.' And it has just gone from there."
The tour is already underway and pending shows include Winnipeg's West End Cultural Centre Nov. 21; Edmonton's Avenue Theatre Nov. 29; Bragg Creek, Alberta's Community Centre Nov.30; and Vancouver's Vogue Theatre Nov. 23.
This year's lineup includes Bentall's son Dustin Bentall and girlfriend Kendel Carson, plus Ridley Bent, Wendy Bird, Angela Harris, the Gold Rush Allstars (Geoff Hicks, Rob Becker, Eric Reed, Scott Smith) and special guests such as 54-40 frontman Neil Osborne.
"It's great when it really fits," says Bentall. "For example, in Victoria, Neil Osborne was with us doing the George Jones song, 'He Stopped Loving Her Today,' and there happened to be a funeral home which was sponsoring. So we respectfully paired those up, and it was a match made in heaven for a song sponsorship.
"The sponsorship aspect becomes a big part of the show. From the beginning it was clear that people understood it was for charity. And Matt and I really work on these things. We'll pair a song like [The Walkabouts] 'Setting the Woods on Fire' with a landscaping service for example. And when you see it, it makes perfect sense.
"The charity gets a donation from the local business, the business owners attend the shows and have a good time,  instead of just writing a cheque, and everybody is really good-natured about it, even when we're poking fun."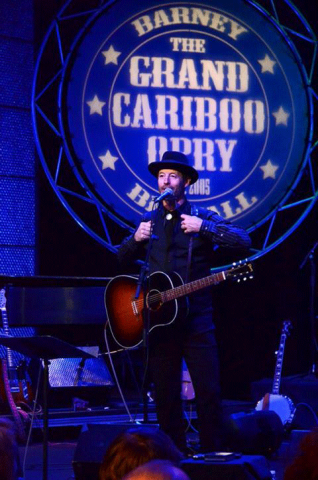 Bentall handles all the logistics of booking and organizing the Opry hootenannies, which he admits is daunting and consuming. "Every year I think, 'I don't know if I'm going to do this again.' But then I get on stage and it seems so worthwhile. Plus, loads of other people have come onboard to help and been really generous with their time."
Production costs such as the musicians' pay are generally drawn from the show's cover charges which on this tour average about $30 per person with venue sizes running the gamut from 400 to 1000 capacity. 
Bentall confirms that since the show's inception in 2005, the Grand Cariboo Opry has raised some $150,000 for local food-based charities such as food banks and other food-related social programs. On average, each show has 20-odd sponsors pledging $250 per song for a total of $5,000.
"And we try and access some matching grants," Bentall says, referring to a family-run foundation he asks Samaritanmag to keep anonymous. "Suddenly you have $10,000 from one show for a charity.
"Potluck in Vancouver has really grown that; I think the song sponsorships are $1000 a piece," he laughs, "so we better write some stellar stuff. But Potluck provides thousands of meals to people in the Downtown Eastside and they also run a catering company which provides work and skills to people coming back into the mainstream, so it's really a wonderful social enterprise and this has become their major funding source for the year."
This year for the first time, Barney Bentall and the Grand Cariboo Opry are heading beyond B.C.'s borders, playing shows in Alberta and Manitoba, thanks in part to a newly minted deal with WestJet. Local food banks are once again recipients of charitable funds. "They tend to be very organized and needed," Bentall says.
While an infusion of cash from major corporate sponsors could push the Grand Cariboo Opry concept to a new level — possibly allowing the tour to go cross-country in future — Bentall confirms a deal could prove tricky given the show's loose, grassroots structure.
"I think I'd be very cautious about that because right now we have complete control over the content. Our new deal this year with WestJet — which allowed us to fly around the country to shows in exchange for performing a noon-hour concert at their place — is a big help. And we're really grateful for that corporate support, but I am guarded about the integrity of this thing. I wouldn't want it to be molded into a corporate image.
"That said, if we got the right kind of help — not controlling help — we could probably raise $250,000 in a two-week run. At that point I'd probably need a bit more structure to how this thing is put together. So we'll see how it goes.
"But for all of us it's a highlight of our year. How often do you get to participate in a real variety show? We all respect each other's music, the band is killer and it's just one song after another interspersed with a bit of comedy, then all of a sudden you'll have this incredibly moving song. It's a collection of old time songs and new songs the artists have written and it's really unfolded in an organic way.
"Sometimes it feels like we're hanging on by the skin of our teeth, and Matt and I are tweaking the sponsorship bits as we're going on stage although we usually have about a week to work on them. Still, that unpredictability is part of what makes the shows so special. And I don't think we've had a dud show yet."
Nike SF-AF1