Algenist has quickly become a leading anti-aging skincare brand, with shelf space at such noted beauty chains as Sephora and Ulta. Its core ingredients are algae-based including the patented Alguronic Acid and microalgae oil.
Developed by TeraVia and launched in 2011, the Glendale, Calif.-based company won Marie Claire Prix D'Excellence de la Beaute in 2014, and the 2015 Beauty O-wards by O, the Oprah Magazine, and is available in 23 countries.
For the launch of Algenist's new product, Elevate Advanced Lift Contouring Cream — which Algenist CEO Frederic Stoeckel said in a press statement "In 10 minutes, our customers will see dramatically visible contouring results on their skin, thanks to an innovative texture and a fast-acting peptide technology, while still achieving long term firming and lifting benefits in 10 days" — the company has teamed with non-profit Free2Luv for its #StandFirm campaign.
Free2Luv is "a youth empowerment non-profit passionate about rockin' individuality, celebrating equality, spreading kindness and standing up to bullying through arts and entertainment," which creates "change through community outreach, empowerment events, thought-provoking awareness campaigns and cause-inspired merchandise."
Until May 31, Algenist has passed on to the consumer a discount of 10 percent off all products sold through algenist.com and will donate the equal amount to Free2Luv.
The company also encourages you to take a selfie with a sign reading: I #StandFirm and then fill in what it is you stand firm for. Post it to Instagram and Facebook with the hashtag #StandFirm and tags @algenistbeauty and @free_2_luv.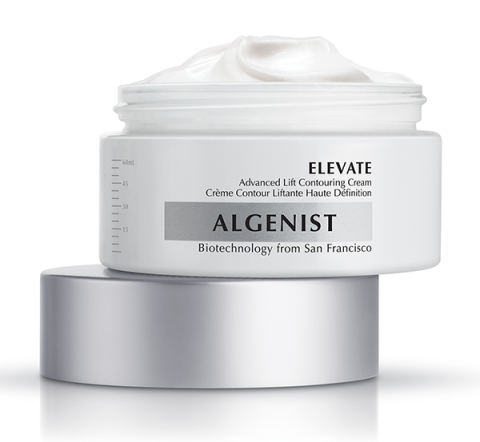 Elevate Advanced Lift Contouring Cream is available on algenist.com, in Ulta stores, ultra.com, and will launch at Sephora in June.
Samaritanmag spoke with Algenist's director of marketing Shannon Shapiro about selecting Free2Luv, how their values align and if the partnership will continue.
Algenist is not that old a company.
We are six years old.  We came on the market in March of 2011 and really disrupted the market in our ingredient technology from micro algae. We didn't come from the beauty space. We came from a bio-technology company and really had this innovative ingredient from microalgae that no one had seen before, that really changed the game in beauty, as we like to say.
Founding company TerraVia, which uses algae as the base for its food and nutirional products, had an early mission "to create products that are truly better for people and better for the planet"   Did Algenist have a cause off the bat?
I wasn't part of the brand right when they launched, but TerraVia's whole platform was about renewable sources of energy from microalgae and replacing these harmful fuels or harmful cleaning products, even in food and cleaning and cosmetics, with sustainable source of renewable energy from microalgae.  Obviously, the brand was really aligned with that and part of that movement from the beauty space.
Has Algenist launched a product before with a charity component?
Not specifically with a product. We've done things on our website before with a few different charitable organizations, but this is really our first campaign that really emulates what our mission is, which is to be confident in your beliefs and principles.  It's our first interactive, engaging, digitally-led campaign that really takes the core values of the brand to 'stand firm'  and introduce new customers to our story, our mission and our products. We're partnering with a non-profit called Free2Luv that is all about celebrating equality, individuality,  spreading kindness and standing up to bullying.
When you said you had charity organizations on your web site, what were those?
In the past, we're done different promotions. I know with Charity Water last year where we're giving back [100% of proceeds from Algenist's Skin Survival Kit went to Charity Water on #GivingTuesday] but our Stand Firm campaign is our big movement.
With algae as the ingredient, Algenist could have chosen an environmental cause, clean oceans or protecting wildlife. What got bandied about when planning the launch of Elevate Advance Lift Contouring Cream with a cause?
We were really inspired by our mission 'stand firm' and creating the campaign around a sense of community and encouraging others to stand up for their belief and who they are, knowing that as a brand we celebrate and encourage you to be whoever you are as an individual. That's when we came across Free2Luv, which felt really aligned to our campaign and what we're saying here about rocking your individuality and celebrating equality. It felt like such a natural fit.
The hashtag #StandFirm, is that something that you and your marketing team came up with or did Free2Luv?
Our social media team came up with it. It's inspired by our brand and our mission and also related to the product that we're launching, which is a firming and lifting cream. It's this specific campaign for this product.
How are you letting consumers know that a portion of the proceeds is going to Free2Luv and to get involved in the hashtag #StandFirm?
We have a big social and digital campaign. We're working with our own community and it's really starting at corporate, kicking off the campaign with videos and images that capture what we each individually stand firm for. They will be available on our website and also all of our social media channels, and then we're sharing our #StandFirm hype reel across digital and social to encourage others to join our movement to stand firm.
The fundraising for Free2Luv only runs until May 30. Will you be continuing to support the charity and use the #StandFirm hanshtag after that time?
Yeah I think we will. We've created a really great relationship with Free2Luv and we feel really aligned with each other's causes so I think there's definitely potential for an ongoing partnership there.
Is it less about the monetary donation and more about awareness of the charity?
Yeah, definitely. We hope to give a nice monetary donation to the charity, but it's definitely about driving awareness for their cause and also for this campaign to create a sense of community around the idea of standing firm for whatever it is you believe in.  I think Free2Luv is excited about it and we're pretty excited about it. We think it has the potential to be something viral and a movement that we can create.
On a personal level, what is the work environment like at Algenist? As part of the beauty industry, is it open and accepting and comfortable for people of all races and backgrounds and the LGBTQ community?
We're not a massive team. We're about 50 people in a very collaborative and open space and we have people on our team from all walks of life. And being a part of the beauty industry, we celebrate everyone's differences and really promote equality here in the office and externally with our field team, and especially with our retailer partners like the cast members [staff] at Sephora and the sales associates at Ulta. It's a big community of diverse people and we celebrate and promote that.
Air Jordan