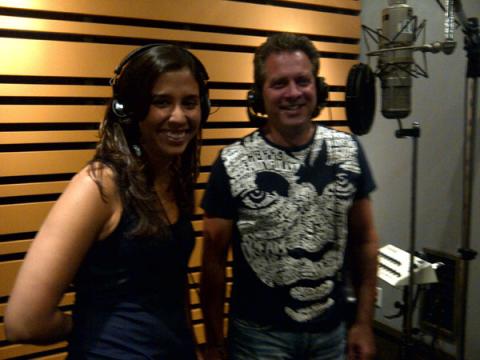 Who says accountants can't rock 'n' roll? The profession is often stereotyped as being quintessentially dull and boring, but that certainly wasn't in evidence at Noble Street Studios recently. The highly-regarded and state of the art Toronto recording studio hosted a session (at a significantly discounted rate) by Deloitte League of Rock, a band of seven employees of top financial services company Deloitte, eagerly rocking out for charity.
Deloitte has over 8,000 employees in 56 offices across Canada, 3000 of whom are based in Toronto.
Under the guidance of co-producers Doug Romanow (Chantal Kreviazuk, Michael Pickett, the Satallites, Cadence Grace) and Topher Stott, the group —two vocalists, Sean Haggerty and Alessandra Bresani; two guitarists, John Hughes and Dennis Metzler; keyboardist Rory Pike; bassist Angela Grant; and drummer Richard Searles — was recording "Make A Difference," a single that Deloitte will be releasing and promoting to raise funds for the United Way, a favoured charity of the company.
The song — co-written by Haggerty, associate partner at Deloitte; and Gord Forstner, a principal at Drysdale, Forstner, Hamilton Public Affairs Ltd. — has a classic blues-rock feel and lyrics built around the theme of the importance of charitable contributions. Sample lyrics: "Can you spare some change? Can you feel my pain?...Everyone needs a helping hand/ It doesn't take much to show you care."
As the band name indicates, the project is the result of a partnership between Deloitte and League of Rock, which offers adults the chance to join a band and work with professional music coaches in a 10-week program. The company — co-founded by Toronto's Terry Moshenberg and Stott — also offers corporate team-building workshops over single or multiple days. Both Moshenberg and Stott were on hand at Noble Street Studios.
"I met Terry at a Venture Capital Association event," Hughes, a partner at Deloitte, tells Samaritanmag. "As luck would have it, that was at the same time we were talking up our United Way campaign for that year and wondering how we could engage all of our people. Music was the obvious answer, and when I learned about the League of Rock, I thought 'This is for us.'"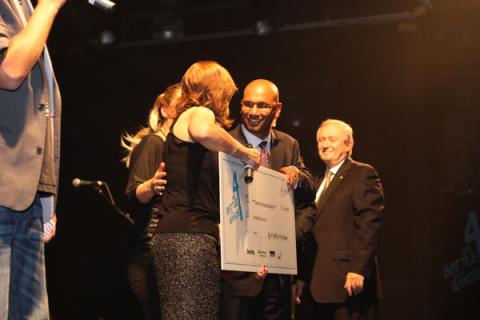 In 2011, six bands comprising Deloitte employees signed up for The League's 12-week program, preparing for a battle of the bands held at Toronto venue The Courthouse. According to Hughes, that event "created a lot of excitement within the company." The firm's winning band then competed in an even larger contest, the first-ever Big 4 Battle of the Bands in support of United Way Toronto. This featured bands from four of Toronto's biggest financial services firms, KPMG LLP, Ernst & Young, Deloitte and Pricewaterhouse Cooper (PwC), duking it out at The Kool Haus.
The event, held on Oct. 5, 2011, attracted 1,600 people, and though it was PwC, not Deloitte, who triumphed, Hughes notes that "the big winner was The United Way." That was confirmed by the fact that the four firms collectively raised $20,000 for United Way Toronto's Community Fund, and a cheque for that amount was presented on stage at The Kool Haus.
The battle of the bands will be staged again this fall, and one of the organizers, Deloitte partner Allan Donald, expects it to be even more successful. At Noble Street checking out the recording session, he told Samaritanmag that "this year, to be eligible for the final event, band members must have a minimum of 150 Yammer followers. That's our internal version of Twitter, and we raise money for United Way through that. When you contribute to United Way, you can support one of the bands."
Another interested spectator at the studio was Yezdi Pavri. A retired partner at Deloitte, he is now chairman of The Board of Trustees of United Way Toronto. "I haven't heard the song, but I've heard plenty about it," he told Samaritanmag as the band was setting up. "This project is another different activity that gets people engaged, and then hopefully the dollars will flow. Every dime counts."
Donald observes that "fundraising is so competitive these days. You have to find novel ways to get people interested and excited about the cause and the activity. We are using music as a way of making our United Way campaign more exciting, and this project is particularly interesting in that some of our talent have written a new song."
According to Hughes, Deloitte League of Rock is something of a company all-star group. "It comprises members of all the bands from last year," he says. "I'm the weakest musician, but I helped organise it, so I'm involved."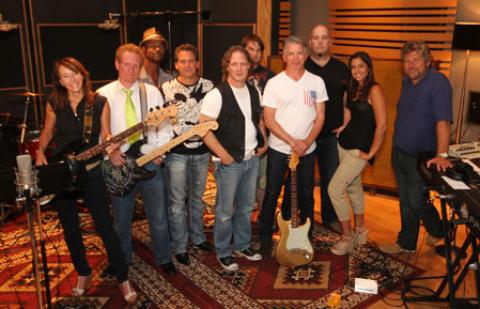 Whereas most bands competing in the battle of the bands performed cover songs, Deloitte League of Rock went a step further, coming up with an original song with lyrics designed to encourage the gift of giving. "I hope the song makes people think about giving to worthy causes and supporting change in general," says Haggerty.
Hughes adds that "the message to me is that it doesn't have to be huge change. It can be small change, spare change. If everybody does a small bit, there can be a huge impact. The focus is on making a difference."
"Make A Difference" was performed at the battle of the bands, and the group wanted to do more with the tune. With the assistance of the League of Rock and Noble Street Studios, they arranged to record it. "The song will be picked up by iTunes and net proceeds will go to support the United Way," explains Hughes. "It will be great exposure to expand the United Way campaign beyond what we've been doing. We will be promoting the song externally and internally. We're filming the session today, and we can put footage from that on YouTube or use it in recruiting."
The Deloitte team is hopeful that the song will get a huge publicity boost in the fall. Deloitte League of Rock performed "Make A Difference" on top-rated TV show Dragon's Den, as part of a pitch made by The League of Rock. Hughes recalls that "I asked Terry if he would consider profiling the Deloitte band in that we were supporting the United Way and it would be a terrific example of the power of the League of Rock program to build corporate engagement of employees in support of a worthwhile community cause."
There is no guarantee that their segment will air, but the fact that Dragon Kevin O'Leary jammed with the band on camera is taken as a good sign.
nike fashion