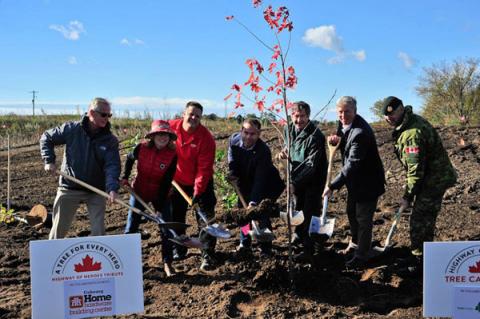 If in the coming years a drive down the Ontario 401 Highway seems a whole lot greener and tree-lined that's because it will be.
An ongoing memorial campaign on the 170 kilometre "Highway Of Heroes" stretch of the 401 will result in 117,000 trees being planted along the busy roadway to honour Canada's fallen war dead. An additional 1.8 million trees will be planted in communities adjacent to the Highway Of Heroes transportation hub, a section of the 401 ranging from Trenton, Ontario to Toronto.
Known as the Highway Of Heroes Tree Campaign, organizers are hoping to raise $10 million in the coming years to fund what they're calling the largest living memorial in the world.
Samaritanmag spoke with Mike Hurley, manager of fundraising and communications for the Highway Of Heroes Tree Campaign, to find out why they're doing this, what are the logistics involved, and what he's hoping people see in these these tree-lined highways.
First of all, what is the Highway Of Heroes?
The Highway Of Heroes really started when Canada became involved in the conflict in Afghanistan in the early 2000s. What happened during that time was something different and unique that hasn't really happened anywhere else in the world. Up until this point Canadian soldiers, if they fell, if they were serving overseas, they were buried in the country in which they fell. But the conflict in Afghanistan changed all that and an act was signed where it began to repatriate fallen soldiers back to home soil. And part of that trip home included a trip from the air force base in Trenton, Ontario, CFB Trenton, to the coroner's office in Toronto. And whether the soldier who fell was from Toronto or Newfoundland or British Columbia this 170 kilometre stretch of highway was part of the journey home for all Canadians. And what happened during that time was a uniquely Canadian thing, an outpouring of patriotism and support from Canadians, without a call to act, began to line bridges and line roadways to pay respects as the funeral processions would make their way down the highway.
And what is the Highway Of Heroes Tree Campaign?
The Highway Of Heroes Tree Campaign is one that is set out to help us create the largest living memorial of its kind in the world. What we're going to do is plant two million trees in between Trenton and Toronto in the communities that the Highway Of Heroes passes through. That's one tree for every Canadian that has ever served in the military since confederation.
The scope of this is massive. Can you expand about the scale of this?
It's a stretch of roadway that covers 170 kilometres between Trenton and Toronto and multiple municipalities and communities. Two million trees in total. And of those two million trees 117,000 will be planted directly alongside the highway itself. One tree for each of Canada's war dead since confederation. Beyond that, on the other side of the farmer's fences and in these related communities is where these additional 1.8 million trees will be planted. Those trees will do a lot to benefit the environment to sequester carbon and clean water and do all the great things that trees do that we're all very familiar with, but collectively they'll also serve as a memorial that will remind future generations of Canadians about the service and sacrifice that came before them. It will beautify a stretch of highway that at some points could certainly use a bit of that beautification.
Is there a reason why trees are being used for this symbolic gesture?
It goes back to where this campaign and project came from. It was originally a group of about 14 or 15 tree planting organizations in the Greater Toronto Area and they all came together to meet at the same time and essentially to try and coordinate their efforts. Everyone was trying to do the same thing — plant trees and get them in the ground. What they wanted to do was figure out how they could address the declining urban tree canopy not just Toronto but a lot of urban areas across the country are seeing. Things like the emerald ash borer and trees simply reaching the end of their life span meant tree canopy coverage in the city has fallen quite a bit. And one of the challenges put forth in this meeting was how do we address this? What ideas do we have? And one of the gentlemen in that room, a man by the name of Tony DiGiovanni, who heads up Landscape Ontario, put forward an idea based on a project that he had been involved with where they reforested and landscaped the Veterans Memorial Parkway in London, Ontario. And Tony's idea was really simple: If we can do this along 17 kilometres in London, why can't we do it along the whole 170 kilometres of the Highway Of Heroes? And I think everyone in that room unanimously thought it was a great idea. It's an idea that by combining elements of environmental preservation with this concept of creating a living memorial to support and remember our troops it's created a cause that has universal appeal. We're able to engage a much wide demographic than if this was just a tree planting cause.
Not to typecast, but a tree planting initiative as a tribute to our veterans doesn't seem like two naturally connected worlds.
The response has been phenomenal. I've got to say that most people who are attracted to our campaign and compelled to open their wallet or write a cheque, the vast majority are doing it because of the remembrance aspect of it. The fact that we're doing this through trees is I think an added bonus to that. It's been interesting to see how phenomenal the response is. You're right in saying typically these ideologies of preservation of the environment versus supporting our troops are stereotypically associated with opposite sides of the political spectrum, but what we've done here is take a cause that actually has something in it for everybody. That's one of the beautiful ripple effects of our campaign is we're creating some social cohesion in these communities and we're bringing people together that otherwise might not have been spending a lot of time together. It's no secret that the world is very polarized right now in a lot of places and it's very nice to see a cause that's bringing people together rather than pulling them further apart.
How do the logistics of planting trees on super-busy highway work?
For one there's a lot of science behind it. We work with one group called the Vineland Research And Innovation Centre and Vineland are a team of doctorates and PhDs and scientists who've worked together over the last 5-10 years to develop current planting protocols for planting trees alongside roads. Planting trees alongside any road is a bit of a harsh environment, let alone the 401, pretty much the busiest highway in North America. What the science is telling us and what Vineland research has indicated is that the number one cause of tree mortality when planted along the roadside is actually soil compaction. Most people think salt on roads is the biggest challenges we face but there are a number of species that we can select that are very hardy and resistant to that salt runoff. But what we've done is taken that advice from professionals and we invest heavily in site preparation. So what that means is a lot of times we're digging back up that soil, loosening it so tree roots can have a chance to permeate the soil and set themselves and be strong. And a lot of times we also integrate organic compost, black earth, to give our trees the best chance of survival. It really does have to be broken down site by site so there are hundreds of sites along the highway and in communities that have been identified and then each site gets its own specific planting plan for it so that we essentially put the right tree in the right place.
Are there specific trees species you use?
It's a combination of native species. There are about 30 different native species we choose from and we do it by looking at each site individually and determining which ones thrive in specific weather conditions. So some of it is based on that, but it's also based on aesthetic appeal. We think about what this is going to look like 20, 30, 40 years from now as these trees reach maturity.
There's also a volunteer element to all this. Can you tell us about that?
Every spring and fall we organize a number of community tree planting events that take place in a number of the communities the Highway Of Heroes passes through. This gives an opportunity for donors and those who want to be active to join us and actually plant trees in their own backyard and in a lot of cases do so alongside veterans and currently serving members of the military.
You mentioned donors. How does the money work? How does this pay for itself?
To plant two million trees in total we've tasked ourselves with raising $10 million to fully fund this campaign. The good news is we're well over $3.5 million raised, so we're well over a third into our goal, and we've seen an outpouring of support from Canadians quite literally from coast to coast. Ultimately this is a memorial that's going to live in Southern Ontario but we see donations from every province and territory. One of the most common questions we get is "How much does it cost to plant a tree on the highway?" The answer is go to our website. All the information is there. $150 plants a tree directly on the Highway Of Heroes. We send them a certificate that's custom-made so if you want to give it as a gift to someone it's fully customizable that way.
What's the most important thing you'd hope people would take away from this campaign?
I think the most important thing for people to take away from this is you have to think long term what this is going to look like, what it's going to mean to future generations of Canadians. The beauty of this campaign is these trees are going to be here long after we're gone. So educating the next generation about the symbolism of these trees is what's most important to make this a true living memorial. Our vision is that two or three generations from now when we're all gone, that these future generations will understand the symbolism behind these trees and seeing its size and sheer magnitude of what's been taken on, to plant two million trees, will remind future generations about just how big the service and sacrifice Canadians have made to the military. And I hope that will remind future generations of what the ultimate cost of war is as we move forward.
KITH TOKYO 入店抽選 (キス トウキョウ 東京) , Fullress , スニーカー発売日 抽選情報を掲載!ナイキ ジョーダン ダンク シュプリーム SUPREME 等のファッション情報を配信!