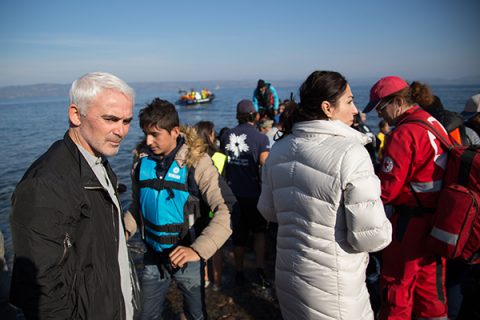 Billionaire philanthropist Frank Giustra believes too many wealthy people do too little to open their hearts and give with purpose back to people and society.
The Ontario native, who has moved from Canadian mining to movies and television, and is particularly focused on the refugee crisis and alleviation of poverty, tells billionaires he meets with to sit down with a piece of paper and try to spend their entire wealth on homes, jets and yachts -- anything, he doesn't care. That's after they set aside enough wealth for their children and grandchildren.
Then he tells them no one can spend that much, as some of their billions will inevitably be left over.
So Giustra urges the wealthy to follow the lead of his Radcliffe Foundation, launched in 1997, and to support international and local causes.  He also has advice to kids and everyday Canadians, particularly to look at private sponsorship model for refugees or help at the community level.
Giustra, who has worked with Bill Clinton, George and Amal Clooney and George Soros on international causes, spoke with Samaritanmag about his principles of compassion and giving, how he convinces fellow billionaires to do good and chip in, as well as his experiences in Lesbos helping the refugees, and the focus of his latest film production (screening privately, for now, including tonight, Aug. 1, at talent agency ICM in Los Angeles).
You're active these days on refugee and migrant issues, including producing a feature documentary, Inside My Heart, by Canadian director Debra Kellner, about three refugee families fleeing war-torn Syria and Afghanistan. How did that film, and work, come about?
Inside My Heart was never meant to be a film. When I went to [the Greek island] Lesbos for the first time in November 2015, at the height of the flow of refugees coming into Lesbos, there were thousands upon thousands arriving each day from Turkey. I phoned a friend in Paris, Debra Kellner, who'd done some work for me before, and I asked her to put together a film crew. I had no idea what we would use the footage for, possibly for a future campaign. So she went over with a crew and we taped a lot of conversations with refugees. And one night, we stumbled upon a boat coming ashore in the dark, and we helped its passengers off the boat. That was quite the introduction to the refugee issue.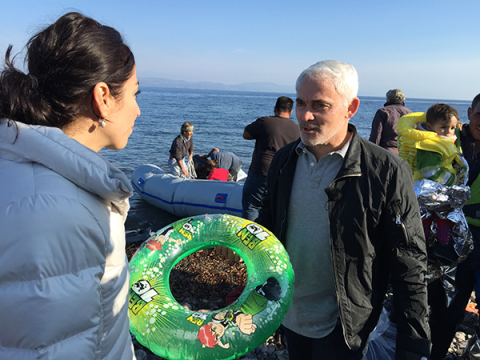 Over time, we returned to Lesbos, and to other parts of Greece, Turkey, Jordan, Lebanon. And as I got more engaged in the refugee issues, and trying to find solutions, we continued to film footage. And at one point, Debra said, "There's a couple of stories I want to follow." They're really touching and emotional journeys as they became refugees from Syria and Afghanistan. So I said, "Sure, go ahead, follow these stories," and she required a budget to take her to Sweden and Portugal and back to Turkey, as we followed the three families. Eventually it became apparent that this was a feature documentary film. We ended up with around 200 hours of footage, after three years of following these families. And Debra decided the film would be a fly on the wall documentary. It was really refugees telling their stories, in their own words, with us in the background listening and filming. And to make that authentic, you have to film a lot of footage.
It's us just eavesdropping on their lives and they talking about what they go through. You really get into their lives. You feel their emotions and what they go through and their boredom as they sit in the camps and, above all else, what they want for their children. And one common thread in all three stories is the parents didn't care so much for their own lives as for the lives of their children. They wanted them to be secure and safe and back at school like they were at home.
Your film tries to humanize the refugee families and, in the process, reveals them as very much like us. Was that your goal?
We use that phrase a lot, "just like us." I use that exact phrase. When you spend a lot of time as I have with refugees throughout the region, and those that come to Canada, you conclude quickly that they are just like us. That's the part I'm trying to convey to people, to overcome this narrative being promoted around the world, not just in the U.S., that these people are evil, job-stealers, rapists, murderers. Those labels are so incorrect. It's not fact-based. Most of these people are women and children. The large majority, whether migrants coming across the border into U.S., or from Syria, Lebanon and Turkey, they're mostly women and children. It's unfortunate that the plights of these families is being used to exploit a political narrative. That makes me sad, because they are just like us.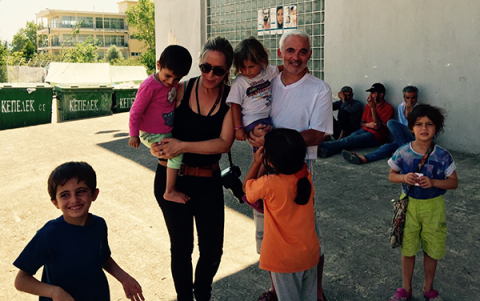 This film feels like the next best thing to going to Europe yourself to see refugees first-hand, and then return home convinced to give back and help in any way you can.
I've gone back to the region many times (since 2015) and taken people with me and, every time I do that, they engage in conversations with refugee families. They all come back as changed people, come back saying "What can I do to help?" Is it simply by volunteering, by providing resources, whatever they can do? It's amazing. I've not had one person I've take over come back and say they don't want to do something to help. They all say the same thing: "I didn't think their lives are like our own." Their children went to school. They had jobs and careers and hopes and dreams. They had homes and communities. And it was all taken away and you almost have to look at from the point of view of, imagine if that was my children.
Speaking of children, you had the experience in Lesbos, when helping empty that newly-arrived boat, of having a child thrust into their arms. Can you recall that life-changing moment?
We're emptying this boat and this woman hands me her two-year-old toddler and I'm holding this kid on a beach and I'm speechless. I'm stunned. Everyone was crying and praying and rejoicing that they'd had made it across alive. It was so surreal. You might see it on television, but when you're in it, up close and personal, it's a very different experience. I kept it together on the beach, but when I got back to the hotel, I lost it. That was the moment that did it for me. I realized, what if these were my children? What if I was in this situation? You're scared to the death for the safety of your children. So this film does the next best thing. It brings that message through film, a powerful medium.
You began your refugee work in 2016 and, with mounting political resistance in Europe to migration and a recent U.S. policy of separating families at the U.S.-Mexican border. That work can't be getting any easier?
It's saddening as I'm engaged in this mission to watch and hear this hate-based, fear-based narrative that's been said. It doesn't make it easier. I think it's a function about a lack of knowledge. There's facts about refugees and migrants that are being ignored. They don't fit the political narrative. We know in Canada that we've had this private sponsorship model for 40 years. It started with the Vietnamese boat people in the 1970s. We've had an amazing experience. We had around 30,000 (Syrian) refugees come in 2016. For the most part, it's been a pleasant experience because, when you engage communities to welcome refugees, everything goes smoother. The walls of mistrust come down. People understand each other, help each other and understand there's a common humanity.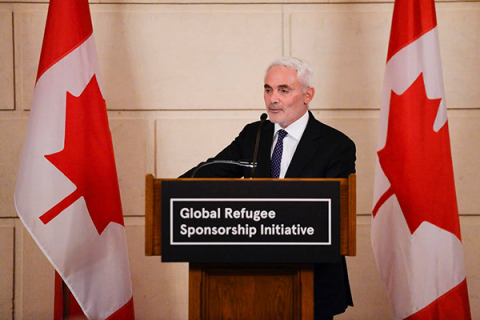 You feel governments alone can't solve the refugee and migrants issues. How are you massing resources and people to solve these problems?
This is a global crisis. And it's not going to be resolved by governments alone, unless the private sector, community groups, corporations get involved in solving these problems, we're all going to suffer for it. And no one is advocating open borders. That's misinformation. The reality is you have to have intelligent policies of border control and migration. But you won't stop migration. It exists. In a world of conflict and economy hardship, corruption and climate change, people are migrating, and you have to figure out how to deal with it through intelligent conversations, not by creating a fear-based approach to the problem.
Much of your work involves getting other countries, in Europe and elsewhere, to follow Canada's lead in private sponsorship of refugees.
That's why we started this global refugee sponsorship initiative, which is my foundation, the Canadian government, the UNHCR [UN Refugee Agency], University of Ottawa, and Open Society, George Soros' foundation. We came together and decided that there's enough interest in what Canada does that we should explore adapting it for the rest of the world. We want to help other countries to adopt this model to their own specific needs. Canada is a country known for its compassion. This model is something we've had for a long time and it just happens to fit the current situation as refugees have become a political issue.
How can ordinary people, in Canada and elsewhere, participate in a private sponsorship program to resettle refugees?
Every country will tweak this to their own needs, but generally speaking, in Canada, you as an individual, a community or church group, can come together and sponsor a refugee family for one year. That means, through the UNHCR, people from qualifying countries, say from Syria, are pre-screened and they're allowed to come into Canada. If I did it, it would cost me around $30,000 for one year, to bring them into Canada, get them settled in, make sure they have shelter, their kids are in school and they have the opportunity to go out to work. It's a way for private individuals and citizen groups to sponsor a family for a year while they get settled in.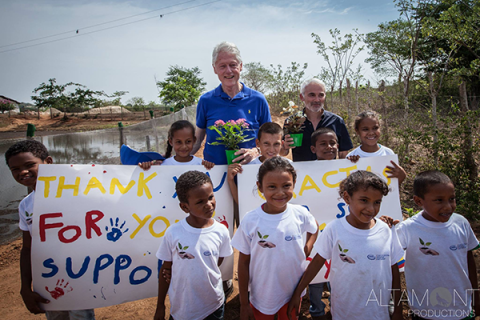 You're a wealthy man, a philanthropist, and have been so for a long time. But can you recall when you felt a need to go beyond handing over money to getting personally active, whether in making documentaries or convincing corporations and governments to join in efforts to ease a global refugee and migrant crisis.
I get asked that question a lot. I don't think there was one pivotal moment. But I've been doing philanthropy for well over 20 years. However, up until 2005, it was strictly Vancouver-based work on local issues. Then I met Bill Clinton and I funded his HIV AIDs initiative for a lot of money. It was not only my money, but I raised a lot of money. And it was a brilliant initiative that found a way to procure anti-retroviral drugs at a cost base that was affordable by developing nations. That initiative woke me up to the fact that it wasn't just about the money. It was about finding an entrepreneurial solution to a problem that no one had addressed yet. And they did. That was inspiring for me. So in 2007, I approached Bill Clinton about an idea about poverty alleviation. And I pitched the idea and said I'd fund it, and I think it will work, developing models to create jobs and income levels in the developing world. And they will sustainable models as social enterprises. And we've been at it for 11 years now and we're in numerous countries in central and South America, in Africa and Asia. That's the beginnings of me being involved in not just writing cheques, but in trying to find entrepreneurial solutions to global problems. And that's really what I do with my foundation. It will be my whole life: what I do now and what I do until the day I die.
Of course you have the resources to go out into the world to solve global problems. What do you suggest to Canadians who want to help in their own backyard?
To Canadians I say get involved with the private sponsorship model. It doesn't have to be you on your own. Get involved with a community group who chips in. The experience itself will enlighten you about who a refugee really is, and why they're beneficial to society in general. That's one way. I talk to a lot of kids, and find they understand compassion better than adults, and that the refugee issue is something that needs to be addressed and it's not right that it isn't. And once you convince the kids, they tell their parents and if you're a parent, you want to make your kids happy. You listen to them, and if your kid tells you to do something, you do it.
How do you convince fellow philanthropists to follow your lead?
The people I like to address the most are those with money. I've written a lot over the years about wealth and the purpose of wealth and philanthropy in general. And it irks me that there's so much concentration of wealth in the world today, much more than even 10 years ago. There's all this money accumulated in very few hands and it could be used for such great work. And not a lot of people are doing it yet. You have wealthy philanthropists, but their work isn't even close to being enough. Those are the people I like to talk to, who have the money, and yet don't find it in their hearts to do something with purpose. And I ask billionaires: have you ever sat down with a piece of paper and a pen and try to spend a billion dollars. Buy everything you've ever imagined or dreamed about. And buy two or three of them -- houses, boats, planes, art. I don't care. Buy everything. And put aside some money so your children are taken care of, and their children. There's still a lot of that billion dollars left over. That leaves people in this world with multi-billions of dollars and just don't do enough. I feel we need to get their attention. Because most governments are stretched. They have too many commitments. They can't handle one other issue -- say refugees. So wealthy private citizens, corporations, they need to get more involved. And this is the audience I like to reach.
(Please support Samaritanmag's original journalism by making a PayPal contribution to info@samaritanmag.com so we can increase the amount of content and writers we hire. Samaritanmag is the anti-tabloid, covering good people trying to change bad things)
Běžecké tretry Nike