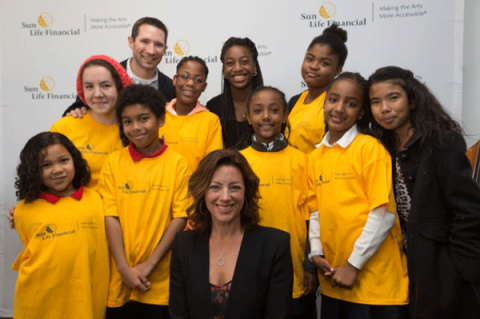 Sun Life Financial has been around more than 150 years and is one of the biggest insurance companies in the world. It's not the most exciting topic, and even if you have insurance, it's not something we chat about with friends the way we might the purchase of a house or car. But if you dig deeper and pay attention to the company's charitable side, it is quite impressive and even cool, especially its support of the arts, including Share the Music, which is part of Sun Life's award-winning Making the Arts More Accessible program.  As a life insurance company, health is the other obvious focus, with relatively new emphasis on diabetes. 
Paul Joliat, Sun Life's assistant vice-president of philanthropy and sponsorships, spoke with Samaritanmag about the history of the company's philanthropy and its current programs.
Sun Life (then called Sun Insurance Company of Montreal) started in 1865. Are you aware of when the company started giving back to the community?
"It's amazing. We have some partnerships that go back almost 85 years. So it's really in the DNA of the company."
Do you know what those organizations are?
"The Canadian Mathematical Society is one of the ones that goes farthest back, I think between 65 and 80 years, but as I said this notion of giving back has really been embedded in the fibre, in the DNA, of the company since its inception. We're celebrating our 150th anniversary this year and it's ingrained in everyone in the company that it's important for us to give back in the places we live and work."
More and more consumers are interested in supporting businesses that demonstrate corporate social responsibility and graduates are interested in working for companies that have a defined CSR mandate. How do you get this information out to your existing customers or potential customers or potential employees so that they know that this is part of what Sun Life does?
"That's a great point. I'll touch on a couple things of what you said there and then I'll come back to your question. I think you're bang on, especially the generation that's coming into the workforce now and it's so important for us for an attraction standpoint for our employees, but also for a retention standpoint for showing that we are socially responsible as an organization.  And to your point, it plays into the decisions made by millennials especially, in terms of where they work and where they want to work as well. And certainly then to your point of changing purchase consideration for various age groups is bang on as well. Research is showing exactly that — that consumers would be much more willing to purchase a product, all things being equal, from a company that is socially responsible to one that is not.  That, it seems like a no-brainer but the research just backs it up.
"So in terms of what we're doing at the company, one of my big focuses for us is how do we increase visibility of what we're doing in the community, both from a philanthropic perspective and a sponsorship perspective?  And we want to make sure that consumers are aware of what we're doing, so we're actually spending additional dollars, marketing dollars, to communicate our support. And it's important for our employees to see what we're doing in the community, but it's also important for our advisors and community members because we want to create the good will for our brand. But at the same point it also is impacting the organization we're working with.
"If you look at most causes, they have tremendous messages, but their communication mediums are not typically great, meaning they don't have a lot of mass media; they don't have a lot of distribution mechanisms to get their message out and the partners that they're working with. So we're going to take it upon ourselves to get the message out, not only about what we're doing, but the great work that the organizations we're supporting are doing as well. So that way it helps them build their brand but also helps build our brand as well."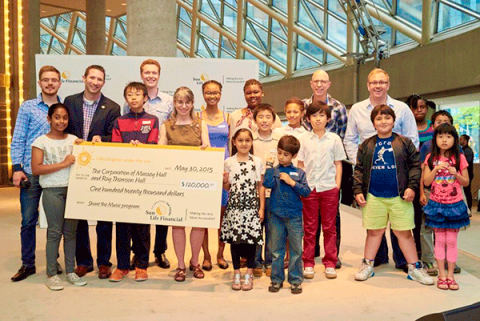 Life insurance isn't the sexiest, coolest thing in the world, and yet what you did at Massey Hall with Share The Music is pretty cool.  Is that ever a discussion, like how do you reach the general public and make it a little hip?
"Yeah, it is actually. The gentleman internally who oversees our brand [Bill Ramsammy, assistant vice-president, corporate brand and marketing] talks about trying to turn our brand into more of a lifestyle brand. We're never going to be Nike. We're not going to be Coca-Cola. Well I wouldn't say never but let's be honest, it's going to take a lot of work to be a Nike or an Apple or something like that. But we're trying to change the perception to your point of us being an older brand — it's not who we want to be seen as. And in order to connect with consumers, we're finding that it's working if you're looking at our TV creative; we're trying to be a little more hip, and we're trying to push the envelope a little bit more using humour and creative insight to try and appeal to our target audience.
"So when it comes to the initiatives we're supporting, there's a certain degree of that as well, how we try to bring them to life. In days gone by, quite often we would do a cheque presentation and that's where it would end, and not even that; we might just send a cheque in the mail. But now what we're trying to do is create some events and some ways to engage consumers with our brand. That then creates more goodwill, more of an emotional connection to Sun Life, and then, hopefully, that translates into when purchase consideration happens down the road —  'Oh yeah, I know Sun Life. I know what they're doing in the community. I believe in that. It resonates with me.  It's important to me. Yeah, I might actually consider purchasing a product.' To your point, it's a longer sales cycle in terms of what we do as an organization than, let's say, a chocolate bar or a Coke or instant gratification. It takes quite a while for us to get to that point."
Does the company that encourages its employees to volunteer and to take volunteer days?
"Definitely. We have a number of programs. We have a volunteer of the year award we're giving out. We also will donate $500 to a charity where employees have volunteered for more than 50 hours of their time. We have a program called Teams for Health, which actually encourages employees to join up for various community fundraising walks and bike ride initiatives and we'll pay their registration fees for all their participants. So that's an initiative to get employees active and thinking as a community and as a team. We also have a matching gifts program, so we'll match donations that employees have made to different charities across the country, up to $500 per employee per year.  We also do a lot of work with United Way in terms of the United Way matching program as well. So a lot of different initiatives that we do to try and engage employees and that goes back to the point earlier about retention and making people feel as if and recognizing that giving back to the community is important, and recognizing the work that they do in the community. We want to support them in those initiatives."
The organizations that Sun Life supports have to be registered, but for the employee programs can it simply be, 'Oh, I'm raising money for our friend whose house burnt down?' Does it have to be a registered charity?
"It does yeah. Based on the governance model within our philanthropic area, they have to be registered charities."
There are two components, health, and arts and culture. Are there any others?
"[Those are] our two big pillars when we talk about employee programs. The first one is health and wellness, and within that the big focus is diabetes and diabetes prevention."
Why is that?
"We launched that back in 2012 and before that, we were doing a lot of work in the health and wellness space, and we as a program internally call ourselves a health and wellness company, and looking at how do we help improve the health and welfare, the holistic health of individuals across the country, not only financially but physically, emotionally and mentally as well?
"We were donating quite a large sum of money in the space, but it was very fragmented and we as a company didn't stand for anything. So back in 2012, we decided that we needed a signature health and wellness focus to guide our investing, but also to stand for something in the community and make a larger impact than trying to spread our dollars thinly through many types of organizations.  So we looked at internally what we believe in, as a health and wellness company, and it's really about healthy active living, which is how do you encourage people to eat well, eat a balanced diet, and to exercise? And looking at smoking cessation and stress reduction. So when you start looking at those tenets and look at the marketplace and see what causes align with these different beliefs, diabetes was the one that really rose to the forefront.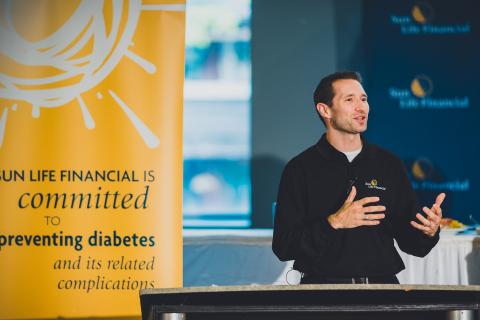 'It's a disease that affects one in four Canadians, and by 2020 it'll be one in three. It's a staggering number of people that have the disease, let alone families that are impacted by those that have it. We also look at it from our internal perspective and we can see the drug costs associated in diabetes escalating enormously year after year, so we could see the impact to our business as well. And we also looked at the marketplace and didn't really see too many companies behind the cause. So for us, it was a bit of, we thought, corporate whitespace, an opportunity for us to put a stake in the ground and say 'we want to be the organization supporting this cause here in Canada.' CIBC has breast cancer and Purolator has hunger and we thought we want to be the organization supporting diabetes. And since that time, since the fall of 2012, we've committed a little over $11 million to help fight diabetes, mostly here in Canada, but we've also started to roll out our support of the cause in the U.S and other countries where we are."
So Sun Life committed the money? It hasn't been raised by other means?
"That's correct. It comes directly from corporate."
So it's filled a gap? It's not personal like Bell president and CEO George Cope, whose mother struggled with mental illness, which prompted him to pledge company support to that cause. Do any of your executives have diabetes or anyone in their family have it?
"Yeah there certainly are. We have employees even within our own team who have diabetes, but it wasn't necessarily something that – it wasn't the catalyst to get this going. We looked at what we saw was the best opportunity for us as an organization, but also the area where we thought we'd have the biggest impact on Canadians as well. It wasn't necessarily driven by any sort of individual passion or any individual belief. It really grew out of coming together with the Canadian healthcare system to make the biggest difference possible."
What's the impact you've seen on a more personal level? Do you see where the money's gone or meet people that have been affected?
"Yeah, I'm very fortunate in the role that I'm in, being an ambassador of our brand for both our platform and for diabetes, because the number of people I'm fortunate to meet and hear first hand the impact that our dollars are making – certainly you hear it from researchers, there's no question, but to get out and go to events with the Canadian Diabetes Association or with JDRF which is the Juvenile Diabetes Research Foundation, and you hear some of the families talk and you hear, especially some of the children, talking about what they go through on an everyday basis. And if our dollars are going to these individuals and these families to help them better cope with the disease and better treat it, it certainly is heartwarming for myself and for our team as well and we communicate the impact that we're having on those families and those individuals to our broader Sun Life team as well, just so they get a better sense of what we're actually doing in the community because it really does make a big difference when you get to see that firsthand, which is great."
Let me ask about the arts and culture and music component. Why arts for an insurance company?
"It's a great question. We actually have been supporting the arts for a long long time, and some of our support for some organizations, Stratford Festival for example, goes back for more than 30 years. And we as an organization see the arts as something really important for developing Canadian culture, and it's something that given cutbacks in the government, we've seen arts organizations who've been hit very hard. And we believe very strongly, as a lot of Canadian companies do, that it's up to corporate Canada to help make a difference and help sustain Canadian art.
"Now to speak to being an insurance organization invested in the arts, one of the things — and we haven't talked about this too much — what we're looking more and more at is the heath impact of the arts. And looking at the recent research right now — and I'm actually looking quite a bit at this — what we're starting to see from research that has been put out is that if consumers are engaged in the arts, whether it's participating in them or just being a passive spectator, that there are positive health benefits that are being accrued and realized. Research will point to depression and stress and there are emotional and physical positive effects that are happening when people are engaging in the arts. Research is also showing that the more people are engaged in the arts, the more positive health benefits they're incurring.
"So we as an organization are trying to encourage people to be as healthy as possible and as a result of this research being done regarding health and wellness and the arts, we take it upon ourselves and say, 'Well this is what the research is saying, so we should be encouraging people to experience as much arts and culture as possible,' [which] is why we're helping to fund arts and culture in this country.  It's a different thing we're starting to look at in terms of our belief as to why we're in the arts and how it connects back to our business, to your point. Because a lot of organizations who just believe it's important to support the arts for the sake of supporting the arts, which we do, but as well we're starting to take a look at the health benefits on people engaging in the arts as something to focus on as we're going forward."
Recently Sun Life did a "Share the Music" event at Toronto's Roy Thomson Hall under your Sun Life Financial Making the Arts More Accessible program which invited 260 students from local schools to participate in a workshop with Cadence and Bobby McFerrin.
"It's about providing an opportunity to Canadians to experience the arts who otherwise wouldn't have the means. So really focusing on financial accessibility, so how do we as an organization help individuals, with a particular focus on children, engage with the arts who otherwise couldn't. So the Sun Life Financial Share the Music Program with Roy Thompson Hall and Massey Hall is a great example of that. It's children who come from high priority neighbourhoods. What Massey Hall and Roy Thompson Hall does is they work in this case with the Toronto District School Board and the Catholic District School Board and community music organizations every year to identify what the priority neighbourhoods are at the current time, and through the school they facilitate the distribution of tickets. So it's Roy Thomson Hall and Massey Hall working directly in the community to make sure that these tickets are going to children who otherwise couldn't experience a live event at either Roy Thomson or Massey Hall."
Are you doing this across the country?
"Our Share The Music program just works with those two organizations locally, but our Making The Arts More Accessible is a national program, everything from working with the Sarah McLachlan School of Music in Vancouver to the Neptune Theatre in Halifax. It goes coast to coast with many points in between."
Are there any other music charities or Canadian artists that you've worked with?
"Yeah. Our biggest program right now is with Sarah McLachlan. We launched a program with her last year. We started supporting the Sarah McLachlan School of Music in East Vancouver and Sarah will talk quite openly about the fact that when she finished Lilith fair, and I quote, 'I had more money than I knew what to do with.' And she said,' I always dreamed about opening up my own school with kids who can't otherwise afford music' because she saw firsthand the difference it made in her life.  So she opened this school in East Van to provide the opportunity to help at-risk underserved youth to be able to enjoy the experience that music can bring into their lives. And it's not about taking those kids and asking them to become professional musicians or to get them ready for Berklee or Juilliard, but more how do they teach them important life skills like empowerment and teamwork and collaboration; those types of things they really try to instill in the kids.
"And what we did with her last year was launch our program, launch our commitment with her school in Vancouver, and we worked with her on her tour last year to make donations to three other music schools across the country — one in Calgary [The Legacy Children's Foundation's Gift of Music], one in Toronto [Regent Park School of Music], and one out in Moncton [New Brunswick Youth Orchestra's Sisterna NB music education], which have very similar beliefs to her school which is all about providing at-risk or underserved kids with either free or highly subsidized music education. And we're in the process right now of planning another program with her that will just amplify that message of the importance of music education in kids' lives. So that's another really good example of a program that we would run on a national basis that really benefits kids and revolves around music as well.
"From an arts and culture standpoint, we've had this Making Arts More Accessible program since 2004 and continue on a yearly and monthly basis to give back to arts and culture programs and initiatives across the country and are really happy to be part of the fabric of Canadian culture by doing so."
Pàgina no trobada , Ajuntament de Reus