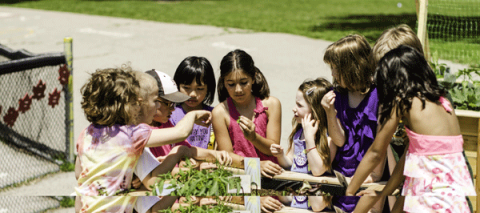 Banks may be noted for outrageous profits but TD's Friends of the Environment Foundation pours millions into community greening projects nationwide. Since being founded by TD Bank Group in 1990, the national charity has provided more than $66 million to over 22,000 environmental projects and programs, with grants averaging about $4,000 and dispersed among 38 local chapters managed by eight regional advisory boards. Those are some impressive numbers.
Some 140,000 donors — mostly TD bank customers and employees — make monthly contributions to TD FEF, raising an average of $3 million annually. Countless TD employees also serve as a de facto workforce, serving on the board, volunteering for tree-planting initiatives and contributing gorgeous themed photos to an awareness-raising calendar annually printed up and distributed to TD's customer base.
Speaking of the TD FEF board, its members also include experts, educators and activists drawn from the across the environmental landscape. TD Bank Group meanwhile, donates $1 million annually to the Foundation, covering administrative costs and ensuring 100 percent of every dollar donated supports a wide range of environmental initiatives focused on education, urban greening and enhancing biodiversity and energy conservation.
"And those admin costs are above and beyond that $1 million. So that includes staff like me, marketing and communications support and any marketing we undertake to promote our annual donor acquisition campaign at our branches," TD FEF executive director Mary Desjardins tells Samaritanmag.
Desjardins, who has headed the Foundation for five years and also manages its volunteer program, came to the job after joining TD in a strategic marketing capacity. "But this is way more fun," she allows with a laugh.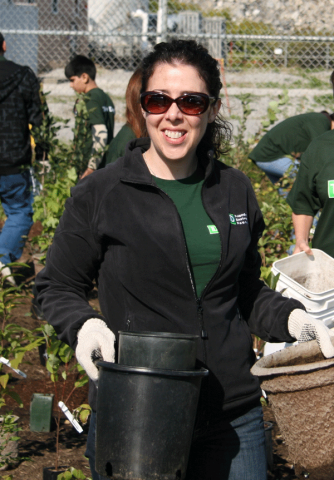 She continues: "This situation [with TD Bank Group] is an embarrassment of riches for a charity. We have world-class marketing and communications folks and we're able to tell our donors that because of this generous support from TD Bank Group, every dollar they donate goes back into their community."
That a 24-year-old Foundation anticipated the importance of the green movement back when Encyclopedia Britannica was experiencing its highest-ever sales (some 120,000 volumes in 1990) speaks volumes about its intrinsic progressiveness.
That the whole enterprise began essentially as a one-off campaign dreamed up by the marketing team to engage customers — but which immediately beat all expectations — suggests the Foundation has a knack for reading the mood of the times.
That is still the case today. "When we get a donation from an individual, we direct it to their local community. We want people to see that no matter what they give —  even $2 a month, which is about average — benefits them directly where they live. And that their money is working hard."
Donors are typically acquired at the retail branch level, notably through an annual campaign run in April to coincide with Earth Day. This year, TD FEF hopes to sign up 25,000 new donors to help fund projects as diverse as a public school environmental studies program in Ontario and a nature educational program in Alberta.
Last year, TD FEF received roughly 1,800 grant applications, of which some 940 were funded. "We get more requests than we can fulfill," Desjardins confirms, "so we are constantly looking for ways to increase our donor base.
"Employee involvement is a legacy that reaches back into the 1990s," Desjardins says. "Their passion is a big part of what has kept this going and we have volunteers from all levels of the bank, including some very senior executives who volunteer their time and are quite passionate about making thoughtful decisions. They may not have the environmental expertise – that's why we bring in experts – but they know the issues in their communities. That geographical knowledge is really important.
"And our board has amazing individuals drawn from environmental charities, NGOs, conservation authorities, tree experts, and government ministries who can really take a critical eye at the grant applications from a technical perspective and ensure we are funding the right things. These people know the environmental space and those working in the environmental space."
It may sound corny in an online world, but the calendars TD FEF prints and distributes each year — featuring photographs taken by employees and reflecting Canada's natural beauty — are a powerful and effective way of spreading the word.
Yours truly — who happens to bank with TD — got her calendar in the mail around Christmastime and was flattened by the gorgeous, professional-looking images of indigenous Canadian flora and fauna.
"We are very proud of those calendars. We create about 750,000 of them each year, so they are a great way to raise awareness of the Foundation but also a great way to engage our employees," Desjardins says. "It's a huge point of employee pride to have their photos chosen. They're so beautiful, and we get hundreds and hundreds of entries each year.
"I have one of the best jobs in the bank," she adds. "I get to travel across Canada and see these funds in action. We fund a lot of small organizations that rely on volunteer steam but make amazing things happen with very little money. Our average grant is still under about $4,000 but these organizations really make that money work. They engage young people and create the next generation of stewards for environmental work in Canada.
"We've also been able to create some of our own programs, like Tree Days, which started in 2010 and came out of our employees saying that they really wanted to do something hands-on."
According to the TD FEF website, more than 80,000 trees have been added to the Canadian landscape as a result of this tree-planting program, which is powered mainly by TD employees, their families and friends, and members of the community.
"We had 40 Tree Days events our first year," Desjardin says, "and I think we are looking at about 150 locations nationally this September. That's amazing and the outcome is tangible."
CONVERSE Plataforma Blancas , Comprar Converse CTAS LUGGED HI 565902C Blancas , Online