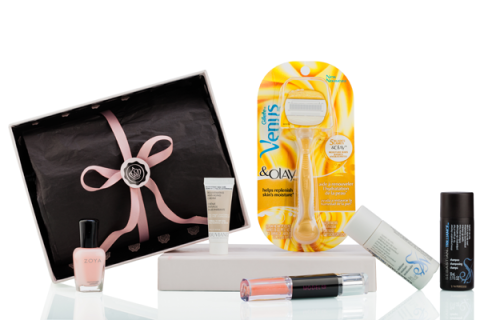 When Germany's Glossybox, the monthly mailed subscriber-based beauty sample box,  launched in Canada a year ago, the new  Glossybox Canada decided that one of the themed boxes would be cause related. They chose October for breast cancer awareness month and delivered the box containing products by Jouviance, Modelco, Zoya, Sebastian, and Gillette.
"We planned out our marketing calendar pretty far in advance. We were projecting in terms of numbers of subscribers that we would have at the time and were really excited to use the box to get some awareness about the cause that obviously affects a lot of women," Glossybox Canada's chief marketing officer Lisa Kisber tells Samaritanmag.
The month-to-month subscription for a Glossybox, which contains full-size and sample size products, is $21 (with free shipping).  None of the money for the October cause-focused box went to the Canadian Breast Cancer Foundation or similar organization. It was more about getting the message out, says Kisber.
"We have a huge subscriber base – we have subscribers in every province in Canada. We have a huge age range, our youngest being 11 years old and our oldest being 78 years old. We do have some guys who subscribe so it's a substantial amount."
The companies behind the products also didn't have to have an association with the cause.  Some had no discernable connection (a razor, shampoo, conditioner, and skin cream), while a couple of the product inclusions — such as Modelco Flipstick Lip Duo and Zoya nail polish — came in pink.
Of the Zoya nail polish, the card inside the Glossybox read: "We hand-picked four of the prettiest pinks to represent the diverse women affected by breast cancer all over the world. Toxin Free! Full Size!"
A pink postcard enclosed in the box advertised the Pink Collection by Caroline Neron jewelry from which 10 percent of the proceeds would be donated to the Kelly Shires Cancer Foundation, which provides assistance directly to those affected.
"Dear Glossies," the Glossybox card also read, "We really adore all of you and it is so important for us to recognize and support a cause that has affected each of us in one way or another. October is Breast Cancer Awareness Month, and while normally we love chatting about beauty and style, we want to take this opportunity to celebrate those women who have survived. Let's work together towards a world without cancer! Help us get the word out, get checked, get educated and let's conquer this disease once and for all. Because being healthy is the most beautiful gift you can give yourself."
"The point of Glossybox is to give our subscribers new information about products on the market," says Kisber. "We are basically already generating awareness so the fact that we could use that awareness generation for good definitely seemed like an obvious thing to do. We could've done a Halloween theme [for October], but this just seemed more pertinent and relevant, especially given the demographic  of our subscribers.
"So we tried to build the theme, but not necessarily require that be what [the companies] support in terms of their sales and what they do as a brand. We allowed pretty much anyone to participate in the box, knowing full well that the theme was going to be about generating awareness, and making them think it's not just about beauty, but it's also about being healthy.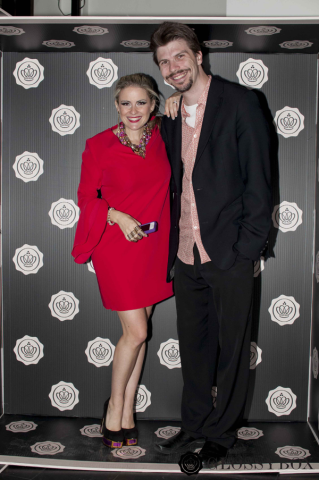 "We had a few that wanted to participate in terms of having colour be representative. Pink is associated with breast cancer, but also when we called it the Breast Cancer Awareness Box, one of the things we were careful to articulate is that it wasn't just about breast cancer. That's one thing that's out there afflicting people, but that cancer awareness and just keeping yourself healthy, getting checks regularly, taking responsibility for your health is super important."
Glossybox doesn't have any other cause-related themes booked for 2013 yet, but Kisber says there are a few different organizations that need help with exposure and want to get the word out. "So there's definitely a lot of talk about that.
"It's publicity [for them] on a pretty grandiose scale because we have a huge Facebook fan-base; we have a twitter following; we have people who regularly read our blog and we now have a theme within our box. We do an unboxing video where we're getting thousands of clicks. So it's really about using all these resources that we have that obviously are worth something in order to generate awareness of the cause. That's what they really need us to generate.
"We are always looking to do things a little bit differently," she adds. "We are all about marketing and we are all about exposure and publicity. Where we can use what we have for good, that's a huge and important thing for Glossybox Canada."
The company has also donated Glossybox boxes to various charities and causes for giveaways or auctions, such as the Cocktails & Closets and fashion-forward.ca launch party for New Circles charity; Just For Kids G!EE High School Showdown; SPCA paws for a cause; CJA (Combined Jewish Appeal) Manis and 'Tinis; Fondation Y des femmes de Montréal; New Beginnings (Prosperity ball); Weekend to End Women's Cancer; Max and Beatrice Wolfe Centre (Unicorn Gala) and Yes Montreal - Tune in to YES (youth employment services).
"Giving boxes is something that we do on a regular basis," says Kisber. "Pretty much any charity that approaches us, provided that it fits within the parameters of our brand DNA, we give them boxes as raffle prizes. We do that probably on average six events, six different charities a month. Obviously we have to be cost-conscious, but we also want to make sure that we are doing what we can."
PEACEMINUSONE x Nike nike zoom air insoles for shoes amazon "Para-Noise 2.0"