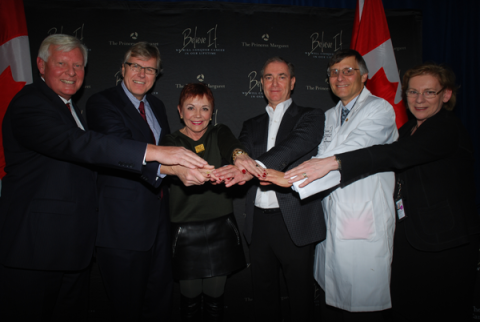 Canadian philanthropists Emmanuelle Gattuso and husband Allan Slaight, along with the Slaight family, have pledged $50 million over the next 10 years to The Princess Margaret Cancer Centre, the biggest private gift to cancer research in Canadian history.
The funds are an investment in human capital, the press statement says, a "superfund to support superstars," meaning it will go towards recruiting and retaining top minds from around the world whose mission is to eradicate cancer.
"This unprecedented 'superfund' allows us to build and support research teams focused on precision genomics, advanced tumour biology, immune therapy and molecular imaging," Dr. Benjamin Neel, research director of the Princess Margaret Cancer Centre, said in a statement, adding "I truly believe that we can conquer cancer."
In April 2012, The Princess Margaret Cancer Foundation launched a Billion Dollar Challenge, which has raised $243 million to date through donations and grants.
The Princess Margaret Cancer Centre has created its own model of "Personalized Cancer Medicine," encompassing four key themes: detect, diagnose, target and support. This will help detect cancers earlier, diagnose cancers more precisely, provide targeted treatment, and better support patients and their families.
"As you probably know, I had breast cancer and this is my 10th year anniversary actually, so it's a personal thing, of course," said Gattuso in a video about the $50 million gift. "My mother passed away of cancer; my sister had cancer. So it really is very personal. I've been involved with Princess Margaret for the past 10 years actually, and it's just been incredible to see the progress and it's been incredible that this cancer centre — which is one of the top 5 in the world — has been able to achieve what it has achieved."
In 2009, Gattuso, Slaight and the Slaight family donated more than $22 million to create The Gattuso Rapid Diagnostic Centre at The Princess Margaret. The centre provides one-day diagnoses and treatment plans to breast cancer patients. Rapid diagnosis is now being embraced by other cancer sites, including colorectal, lung, pancreatic and prostate cancers.
In 2012, Gattuso and Slaight were named Philanthropists of the Year by the Association of Fundraising Professionals (AFP). They give to a wide range of causes, but cancer is at the top of their list.
"Conquering cancer is one of the most important issues in the world today," Gattuso continues in the video. "We all have faced it ourselves or we've had family and friends who have faced it and we know how important it is. Our parents used to say, 'If you don't have your health, you have nothing — and they were so right.'"
M2k Tekno