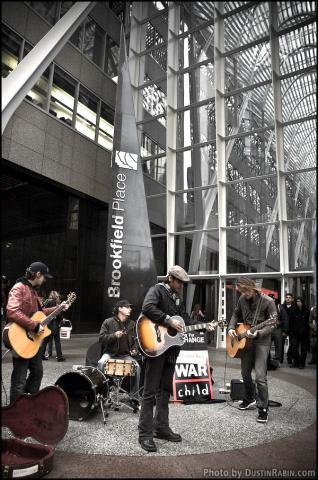 No word on if Eminem will hit the streets to rhyme, but musicians Joseph Arthur, Mother Mother, The Midway State, Sweet Thing, Hey Rosetta! and more have all signed on to busk for change at Montreal's Osheaga music festival, July 29 to 31, at Parc-Jean Drapeau on Ile Ste-Helene.  All money collected on-site and from online donations will support War Child, an award-winning charity that provides assistance to war-affected children. A portion of ticket sales will also go to War Child.
War Child works with children and their families to overcome the challenges of living with and recovering from conflict. In collaboration with local people, War Child aims to increase access to education, lift families out of poverty and create a protective environment for the rights of children. The charity is operational in Afghanistan, Sudan (Darfur), Uganda, Sierra Leone, Democratic Republic of Congo, Ethiopia, and Haiti.
War Child's first Busking For Change event was the brainchild of Our Lady Peace frontman Raine Maida, who busked for 12-hours straight in Toronto in 2007 and, with online donations as well, raised $22,000 for War Child Canada's School Rehabilitation and Revitalization Project in the Democratic Republic of Congo. His school is now called Abala School.
Since then, dozens of established and up-and-coming musicians have participated in Busking For Change in Toronto, Montreal, Calgary, Hamilton, Vancouver and St. Catharines (2011 S.C.E.N.E Music Festival),  including Down With Webster, USS, Default, Arkells, Chantal Kreviazuk, Finger Eleven, Amy Millan and Evan Cranley of Stars,  illScarlett, Neverending White Lights, Die Mannequin, Liam O'Neil of The Stills, Hollerado, Ladies of the Canyon, Winter Gloves, Jeremy Fisher, and Liam Titcomb.
Titcomb raised an astounding $50,000 in 2009 on his 50-city, 99-show national busking tour.
This is the second year Osheaga has welcomed Busking For Change. For the full schedule and list of artists, and to make a donation or sponsor a participating busker, visit www.warchild.ca/osheaga.  The schedule and list of artists will be updated regularly. 
Osheaga's lineup includes Eminem, Elvis Costello & The Imposters, The Flaming Lips, The Tragically Hip, Death Cab For Cutie,  Cypress Hill, City and Colour, Death From Above 1979, Broken Social Scene, Sam Roberts Band, and many more. None of these names are onboard yet to busk, but who knows. Maybe they'll brave the festival mobs to raise money for a good cause.
War Child will also have a booth at Osheaga with literature about their work and to answer any questions. There will also be one-of-a- kind raffle items, including a guitar autographed by City and Colour and other items signed by Busking For Change participants.
Busking For Change will also be a part of Supercrawl 2011 in Hamilton, Ontario, this September.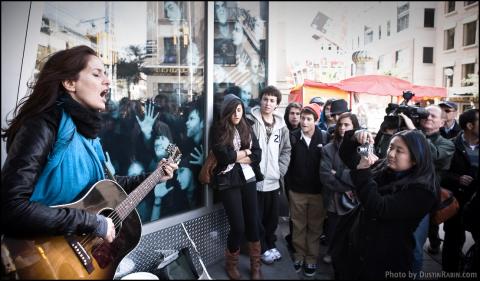 Kopačky na fotbal