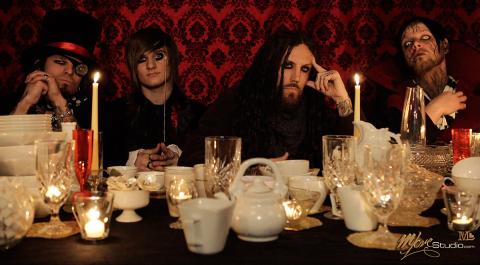 Guitarist-singer Brian "Head" Welch, who now fronts Love And Death, co-founded Californian nu metal band Korn in 1993, but the hard partying lifestyle left him addicted to methamphetamine and other drugs and alcohol. After getting clean and sober, he quit the multi-platinum-selling band in 2005, saying he wanted to devote his life to Christianity.
That did not mean giving up music, however, just conducting himself differently, which included wanting to give unto others.
Welch got a little carried away at first. One thing he contemplated was building skate parks for disadvantaged kids.
"Yeah, I was just off of drugs. I had entered this new life and I wanted to do everything," Welch tells Samaritanmag. "I wanted to be this saviour of the world. I would love to be involved in that, but I don't think it's on my radar of things to do."
One of the first charitable ventures he undertook was with Good News India, a Christian missionary organization which helps communities in Northern India by distributing food and clothing to the impoverished, furthering education, sponsoring orphaned or destitute children, and providing relief to people in the leper colonies. GNI does all this while heavily promoting evangelism and distributing bibles.
Welch says he went there to visit the orphanages and launch one of his own, dubbed Head Home.
"The guy [who started Good News India, Dr. Faiz Rahman] he was an orphan and they took him and they taught him about faith and they taught him about school, so he ended up getting a really good upbringing as an orphan," recounts Welch. "He moved to the United States and he felt his call to go back so that's how that got birthed."
[Ed. Note: There is no mention on the organization's web site that Rahman was an orphan, only that he was born and raised in Calcutta in a Muslim home, and his subsequent education and accomplishments].
"They have orphanages all over and people donate," Welch continues. "If you give a certain amount, you can have your name on the orphanage — after someone who's passed away, after yourself, whatever. I had a manager at the time who was really involved in it and I went over there with him and we built one [Brian "Head" Welch Home For Children].
"It was really cool, but I parted ways with that management so I parted ways from that."
Currently, as Love And Death tours America behind its debut EP, Chemicals, April 30 to May 24 with P.O.D. and RED, Welch has found a new charity to support, Mocha Club (themochaclub.org).
"It's a Nashville-based ministry, but its work is in Ethiopia," says Welch.  [There is no mention of a religious affiliation on the site].
"The concept is that for the price of two mochas or two coffees, you sign up and they help get sex slaves and women off the street, give them the opportunity for a job and an awesome life. We also build water wells because in some of these villages they have to walk miles just for water. I know the guy personally who started it [Barrett Ward] so it's really legit."
According to the site, "Mocha Club is an online community of people giving up the cost of 2 mochas a month - or $7 - to fund relief and development projects in Africa. We work in five main project areas: Clean Water, Education, Child Mothers + Women At Risk, Orphan Care + Vulnerable Children, and HIV/AIDS + Healthcare.
"Our vision is to provide a way for people who don't have hundreds or thousands of dollars to make a difference in Africa... ," it reads. "We're aware of people's general lack of trust that their money is being effective, and we address that by providing regular updates. Each month, we update our Mocha Club members on how their $7 is helping the people of Africa through videos and blogs of the specific projects they are supporting."
Welch says his role is the same as anyone else who joins, but because of his fan-base he can spread the word a little bit further.  "I'm just working on raising awareness.  I'm a member of it. I give my $7 a month and I tell people about it. If we all just give a little bit, we can make a difference. It's not like some of these other places that ask you for so much money; it's just really cool."
CONVERSE Plataforma Blancas , Comprar Converse CTAS LUGGED HI 565902C Blancas , Online