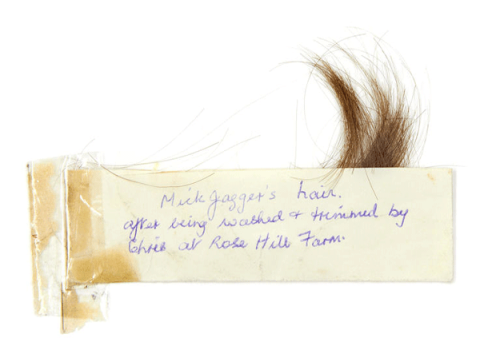 Who wants a 50th anniversary Rolling Stones concert T-shirt when you can have something much more personal, especially since some fans have been paying upwards of $1000 to $2000 for VIP packages to attend a concert, get dinner, drinks and a bag of merch, including a $600 leather jacket? That doesn't even include meeting the band. No, no, this is much better and the sale will help others, not just provide hours of odd conversations and chuckles.
A lock of frontman Mick Jagger's hair is up for auction through esteemed British auction house Bonhams and is expected to go for at least $2300 to $3100 to benefit Changing Faces, a UK charity giving support and information to people with disfigurements to the face, hands or body, and their families. Over one million people in the UK have a disfigurement to the face, hands or body from many different causes, according to the site.
Jagger, who turns 70 in July, looks pretty good and has an impressive head of hair for a man his age, but this lock for sale is from the 60s and has quite a history of familial care and preservation.
Listed under "Rock & Pop Memorabilia 190s & 1960s, lot #176 states: Mick Jagger: A lock of Mick Jagger's Hair, 1960s." The hair comes "in a small paper envelope inscribed "Mick Jagger's hair after being washed + trimmed by Chris at Rose Hill Farm," with a statement of provenance.
Chris is Chrissie Shrimpton, the former U.K. model who was Jagger's girlfriend at the time, from 1963 to 1966 — and had a pretty hip grandmother. Strange no one ever brought it up at family gatherings over the decades: "Hey, by the way, that famous rock star you were dating, we have something of his..."
The footnote on the Bonhams' auction page reads: "The statement, from Chrissie Shrimpton, confirms that, unbeknown to her at the time, this lock was saved by her grandmother when Mick and Chrissie were staying at her parents' farm. Apparently, on her grandmother's death, the hair passed to Chrissie's aunt and when she died, the hair was returned to Chrissie by a cousin taking care of personal effects.
The vendor has confirmed that all proceeds from the sale of this lot will be donated to the charity, Changing Faces."
The auction ends July 3, 2013 at 13:00 BST (6 p.m. EST).
Off-White nike air vapormax 97 beige blue color code cmyk University Red AA7293-600