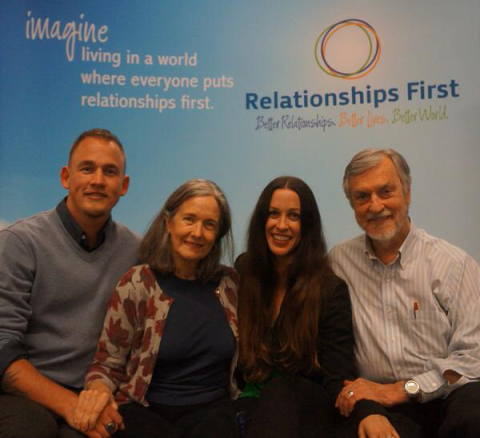 Imagine a world where everyone puts relationships first, it reads on the landing page of Relationships First. This is a new organization or movement singer-songwriter Alanis Morissette is putting her heart, soul and time into.
"Better relationships, better lives, better world," the web site states.
Morissette, 40, who is married to rapper Mario "Souleye" Treadway with whom she has a child, has supported many causes and charities throughout her 25-plus-year career as a professional singer and continues to do so, from Oxfam to the National Eating Disorder Association, but her big focus presently is on bettering herself and her relationships and passing her wisdom on to others.
Besides working on a self-help book, which she hopes to deliver to her publisher in June, Morissette tells Samaritanmag, "I do a lot of keynote talks. The one in San Francisco [at Wisdom 2.0] was about narcissism and how to create functional relationship in the narcissistic era, where we're all about me, me, me, and [one] was about art and the process and how it supports therapists in supporting their clients.
'They'll be on my [web] site momentarily when I get them," she adds. "I love giving keynote talks and specifically conversations where I can dialogue with people."
Morissette recently appeared on an episode of In Deep Shift with Jonas Elrod, a profoundly revealing series of interviews in which she talks about her anxiety, being "in and out of depression," even suicidal thoughts and post-partum depression. It happily transitions to a 2014 keynote, for which she is joined onstage by her spiritual mentor Neale Donald Walsch, the author of the Conversations with God series.
"I'm here to have conversations publically about what it is to be a human being and speak about it from a psychological spiritual, existential, artist perspective," she tells the audience.
"The disconnection that has happened in the past for me was being in the public eye and thinking, erroneously, that it would lead to profound connection," she chuckles.
"There is no other direction for me to go in other than within, at this point — because I've achieved the American Dream. And I still feel…" she says, pausing, teary eyed and choked up,  "and God bless Neale, I read Conversations with God," Morissette resumes, crying and holding his hand.
"Also, that service was a beautiful thing —  service through the use of my gifts, service through use of showing up, service through use of having conversations with people. Just all of us helping each other out because it's really hard to be human."
The Canadian singer — who discovered fame was not what she'd imagined after the unstoppable global success of 1995's Jagged Little Pill, which sold 33 million copies — isn't just dipping into personal experience for her talks. This is an area she has immersed herself in through reading and study.
"I'm surrounded by my teachers, who are now my colleagues. So I started an organization [Relationships First] with Harville Hendrix and John Gottman and Dan Siegal," she says of these best-selling authors with PhDs in psychology. "It's very neurobiological, relational obsession with how to make this functional so that we're not all suffering terribly and breaking up the second we start fighting with one another."
Morissette helped launch Relationships First on Dec. 11, 2014, during her keynote address at the Evolution of Psychotherapy Conference in Anaheim, California.
"Relationships First is a new nonprofit cause on a mission to improve lives—and therefore the world—by making relationships better," it states on the web site. "A dynamic group of some of today's most successful and respected therapists, relationship experts and best-selling authors, social entrepreneurs, and artists have come together to harness the power of their combined knowledge to ask (and answer) the question: if we put relationships first . . ."
The founders  — "a dynamic think tank" — are a long list mainly of couples. Each is given his or her own biography; Morissette and Souleye are among them.  Another page links to an interview she did about why she is involved with this movement.
nike fashion