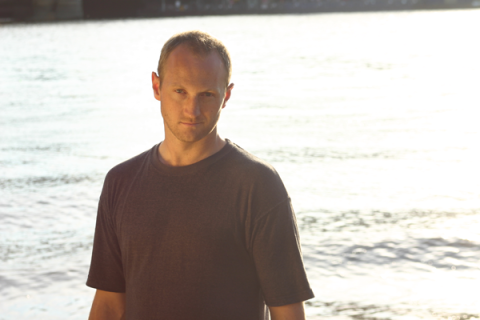 Baba Brinkman is a rapper with a twist, or perhaps a biological bent.
He was born in a log cabin and spent much of his childhood in British Columbia's remote Kootenay region, where he planted more than a million trees. He went on to earn a bachelor of arts degree in English literature from Simon Fraser University and a master of arts degree in comparative literature from the University of Victoria.
Brinkman coined the phrase "Lit-Hop" on his 2006 album of the same name after he first came to the public's attention by writing, recording and performing The Rap Canterbury Tales as a means of telling Chaucer's Middle English, 14th century stories to modern audiences two years earlier. He's since gone on to create the musicals The Rap Guide to Evolution, The Rap Guide to Human Nature and The Rap Guide to Religion while pursuing an interest in science and releasing 10 original rap albums on his independent Lit Fuse Records label.
Brinkman has a knack for communicating complex and difficult subjects in refreshing, digestible and impactful ways. His latest project is The Rap Guide To Wilderness, which spreads conservation awareness and urges people to respect natural resources by tackling such issues as de-extinction, climate change, and biodiversity and habitat loss.
The 36-year-old debuted material from The Rap Guide to Wilderness last month in Sydney, Australia at the IUCN World Parks Congress, a once-every-10-years meeting of 6,000 conservation delegates — including some of the world's top environmental scientists and 30 environment ministers — that considers how to safeguard the planet's natural assets.
The album version will be released on Dec. 16 and 50 percent of the net profits from its sales will go to The WILD Foundation, which aims to protect wilderness while meeting the needs of human communities by working across cultures and boundaries through collaborating with local peoples, organizations, the private sector and governments to create practical projects and communications initiatives. Its Nature Needs Half campaign has a goal of ensuring: that enough wild areas of land and water are protected and interconnected to maintain nature's life-supporting systems and the diversity of life on Earth; human health and prosperity, and a bountiful, beautiful legacy of resilient, wild nature. 
Brinkman agreed to an interview with Samaritanmag about his rather unique upbringing, The Rap Guide To Wilderness and other projects.
How did you become involved with this project with The WILD Foundation?
"Vance Martin, the president of The WILD Foundation, reached out to me with a proposal. He had heard about my Rap Guide to Evolution show and thought the concept would be interesting applied to wilderness conservation. It was a cause close to my heart, so I jumped at the chance."
Did you have any involvement with The WILD Foundation prior to this, and what's your involvement now aside from sharing proceeds from the album?
"Initially The WILD Foundation hired me as the entertainment at their big event in Salamanca, Spain in 2013. WILD10 was their tenth wilderness conference, and they wanted to make a big splash. We didn't make contact until early in 2013 though. So I wrote the song 'Go Wild' and performed it at WILD10 and the response was awesome, and Vance came to me a few months later and said, 'Hey, let's make a whole album.' I don't have an official position with the foundation, but we keep in touch regularly, and they have expressed interest in having me write and record and perform more original work at events they organize in the future."
You grew up in tree-planting camps and started planting yourself as a 15-year-old, so this project must have pretty deep roots with you. Tell me about your background and environmental views and how this project fits in with it.
"I was born into a family of environmental entrepreneurs. You could call them hippies, but they were pretty industrious for hippies, more focused on proactively changing the world for the better than on solipsistic hedonism. My parents founded one of the largest reforestation companies in the world, and I grew up around that culture, which is about conscientiousness, contribution, community and environmental sustainability.
"One of the main ideas that took hold from being raised that way is that it need not be either/or, either economy versus environment or nature versus culture. If you can make tree-planting into a viable business, then where else can you both make the world better and also earn a good living? I don't know if rapping about wilderness is as good for the world as planting actual physical trees, but I hope so."
How did you decide what specific topics to rap about?
"I consulted with Vance, who has been on the front lines of the wilderness conservation struggle for years and knows the landscape a lot better than I do. He forwarded articles that I should read and we discussed the key challenges he faces in getting his message across. And from there I chose subjects I thought were interesting and that I had something to say about, or had a personal connection to."
Do you want to elaborate on the lyrics for any of the songs and the messages they're conveying?
"Sure. I sent the record to several music blogs, asking them to review it. One of the most interesting responses came from a blog called Heathen Harvest, which declined to review the album primarily because they don't cover hip-hop, but they also added a further comment: 'On top of that, most people on staff here are those 'back-to-landers thinkin' they're savin' the planet by takin' us ass-backwards.'
"So clearly my lyrics caused some offence. The line they quoted is from the song 'Tranquility Bank' and it's one of the more combative but also complex lyrics on the album because instead of taking a swipe at those who are apathetic about the environment, I'm taking a swipe at those who care deeply but express their conscience in a way that, in my view anyway, is counterproductive and a bit hypocritical.
"The lyrics in question are:
'So don't listen to the back-to-landers
Thinkin' they're savin' the planet by takin' us ass-backwards
To the days when everyone was a farmer
And famine was common and thought of as bad karma
The wild side needs to renew and be pretty
You want to be green? Cool, move to the city'
"And here's an excerpt from the email response I wrote to them, which elaborates on the lyrics: 'I am comfortable talking trash about hippy fallacies because I was "born and raised in the briar patch" so to speak, i.e. born in a log cabin that my back-to-lander parents built in the woods, raised on all organic food and alternative medicine, and most of my friends growing up were the children of either tree huggers or tree planters (check out my wikipedia page for more background). Those are my people. The fallacy is that back-to-land living has a positive moral dimension for society. It might be good for you, or for your kids, but it's definitely not a scalable model behaviour on a planet with 7 billion people.
"That's my main point, but I think it's an important one. Imagine if all 8 million people in New York city decided they wanted to live in the woods. Would that decision be on balance good for nature or bad? Obviously the answer is "very bad", but many people who adopt a back-to-nature lifestyle (a valid personal consumer choice on their part) also adopt a holier-than-thou attitude and even go so far as to suggest that if everyone followed their example the world would be a better place. I call bullshit on that claim, not on the lifestyle itself, which is where I come from and I still feel very connected to it. I can feel that sense of connection and also recognize the lifestyles of back-to-landers as essentially elitist, because it only works if an elite sub-culture does it, as opposed to everyone, which means it isn't an ethical or environmental model for humanity as a whole.
"In fact, urban living is on balance far greener and more ethical, because of the efficiency gains associated with transport and energy and goods going to more people occupying less space. Or maybe that's just how I rationalize the fact that I now live in the city while yearning for nature."
How difficult is it to take sometimes complex subjects and make them into rap songs so that the average person can grasp and understand the points you're trying to convey?
"It's very, very difficult, possibly one of the most elusive and under-appreciated creative challenges known to human beings. Definitely not for the faint of heart."
How did your performance at the IUCN World Parks Congress last month go over?
"Gangbusters."
What are the plans for future performances of The Rap Guide to Wilderness?
"I'm going to continue to perform and tour the songs wherever possible. For instance, I was just booked to perform at the Ontario Biodiversity Council's rather large conference in May 2015. I'm just putting it out there to the world and seeing where it catches on."
Are you involved with any other charities? If so, how?
"I've developed several hip-hop plays with the Soho Playhouse, which is a non-profit theatre company in New York, but this is the first project I've done specifically to bring the work of a charity to a wider audience."
What were the sales of your past albums like and what are your expectations for this one?
"That's an impertinent question, a bit like asking a mature woman her age. But since you asked, I've sold in the range of thousands to tens of thousands of albums, but never in the range of tens to hundreds of thousands. If this one hits 10K digital downloads I'd be pretty happy about that. If more, than even better."
Where and how can people purchase the new album and how much does it cost?
"Physical copies are $10 from wild.org, I have it Bandcamp as a pay-what-you-like download, and it's on iTunes at their standard pricing."
What's in store for 2015?
"I'm going to put out a Rap Guide to Religion album about the evolutionary origins of religious behaviour, and I'm in talks with a group of researchers about doing a Rap Guide to Medicine album as well, but that one's still in the planning phase. And I'll probably write a new play in time for the 2015 Edinburgh Fringe Festival as well. No rest for the wicked."
Nike Air Max 270