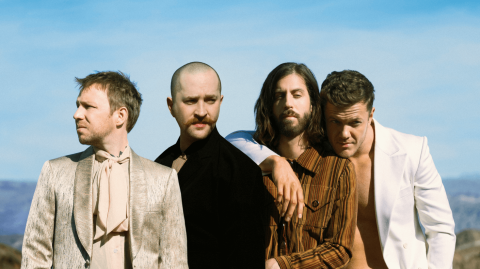 Bold.org, the scholarship platform committed to fighting student debt through philanthropy, is continuing its Year of Giving Campaign with the new $10,000 (USD) Imagine Dragons Origins Scholarship.
Four awards of $2,500 (USD) will be given to first-generation refugee or immigrant students in the United States to commemorate the Grammy Award-winning pop-rock band celebrating a decade together and the launch of two new singles: "Follow You" and "Cutthroat."
"The Imagine Dragons Origins Scholarship touches close to home for me," Bold.org chief executive officer and founder Dror Liebenthal said in a media release. "My family immigrated to the US when I was four, and spoke no English.
"Looking back as the first person in my family to navigate the US college system, I'm thrilled that Imagine Dragons chose to focus their scholarship on immigrants, refugees, and first-gen students. It's an honor to work with them as part of our Year of Giving Campaign."
The scholarship's inspiration comes from Imagine Dragons' experience performing around the world and witnessing the power of music as an international language that connects people from all backgrounds, cultures and walks of life. The Las Vegas group has gained empathy for those who come from different cultures, especially those who've started a new life and faced educational and financial challenges in the U.S.
"Our nation was founded by immigrants, but we still have a long way to go in giving them the support they need to succeed here," Imagine Dragons said in the release. "This scholarship is about empowering people brave enough to make a start in a new country, and we're honored to play a small part in furthering that cause."
Bold.org was founded in San Francisco in November 2019 to help relieve the $1.8 trillion debt crisis that has impacted 44 million people in the U.S. It's financially backed by Mechanism Ventures and provides a platform for any person or company to create personalized scholarships, fellowships or grants.
Bold.org's Year of Giving Campaign kicked off in January after the organization created hundreds of new scholarships with partner organizations and individual donors to fight student debt in 2020. The Bold.org website says the average college graduate is more than $30,000 in debt.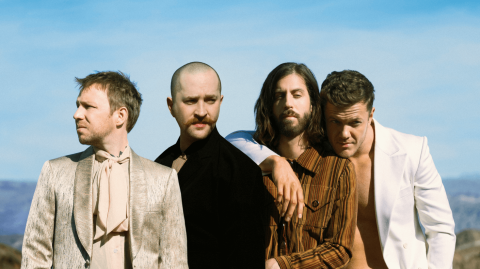 The Year of Giving Campaign is Bold.org's commitment to creating $10,000 scholarships each month alongside impact-focused public figures and brands. Previous campaign partners include electronic dance music producer and DJ 3LAU, National Football League wide receiver JuJu Smith-Schuster and NASCAR driver Bubba Wallace. The campaign will announce Bold.org's largest scholarship yet, for $100,000, at the end of the year.
Imagine Dragons, which released its Night Visions debut in 2012 and has issued three more albums since then, has long used its music success and platform to spotlight important causes. It has made charitable contributions to a number of causes and social issues, including: lesbian, gay, bisexual, transgender and queer or questioning rights; young people battling cancer; victims of terrorism; and refugee relief.
Imagine Dragons and SAP SE launched One4 Project in 2015 to support relief efforts for immigrants. All of the profits from its "I Am Me" single went to The UN Refugee Agency.