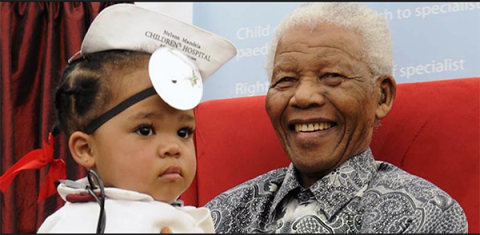 Common, Robin Thicke and Chic featuring Nile Rodgers will be among the marquee performers hoping to bring one of the late Nelson Mandela's great dreams to life when they perform at the Legacy Of Hope Nelson Mandela Children's Hospital Benefit Concert on July 15, which will stream live on the Internet for $4.99 (USD) or VIP stream for $6.99 (USD).
Tickets for the live concert, which is being held at the Barclays Center in Brooklyn, NY, are available through Ticketmaster for $45.50 - $205.50 (inc. fees).
Money raised will go towards the building of the Nelson Mandela Children's Hospital in Johannesburg, South Africa. There are only four children-specific hospitals in continental Africa and it was the late South African president's wish to build a state-of-the-art facility in Johannesburg. 
"This new hospital, which will open in 2016, will celebrate the legacy of Mr. Mandela by improving the healthcare of Southern African children for generations to come," it states in the "about" section. "No child will be turned away due to inability to pay. The Nelson Mandela Children's Hospital will be also be a turning point for pediatric specialist training and research in the region. Many Southern African children are not receiving the critical care that they need for complex illnesses because there are not enough facilities or medical professionals dedicated to treating them. The Nelson Mandela Children's Hospital will also provide a holistic healing environment for the children, as well as room for reflection for parents. It is our collective effort that will ensure that we improve the lives of the future leaders of this world."
According to the Legacy Of Hope Foundation, a U.S.-based charity (which is distinct and separate from Canada's Legacy Of Hope Foundation, which focuses Aboriginal issues), it will take $100 million U.S. in funding to build the children's hospital. Legacy Of Hope says they've achieved half of their fundraising goal.
The Legacy Of Hope Foundation has some high-powered supporters from around the world. In January, rock band U2 donated a signed guitar to the organization. They also count the likes of Dame Judi Dench, Arun Gandhi, Whoopi Goldberg, Dr. Sanjay Gupta, Sir Anthony Hopkins, Ashley Judd, Nicole Kidman, Larry King, Sir Ben Kingsley, Salma Hayek Pinault, Natalie Portman, Susan Sarandon, Charlize Theron, Ben Vereen, Barbara Walters and the late Dr. Maya Angelou on their honorary board of directors.
The concert will also feature Grammy-winning violinist Miri Ben-Ari and South African musician Jonathan Butler. Legacy Of Hope's website suggests there'll also be more guests to be announced.
Shop Sneakers in Footwear