Of all the reasons someone might choose to run a 5K marathon — personal challenge, fundraising or fitness goals or some combination of the three — it's hard to imagine many saying "For the chance to join an awesome, neon-emblazoned EDM dance party with all my friends at the finish line, yo!"  Yet that may be changing with the advent of Electrodash.
Billed as a "5K Dance Party" and set to roll out in cities across North America this summer, Utah-headquartered Electrodash is a non-competitive 5K run/walk open to anyone willing to don the neon glasses, LED bracelets and glow-in-the-dark tattoos distributed at the starting line.
The prevailing idea is to get EDM-loving youth engaged in fitness and group activity while steering the concept of raves away from something druggy and depraved towards something celebratory, safe and fun.
That there is a charitable component with each race only enhances Electrodash's appeal to participants, parents of participants and the various amusement parks stepping up to be transformed for one night into Technicolor, neon-lit marathon courses complete with live local DJs, luminescent water features, swaying illuminated inflatables, glow-in-the-dark "trees" and other trippy, rave-inspired visual props.
"Raves are often associated with unhealthy choices and unhealthy things," Matthew Burton, Electrodash co-founder and director of finance tells Samaritanmag. He notes that two events happened in 2013; 29 cities are currently listed on the Electrodash website for runs in 2014.
Burton continues: "We see this as a really strong opportunity to have a rave-like experience but with running and healthy lifestyle and people getting to have that exhilarating experience with the music."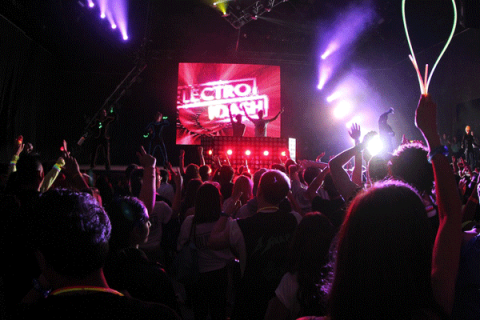 According to Burton, roughly 75 percent of Electrodash participants are female, and 50 percent of all participants have never done a 5K before. "So this is for the person who is not a serious runner but wants to get active and participate in a totally unique event that they can share with their friends and remember for a long time."
Consistent with Electrodash's approach to staging a marathon — no winners are declared, no prizes distributed and the events happen at night — its approach to charitable giving is also unique.
Rather than adopting the traditional pledge protocol where individual runners or teams recruit sponsors, Electrodash selects a charity in each city where the runs are held — typically a non-profit with an existing relationship with the course site — and then follows a three-pronged method.
"We give the charities a coupon code which allows them to spread the word [about the race] in their community and those folks can get a discount to our event. A percentage of those registrations goes directly to those charities. We also give everyone in the registration process the option to donate additional funds to the charity.
"The third aspect, which we really like, is that at the event itself, the charity can get involved in supplying volunteers. And for every volunteer they supply, we donate a set amount per person to that charity.
"Typically, charities have to do a whole lot at fundraisers. With this event they don't have to do much but there is a financial benefit and they have their names associated with a really fun, high-profile event."
While Burton declines to offer stats on how much is donated ("We don't want to create a climate of comparison as it can vary from city to city," he says), he notes that the Canadian Cancer Society was the benefactor of the inaugural Electrodash held last September in Toronto at Canada's Wonderland which drew some 3,500 participants.
Others benefactors so far include Big Brothers/Big Sisters and Calgary's Olympic Park development program.
STORY CONTINUES AFTER THE VIDEO:
As Burton explains, Electrodash has its roots in another unconventional marathon, Color Me Rad, playfully described on its website as "a 5K that fires off in a blaze of color bombs, color cannons, color mortars, and multi-toned courses that guarantee your outlook will be brighter, your boyfriend will be more affectionate, your boss will finally remember your name, the hair on your head will grow back and the hair on your back will fall out, and your gray outlook will turn green like a spring morning."
In other words, a loose-limbed, for-fun race with an emphasis on having a blast long before crossing the finish line.
"There are five Electrodash co-founders," Burton says, "Four operate the Color Me Rad races in Canada. We saw an exciting opportunity to take the fun-run concept to a nighttime, music-themed event. We realized how much people loved those races. It's almost like a flash-mob experience where you can be involved in something very unique.
"It really creates a memorable experience with you and your friends, which is why these events do so well on social media. And even though we are a for-profit organization, we wanted to give back, hence partnering with charities in each city where we stage an event.
"That we managed to get 3,500 people at Canada's Wonderland last year with just a three-week registration period was thrilling," Burton adds. "We fully expect to triple that number of people this year."
Judging by a promotional video shot at Canada's Wonderland last September and posted to the Electrodash site, the 5K courses really are head-spinning smorgasbords of sights, sounds and scenes. Burton confirms that it takes two days to erect the courses, which are then town down overnight so "our venues can be up and running with their own events the next morning."
DJs figure prominently of course, as do neon-bedecked dancers. Photo opportunities abound and anyone over age 16 can volunteer to help if the idea of running/walking the course doesn't appeal. Pets are not permitted but you can bring your grandmother or your kid, and participate as an individual or as part of an ad hoc team.
Using amusement parks as bases for the runs "are great because light shows and other entertainment features can be built into the course," Burton says. "When people run our course, we want them to feel that they are participating in a spectacle.
"This is not the kind of run where people start the stop-watch to see if they can make it in 20 minutes. We offer high-quality entertainment, so people will jog until they see something cool, then they'll stop and take some pictures with their friends and upload those images to Instagram, then jog some more and see another cool thing. People mosey their way through the course.
"And you see the excitement come through on social media in local markets as people anticipate the event.  People dress up in costumes, dream up fun team names… it's part flash-mob, part athletic event and one of the most unique experiences participants will ever have.
Wholesale Cheap Nike, Jordans, Adidas, Air Max Shoes China Sale Online