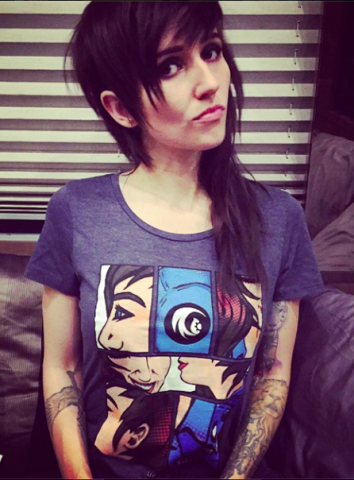 Singer Lights created a cool comic book style image for a charity T-shirt in partnership with Bluenotes clothing retailer. All proceeds go to Kids Help Phone, which provides round the clock counseling to young people who are stressed, depressed, suicidal or experiencing other issues such as bullying or abuse.
The grey tees — which come in girls and guys styles — sell for just $10 in select stores and online.  They will be available until the end of 2014 or until they sell out.
"Ten bucks. I love that. Everybody can afford to wear it," Lights tells Samaritanmag. "I've gotten so many tweets of people wearing it." The Juno-award winning synth-pop musician released her latest album, Little Machines, in late September and just wrapped up a tour.
Lights, who was born in Timmins Ontario and now lives in Mission, BC, actually visited the Kids Help Phone Toronto location for a few hours one afternoon in order to get a better understanding of how the call centre works and what she learned impacted the T-shirt design.
"I got to talk to some of the counselors about what they're all about because I know how great they are, but I've never had that insight and it's really amazing," Lights says.
"One of the things that really stuck out to me talking to them was that their main focus is to inspire whoever they're talking to to find the courage within themselves and to find their own strength to take the steps that they need to to get out of whatever they are going through.
"I thought that was really empowering. It's not them calling emergency services or sending somebody to go help them; it's encouraging them to help themselves and I think that is so good and important, especially for young people.
"So when I sat down to focus on a piece of art, I decided to make the person in the art sort of reflect me because I've been there where I've had emotional and mental depression. I've dealt with that when I was younger, body issues, or whatever people are dealing with and I know where they're coming from and I have a lot of fans that are dealing wit the same things. 
"So I made the girl in the picture look kind of like me and there are two of the same girl. One is whispering into the other girl's ear and the other girl is smiling so it's like you speaking to yourself — words of encouragement, beautiful things. Everybody needs to do that a little bit more," Lights says.
"We went back and forth, changed some things around. We cut the original painting up into some comic squares and put some pointillism into it and made it something that would work on a shirt because [Bluenotes] understand that a bit more. I just do the art."
Interestingly, because of the way the face is divided into parts on the T-shirt it could reflect Kids Help Phone's commitment to anonymity.
"That's another key thing that I learned there (at the Kids Help Phone office) is how anonymous they are and how important it is for the person to be able to understand the powers that they have themselves because it's completely anonymous. I thought that was really cool. That's an interesting interpretation of it. I think that works on many levels."
Lights, 27, and a married mom, says she was fortunate enough in her childhood and teens not to have to turn to something like Kids Help Phone. She had her family.
"For me, we actually moved around a lot as a family so my family was my haven. I was able to talk to my parents about everything" she says. "It's one thing I feel really lucky for. A lot of people don't have that connection with their parents where they can talk to them. Sometimes that's who they're getting away from in some situations. But that was always my go-to was my mom and dad and being very open with them about everything which isn't as common as maybe it should be."
When she visited Kids Help Phone, she was told that peak hours for the service — which is available to children and young adults ages 5 through 20 — were actually at night.   "Because night can be a lonely time," Lights explains. "It's interesting to look at and put yourself in that place. We've all been there."
Nike WMNS Air Force 1 Shadow White/Hydrogen Blue-Purple