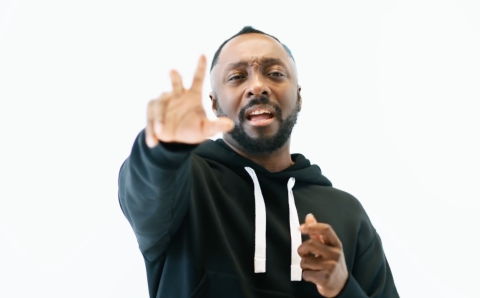 Black Eyed Peas rapper and solo artist will.i.am has launched a $5 million American Dream Fund campaign to encourage STEAM education for students in underserved communities.
The GoFundMe fundraising initiative to support the i.am. Angel Foundation will be used to promote STEAM (science, technology, engineering, arts and math) education programs for needy college-bound students.  
"We're facing an education crisis in America. Your donation can help at-risk students get access to quality education so they can, in turn, lift up their families and communities. This is what the American Dream Fund is all about," a pitch for the American Dream Fund said on its GoFundMe page that in five days has raised $2.09 million on its way to a $5 million goal.
In a music video entitled "American Dream," unveiled as part of the American Dream Fund launch, the multi-platinum, multi-Grammy winning artist and varied college students rap lyrics that tout quality education and STEAM for allowing young people to fulfil their potential.
"Fair access to quality education is a social justice issue that is core to achieving the 'American Dream.' Kids that graduate from high school with STEAM skills and go onward to college have better career paths, the opportunity to start businesses, build wealth and lift their families and communities out of poverty," i.am Angel Foundation founder will.i.am added in a statement.
The i.am Angel Foundation programs has supported students  enrolled to attend top Ivy League and other top universities like Brown University, Columbia University, Dartmouth College, Georgetown University, Stanford University, UC Berkeley and USC.
will.i.am created the foundation in 2009 to help students living below the poverty line in his hometown neighborhood of Boyle Heights/East in Los Angeles and beyond, initially to provide access to after-school tutoring, STEAM courses, robotics clubs, and computer coding classes.
He launched the foundation after appearing on The Oprah Winfrey Show, where he surprised four needy students with scholarship money.
The students had achieved top grades and were accepted to college, but their families could not afford the tuition. That life-changing support inspired the popular musician and activist to expand his philanthropy and start funding students in his hometown neighborhood.
To launch the American Dream Fund initiative, Apple, GoFundMe and Zynga provided key financial, logistical and promotional support.
Zynga pledged to provide career day and internship opportunities for i.am Angel Foundation program high school and college students.
The GoFundMe kickoff campaign has also secured donations from Apple, Zynga, Angela Ahrendts, Tim & Nancy Armstrong/Armstrong Angel Foundation, Marc Benioff, Solina Chau, Coca-Cola, Ron Conway, Tim Draper, Lady Gaga, Laurene Powell Jobs, Dean Kamen, Andrew Liveris, Yuri Milner, Paramount Pictures, Mark Pincus, Haim Saban, Anthony Scaramucci, will.i.am and Oprah Winfrey.