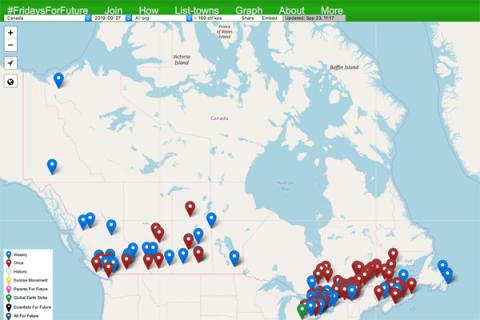 One hundred and sixty-nine events are currently scheduled to take place across Canada as part of the massive Global Climate Strike movement happening on Friday, Sept. 27, according to environmentalist organizer website Fridays For Future Canada (FFFC). FFFC says there are currently 6,253 events schedules in 3,150 towns and cities around the world taking part in the Global Climate Strike day.
The events, which are happening across all 10 Canadian provinces as well as the Yukon and Northwest Territories, include a vast array of climate crisis protests, from meet-ups in front of Lethbridge, Alberta's town hall to gatherings at Victoria Park in Halifax, Nova Scotia and a meeting at the parliament building in Victoria, British Columbia.
According to the Global Climate Strike website, "Young people have woken up much of the world with their powerful Fridays for Future school strikes for the climate. As we deal with devastating climate breakdown and hurtle towards dangerous tipping points, young people are calling on millions of us across the planet to disrupt business as usual by joining the global climate strikes on September 20, just ahead of a UN emergency climate summit, and again on September 27. Together, we will sound the alarm and show our politicians that business as usual is no longer an option. The climate crisis won't wait, so neither will we."
Greta Thunberg, the 16 year old Swede who is largely credited with starting the youth climate strike movement in 2018 will be in Montreal, Quebec on Sept. 27 for that city's Global Climate Strike event. A number of Montreal-area universities, colleges and schools are cancelling classes so students can participate in the strike.
Youth activists have been organizing their protests through intermediaries such as Fridays For Future, which act as sort of online bulletin boards where activists can both find out about and create their own climate-support events. FFFC's grassroots approach allows it to touch on the many varied climate crises which need support.
"We're not doing top-down messaging, nobody is getting paid anything, we're just finding ways to keep the youth mobilized and connected to each other through the website and social media," FFFC supporter Cathy Orlando told Samaritanmag in May. "And pushing those who really want to get connected with other youth towards Climate Strike Canada that's developing."
The United Nations' Emergency Climate Summit is expected to announce "potentially far-reaching steps" to combat the current climate crisis, including developing the technical and financial support to achieve carbon neutral status, strategies to eliminate the use of coal burning power development, as well as land conservation and sustainable ocean programs.
"The best science, according to the Intergovernmental Panel on Climate Change, tells us that any temperature rise above 1.5 degrees will lead to major and irreversible damage to the ecosystems that support us," said United Nations Secretary-General António Guterres, in a statement. "Science tells us that on our current path, we face at least 3-degrees Celsius of global heating by the end of the century.
"The climate emergency is a race we are losing, but it is a race we can win."
Nike SF-AF1