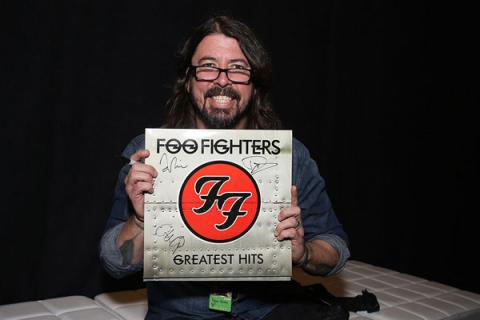 Unique memorabilia from the likes of Lady Gaga, Beyonce, Adele, Stevie Nicks and many more high profile musical acts are up for auction right now to support the Grammy Foundation and MusiCares.
While Adele and Beyonce were the big winners at the 59th annual Grammy Awards held Sunday night (Feb. 12)  at the Staples Center in Los Angeles, the charitable Grammy Foundation is using the awards to kick off a series of auctions to fund the causes it supports.
More than 100 items are currently up for auction via eBay to support the Grammy Foundation and MusiCares.
The Grammy Foundation was established in 1988 to "cultivate the understanding, appreciation, and advancement of the contribution of recorded music to American culture." Some of the programs it sponsors include Grammy Camp, Grammy Career Day and Grammy Signature Schools. The foundation also supports music education and has an annual music educator award.
MusiCares, meanwhile, is a service that provides a critical assistance safety net for music industry people in their time of need. Established in 1989, MusiCares helps in a wide range of ways from medical and dental assistance to financial aid and addiction and mental health support.
Some of the items available for auction include:
A Beyoncé signed and framed 57th Grammy poster. This item is currently at $740 USD ($967.37 CAD) from 42 bids.
A RhythmTech Tambourine signed by Fleetwood Mac's Stevie Nicks. This percussion instrument is at $760 USD ($993.51 CAD) from 32 bids.
Two VIP wristbands to attend Coachella 2017, week two. The bidding for these is currently at $1,125 USD ($1,470.66 CAD) from three different bids.
An autographed vinyl copy of the Foo Fighters' Greatest Hits that's currently at $510 USD ($666.70 CAD) from 19 bids.
A Britney Spears signed and framed Rolling Stone Magazine cover. This is currently at $660 USD ($862.78 CAN) from 19 bids.
A signed and framed vinyl copy of Adele's 19 album. This has generated $670 USD ($875.72 CAN) from 19 bids

A Lady Gaga signed and framed vinyl copy of her The Fame album. This has attracted $1,026 USD from 19 bids ($1,341.03 CAD).
A Pitbull signed and framed Rolling Stone Magazine starting at $300 USD ($392.12 CAD). This currently has no bids.
The closing date for all the auction items is Feb. 23, though bidding for a number of items will end sooner than that date.
Air Jordan 1 Retro High OG "Board of Governors" White/Black-Royal Blue