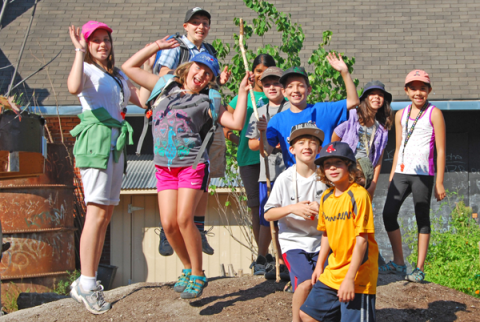 Consuming can support sustaining. That's the goal of More Than Just a Brew, an evening to sample specialty coffee, tea and baked goods in support of Evergreen's outdoor education efforts, including curriculum-based school programs.
Evergreen, which recently won the 2014 Not-For-Profit (Small/Medium) Nature Inspiration Award, offers children — many from underprivileged neighbourhoods in Toronto — a day of activities and education to foster an essential connection with nature.
More Than Just a Brew will be hosted by Centennial College students at Toronto's Aroma Espresso Bar  (562 Bay St.) from 7:30 to 9:30 p.m. today (Nov. 17). Admission is $10 and all proceeds will go to Evergreen — a national charity that makes cities more livable by bringing communities and nature together for the benefit of both. 
More than 20 sponsors are involved. They'll be specialty coffee and tea tastings and inventive demonstrations for repurposing coffee grounds for beauty and household uses. Several local bakeries will showcase their goods, raffle draws will be held and entertainment will be provided by singer/songwriter Braeden Mitchell. Full size beverages are also available with a portion of the proceeds donated to Evergreen.
"As cities across Canada grow, the challenges and opportunities grow with them," Evergreen chief executive officer Geoff Cape — who will attend the event — said in a press statement. "Eating locally grown food is one of the most powerful ways you can have a positive impact on your health, your city and your environment."
Evergreen's on-the-ground work improves the health of communities and urban spaces and seeks to create the next generation of environmental advocates. It has planted 25,000 trees, revitalized 97 schoolyards and invested more than $4 million into the local food economy over the past year, it says in the release.
Evergreen holds workshops and camps and is involved in school programming to give children hands-on experience in learning about their world.
Its Evergreen Brick Works headquarters in Toronto hosts a variety of workshops throughout the year as well as a Green City Adventure Camp program that offers four- to 10-day summer camp sessions for kids aged six to 17 to help them uncover the wilderness that lies beneath the urban landscape. 
Teachers are invited to bring classes to the Brick Works and use its natural, ecological and physical architecture to connect students to nature, get them active and cultivate their ecological literacy.
Evergreen's Watershed Champions program is designed to inspire and equip elementary and intermediate classes across Canada to learn more about their local watershed. It provides teaching tools and presents annual awards to recognize outstanding achievement in watershed education and action.
Evergreen staff members also act as consultants to help plan and design school grounds that balance fields and open space with variations in topography, ground surface and vegetation. The goal is to combine built and natural features with a range of elements to provide students with different looks, sensory experiences and play opportunities in every season.
Evergreen received $3.83 million in donations and $1.87 million in government funding last year.
Pharrell adidas NMD Hu Black GY0093 Release Date