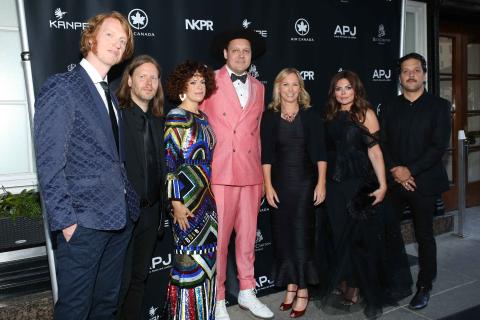 With the 50th running of the Canadian Grand Prix at Montreal's Circuit Gilles Villeneuve underway, Artists for Peace and Justice held its inaugural charity event in Montreal June 8 at the Ritz-Carlton, raising $250,000 for education initiatives in Haiti, in partnership with KANPE, the charity co-founded by Arcade Fire's Regine Chassagne.
"After celebrating our tenth APJ anniversary in Toronto this past fall – and over $30M raised to build a high school that allows 3500 students annually a chance at an education they wouldn't otherwise have had – we thought it was only fitting to expand our Canadian roots and bring this incredibly important evening to Montreal where the Haitian community is so strong," Natasha Koifman, APJ Canadian board chair, U.S. board of directors member and gala co-host, said in a statement.
The gala included a live auction that includes prizes like a private dinner catered by Chef Paul Toussaint, a three-day trip to New Orleans, including VIP access to Krewe du Kanaval parades and parties, which generated over $75,000 from a winning bidder, and a Kate Moss painting by artist Anthony Ricciardi.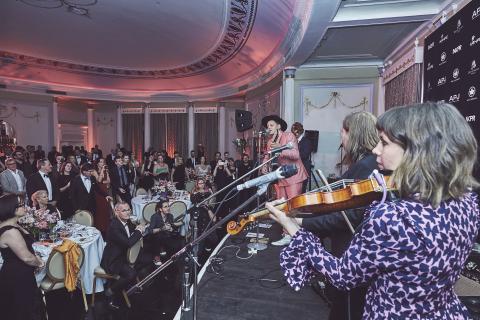 Arcade Fire, who also performed for the event, received the Peace and Justice Activist Award for their work to support families in Haiti.  Past honorees include Sean Penn, Susan Sarandon, Jackson Browne, and "Property Brothers" Drew and Jonathan Scott.
"Their connection to this organization and other organizations goes back so long and the effort is herculean and certainly appreciated by everybody," CBC radio host and APJ Canadian board member  George   Stroumboulopoulos, who co-presented the award with Anglade, said in a statement.
APJ was launched by Canadian screenwriter and director Paul Haggis to help the people of strife-torn Haiti. The organization will use the proceeds to help young people receive access to an education through the KANPE Foundation, according to the press release.
Founded in 2010 by Chassagne, whose late mother was Haitian, and Dominique Anglade, whose parents fled Haiti, the KANPE Foundation promotes health & nutrition, education, agriculture, entrepreneurship, leadership and local infrastructure.
Their charity work is focused on helping vulnerable families in the Central Plateau region of Haiti, and in the community of Baille Tourible, which has been adversely impacted by reduced agricultural production, a 2011 cholera epidemic, anti-government protests and clashes and chronic poverty.
The work of the KANPE Foundation has allowed free access to a medical clinic serving over 11,000 local residents, supporting 550 families toward financial independence by establishing micro businesses, providing around 3300 farm animals, training in livestock farming and the purchase of a corn and millet mill for the village population.
Besides performing in Haiti, Arcade Fire also shot a music video in 2013 for their single, "Just a Reflektor," with a production crew from Cine Institute in Haiti, a film school that works to develop the local film industry by providing training and jobs.
"This collaboration not only enabled Arcade Fire to produce an amazing and unique music video, but also demonstrated their extraordinary commitment to Ciné Institute's mission and to the development of Haiti's media industry," Cine Institute says on its website.
(Please support Samaritanmag's original journalism by making a PayPal contribution or EMT transfer using  info@samaritanmag.com so we can increase the amount of content and writers we hire. Samaritanmag is the anti-tabloid, covering good people trying to change bad things. Let's make this thing bigger than TMZ.)
Supreme