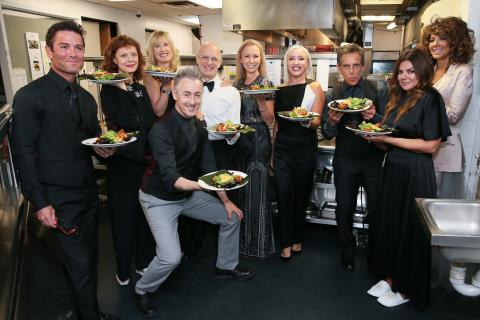 There's a big "Thank you Toronto" on the main page of the Artists For Peace and Justice (APJ) website.  If you click "celebrating 10 years," it takes you to a page thanking two specific individuals, one, Boston-based Hari Ravichandran, the founder and CEO of Jump Ventures, who pledged $330,000 ($250K USD) towards a science laboratory at the Academy for Peace and Justice in Port-au-Prince, Haiti, through the Ravichandran Family Foundation.  The other is Toronto's Natasha Koifman.
As the head of the eponymous publicity firm, NKPR, and a chair of Artist For Peace and Justice, she is the engine that helped raise a staggering $30 million since Oscar-winning screenwriter, director and fellow Canadian Paul Haggis launched the charity a decade ago to help the people of Haiti — the world's poorest nation.  
Headquarted in New York, it "works in direct partnership with communities in Haiti and around the world, creating pathways out of poverty by expanding access to education and providing training in creative industries."
"The Board of Directors of APJ commend our dear colleague Natasha Koifman and her entire NKPR team for 10 years of dedicated service," it reads. "Natasha's tireless efforts to provide life-changing education to the children of Haiti makes us all and the world a better place. Just as her firm's motto is Don't Just Talk, Say Something, so clearly is her commitment to helping others; she doesn't talk about it, she just does it. We love you, Natasha!"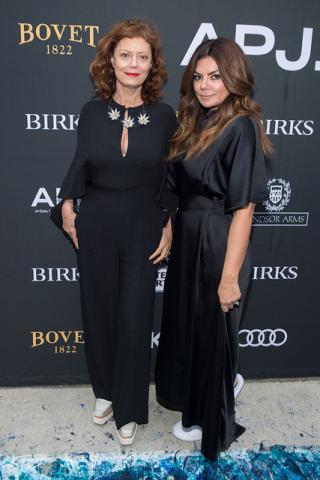 Over the decade at the annual Artists for Peace and Justice Festival Gala, presented by Bovet 1822 during the Toronto International Film Festival (TIFF), Koifman helped raise that immense $30 million figure. This year alone it topped  $1.4 million, a record for APJ.  The event is a small, costly dinner at which several individuals, ranging from high profile actors and musicians to business philanthropists, are honoured for their humanitarianism, but in between the award-giving is a fun, often boisterous, money-parting finger-pointing live auction where items can go for tens of thousands of dollars (from set walk-ons to exotic trips).
This year, it was co-hosted by Ben Stillar and Susan Sarandon, co-chaired by Koifman and Zoomer magazine's editor in chief, Suzanne Boyd, the Peace and Justice Award to Drew and Jonathan Scott of Property Brothers fame; the Lifestime Achievment Award to Harry Belafonte (via video feed); and APJ Changemaker Award to Toronto real estate developers Kate and David Daniels.
Of course, the key to raising that much money is the celebrity factor, but not just any famous face — ones whose wealth matches their heart.  Many people are in it for the long haul and travel to Haiti too, with APJ, to see the work they are doing there. For instance, Stiller has met the students at the Academy for Peace and Justice; and Jackson Browne has recorded a project with Haitian musicians at the APJ Recording Studio.
Koifman, who has had her own jewelry and perfume with proceeds going to APJ, talked to Samaritanmag about her fundraising efforts and how she can bring get more people — just regular folks without big profiles and big bank accounts — to get involved.
The gala has raised $30 million. That is remarkable and incredible.
It's a big number. It's our 10-year anniversary with Artists For Peace And Justice.  We started the organization, our very first event, during the Toronto Film Festival.  It's an emotional year because when you look back to the last 10 years and everything we've been able to accomplish, $30 million later, we have 3000 children in our school; we celebrated three graduating classes; we built the very first free high school in Port-au-Prince.  I look back at photos and I think back to everything we did and I'm like, "Wow, at the end of the day, you can feel really proud of what we've been able to do for others."
I attended last year. It's a very small intimate evening. Fun to see Ben Stiller bidding on concert tickets and meet 'n' greet with Paul McCartney.
I think he was bidding against Kate Daniels, and then they both decided to go. It's super fun.  One of our auction items this year  was to have dinner and meet with Jackson Browne in his studio in Los Angeles  That's really cool, or through [actor] Yannick Bisson do a walk-on role on Murdoch [Mysteries] which is one of the longest standing Canadian TV series.  Also [radio host] George [Stroumboulopoulos] will host 20 of your friends at his house for a party.  We have really fun packages, It's such an intimate event, it feels inclusive and everyone feels like they're really a part of it, and they are.
Toronto has helped truly build this organization. It's something that we can all be proud of.  Look at [actor] Cuba Gooding Jr., he got up there and he's like, "I love Canada," and he started singing the national anthem.  Of course, he had to say, "Show me the money" [the famous line from the movie Jerry Maguire] because it's so ingrained in who he is as a person, but it is fun.  I think that's the core of what we try and do with that event is we certainly raise a great amount of money, but we have fun doing it and we want people to experience that as well.
That said, it is small; it is costly; it is made up of people that have a lot of money and can bid tens of thousands of dollars for an experience like that.  Would you ever consider expanding it or do an ancillary one?  For me, I can't afford a lot but I did get caught up in the giving spirit, you could say, at the end of the gala when you can pledge $1000 to send a child to school. If you had a bigger event with people like me with a decent income to get caught up in it, then you could send a greater number of kids to school.
We want to actually. That is how APJ started. Our first event was a cocktail event and it was much more inclusive. We raised $50,000.  Fast forward, a lot of our events now raise between a million-and-a-half and $2 million dollars in one evening, but it is about awareness and it is about inclusion, so it is absolutely something that we're looking at.
We sponsored the Caribbean Film Festival that happened at the end of September.  They did an entire Haiti evening.  Tickets for that were, I think, $7.  We're really trying to expand.  We've expanded our board of directors for Canada.  Those are some of the programs that we're looking at.  It used to be the Canadian board was four of us.  We're all volunteering, and you're trying to maximize your efforts, but that's definitely part of the goal.  I'd like to see more of that, actually.
As opposed to people thinking they're donating towards a big pool of money for an organization, if you know that $1000, $500, allows one child to do such and such, it is more appealing, more personal. It goes back to the sponsor-a-child programs our parents did growing up where we'd receive a photo and information about the child.
For sure. You feel that connection.  It's interesting, a friend of mine made a donation, he's like, "I'm really sorry but all I can give is $500."  I said, "Do you understand how far $500 can go in Haiti?"  Children are living on a dollar a day.  With $1000, you're sending a child to school for an entire year; they get their first warm meal of the day; they get a uniform; they get a sense of dignity that they just don't have in Haiti.  It's truly such an impoverished country. It's an hour and half away from Miami, but kids are still dying of malnutrition.  So whatever we can do to help, we need to do that.  I love what you're saying because I feel the way you do. We just need more resources to be able to do that.
(Please support Samaritanmag's original journalism by making a PayPal contribution or EMT transfer using  info@samaritanmag.com so we can increase the amount of content and writers we hire. Samaritanmag is the anti-tabloid, covering good people trying to change bad things. Let's make this thing bigger than TMZ.)
Nike Air Jordan Retro 1 Red Black White - Buy Air Jordan 1 Retro (white / black / varsity red), Price: $60.85 - Air Jordan Shoes