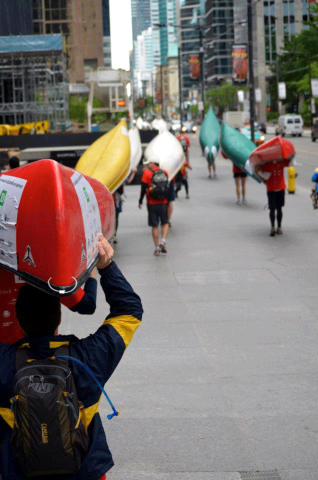 Seeing 120 people along Toronto's Harbourfront with canoes strapped to their backs this Saturday will be an odd sight for sure, but the grueling 15-kilometre paddle and portage is a fundraiser for Amici Camping Charity which sends children from low-income families to summer camp. The 8th annual Canoe Heads hopes to raise $100,000, enough for 100 kids to attend one of 32 Ontario camps for two weeks. Once selected, they can go every year, if they want.
To date, Canoe Heads for Kids has raised more than $270,000 and sent more than 275 kids — ages 7 to 17 — to camp, many of whom had difficulty in school, struggled with obesity, were bullied and had trouble making friends before camp, but have had an incredible transformations since, according to the Canoe Heads press materials.
The 2014 Canoe Heads begins May 31 at 12:45 p.m. with Amici Camping Charity benefiting campers sharing their stories at Harbourfront Canoe & Kayak Centre. Participants begin the portage, parading along Queen's Quay, past HTO park and Bathurst St., along Martin Goodman trail and arrive at Sir Casimir Gzowski Park around 4:30 p.m.. Follow the route here.  From there, they paddle back to Harbourfront Canoe & Kayak Centre.
Amici Camping Charity executive director Kate Horton did a Q&A with Samaritanmag about the concept, the kids, the money, the permits and the weather.
How did the idea for Canoe Heads originate?
"Canoe Heads for Kids was started by a group of camp friends [Stuart Snyder, Willie Macrae and Billy Anderson] who wanted to give back and provide camp experiences to disadvantaged kids. Recognizing the unique and lasting impact that camp has had on their lives, they wanted to do something special to raise funds and awareness for Amici Camping Charity, which sends children from low-income families to camp. The first Canoe Heads for Kids event was a 40 kilometre paddle and portage that spanned the entire Toronto waterfront from the Beaches to the Humber River. As the event has grown over the years, we have tried make it more accessible for everyone, and encourage repeat participants. This year's group will be travelling 15 kilometres, paddling and portaging  between Harbourfront and the Humber River."
How is the money raised?
"This year we have 15 amazing team captains who've each recruited camp friends to join them in a one-day canoe trip. Each participant sets their own goal for pledge-based fundraising. Most participants raise $1,000 or more — enough to send an Amici camper for a two-week camp session."
How are the kids/recipients of the summer camp experience determined?
"Potential campers are referred to Amici Camping Charity by community organizations, teachers, social workers, anyone who can vouch for the child's suitability for camp and the family's need for support. Each family completes an application form, available on our website www.amicicharity.org, and then we have a wonderful team of volunteers, The Campership Committee, who spend a lot of winter hours reviewing and screening each applicant profile. Once a camper is approved for funding, we match him or her with one of 33 different accredited partner camps in Ontario. 
"The best part about Amici Camping Charity is that once a child is sponsored, we will continue to support their camp experience for as many summers as they wish to attend. Most of our campers return to their camps for 3 to 5 years in a row and many senior campers have an option to participate in advance leadership programs or wilderness trips.  As our Canoe Heads founders have shown, camp is in you for life."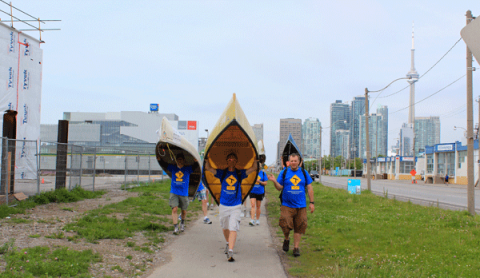 Are there permits or anything that need to be obtained from the City of Toronto in order to portage across the city?
"Yes. We have permits from The City of Toronto Parks department, Toronto Port Authority and we also file notices with Toronto Public Health, and the Toronto Police Service. We are very lucky to have an amazing  sponsor and partner, The Harbourfront Canoe & Kayak Centre (www.paddletoronto.com), who donates boats, equipment, and provides all kinds of invaluable event support, including letting us use their lawn for the start/finish area. This year, the finish line features a family camp celebration zone with crafts and activities for kids to enjoy as cheer participants crossing the finish line.
Is it better in the sunshine or if it rains?
"We've had all kinds of weather over the years. As campers, we like to say that there's no such thing as bad weather — only bad clothing!"
Nike Air Max 200