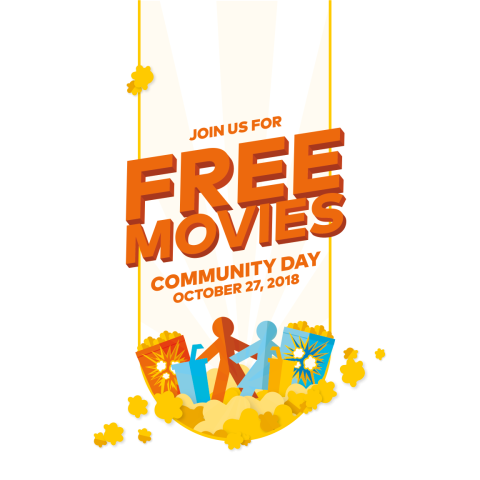 Canadian cinema giant Cineplex Entertainment on Oct. 27 will hold another day of offering free movies as part of its annual Cineplex Community Day initiative, including Transformers: The Last Night, Book Club and Sherlock Gnomes.
Canadians will be able to take in free movies at a local Cineplex theatre, with discounted food and drinks. Visit Cineplex.com/CommunityDay to see participating theatres and show times.
Proceeds will go to the WE charity, a Cineplex charitable partner that aims to empower and support young people worldwide, and was founded by Toronto brothers Craig and Marc Kielburger.
"Community Day is a great opportunity for families and friends to enjoy some quality time together in support of a great cause," Ellis Jacob, president and CEO of Toronto-based Cineplex, said in a statement. "WE is dedicated to inspiring and empowering our youth and as one of the country's largest employers of young people, we are proud to play a continuous role in positively shaping their futures.
The free film choices this year include Paramount Pictures' releases like Sherlock Gnomes, Daddy's Home 2, Transformers: The Last Knight, Teenage Mutant Ninja Turtles: Out of the Shadows and Book Club. Besides Paramount, Cineplex will also receive products from Mars Canada and Wrigley Canada to stage its Community Day initiative.
Cineplex theatres will open at 9:00 AM on October 27, with free tickets available on a first-come, first-served basis. All theatres will return to regular programming in the afternoon.
Cineplex is also a sponsor of We Day, WE Charity's signature youth empowerment event. "Community Day brings families together and gives them the opportunity to do good by creating impact through their movie-going experience," said WE's Craig Kielburger.
According to its web site, "WE Charity carries the power of WE globally, empowering communities to lift themselves out of poverty through our holistic, sustainable international development model, Free The Children's WE Villages."
Cineplex has shown its philanthropy through monetary donations, offering charities group screenings at discounted ticket prices, having employees support local events, offering scholarships to children of employees, and its sustainability programs. That includes shrinking the size of cinema tickets to reduce paper waste, and switching from single-use plastic to compostable straws as a short-term alternative before developing a sustainable non-plastic straw over environmental concerns.
(Please support Samaritanmag's original journalism by making a PayPal contribution using the email info@samaritanmag.com so we can increase the amount of content and writers we hire. Samaritanmag is the anti-tabloid, covering good people trying to change bad things. Let's make this thing bigger than TMZ.)
nike air presto 2017 womens shoes black Fresh Perspective DC7392-300 Release Date