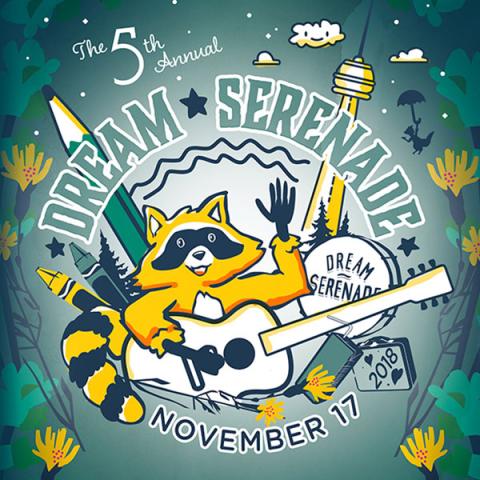 City and Colour and Barenaked Ladies will headline Hayden's fifth annual Dream Serenade concert to benefit the Beverley Street School and other special needs related organizations around Toronto.
Taking place Nov. 17 at Roy Thomson Hall in Toronto, the feel-good concert will also feature Rural Alberta Advantage, Owen Pallett, Hayden, Weaves, Iskwé and "surprise special guests."
Created by veteran indie rocker Hayden Desser and his wife, production designer Christie Greyerbiehl, the annual Dream Serenade event gathers together a who's who of Canadian indie rock (and sometimes international) talent for the special one-night event. Past performers have included the likes of Feist, Gord Downie, Broken Social Scene, Sarah Harmer and Sloan.
The Beverley Street School is a member school of the Toronto District School Board with a special focus in the educational needs of students who have a developmental and /or physical disability. In addition to supporting the school, proceeds from the Dream Serenade also supports the Family Relief Respite Fund, which provides relief funds of up to $200 for families who have children with developmental or physical disabilities. Dream Serenade funds are also used for a summer camp bursary which supported more than 50 families this past summer to access camps and special programs.
Desser and Greyerbiehl's daughter is a student at the Beverley School. Desser told Samaritanmag what the school does is "magical" during an interview in 2014.
"There definitely are not a lot of schools like this in Toronto," he said. "If you ask me, I believe Beverley is an anomaly. It's not an integrated school, so all of the children in the school have developmental and/or physical disabilities. There are a few schools in the public school system where there will be one classroom or two classrooms of special needs children and then they're integrated into the rest of the school for gym class or for recess or certain activities, so that's one style of classroom for these children. But Beverley's its own thing within the school board. From the second we walked in there, we knew it was just… it's sort of cheesy word, but magical. It really is a magical place and it's just been incredible for our daughter."
Tickets go on sale Sept. 14.
Please support Samaritanmag's original journalism by making a PayPal contribution using the email info@samaritanmag.com so we can increase the amount of content and writers we hire. Samaritanmag is the anti-tabloid, covering good people trying to change bad things. Let's make this thing bigger than TMZ.
adidas superstar damen glitzer silber