With 46 consecutive seasons of charitable giving behind it, the CP24 CHUM Christmas Wish, which brings toys and financial aid to needy families across the Greater Toronto Area each December, has become as much of a tradition as the holiday it celebrates. It is on target to collect and distribute 75,000 toys.
And while the success of any charity is always bittersweet, tens of thousands across the region and across the decades have had happier Christmases because of the program, which uses three of its Bell Media-owned broadcasting outlets — radio stations 104.5 CHUM FM and TSN Radio 1050 and TV news network CP24 — to appeal for public support.
Multiple major corporations, notably RBC (a partner for 45 years) plus LoyaltyOne/Air Miles, Honda and others help top the coffers through volunteering, fundraising drives and by providing accessible drop-off sites for the public donating new unwrapped toys.
"Last year, Loyalty One/Air Miles donated $140,000," program manager Julie McLean tells Samaritanmag adding that while Air Miles has been supporting the CP24 CHUM Christmas Wish "for years and years," the organization was recognized last year as an official partner.
"Plus RBC just opened their 200th branch in the GTA," she says, "so that's huge for us."
With its 47th season in full swing, the CP24 CHUM Christmas Wish is set to equal or top last year's goal, which saw some 300,000 individuals aided through the campaign's work in conjunction with Toronto Social Services, thanks in no small part to the roughly 3,000 volunteers (corporate and private) who manned morning and afternoon shifts sorting toys at the program's Mississauga warehouse.
"With many funding cuts in recent years, the CP24 CHUM Christmas Wish has become the last hope for many to be able to give a child a Christmas," the program's website states. "The CP24 CHUM Christmas Wish supplies registered charitable organizations, social service agencies, churches, and community centres with generous financial donations and new unwrapped toys. 
"In turn, these groups distribute the donations to those families, of many faiths and cultures, who require support."
Late Canadian businessman and CHUM Limited media icon Allan Waters would likely be at once heartened and saddened to know his original CHUM's Kid's Crusade Foundation, established in 1966 to assist children's charities and children in need — and tweaked in 1973 "to reflect the expansion of the foundation's work, which included providing financial assistance to adults in need" according to the website — is still very much in business.
"We have a legacy and we're like a household name," program manager McLean offers.  "There are so many people out there — former employees, dedicated and supportive radio listeners and TV viewers —and when they think of Christmas, they think of us.
"We have really engaged employees, many of whom develop these creative PSAs that really pull your heartstrings and illustrate what we are trying to do each year," she says. "One day maybe programs like this won't be necessary. But until then, it is our goal is to make sure that everyone receives something at Christmastime."
While the "it" toys have varied over the years, the simple goal of the program — to put an age-appropriate gift in the hands of needy kids at Christmas — has remained firm.
On its website, the program offers the following gift-giving recommendations: developmental toys (Fisher Price, Baby Einstein, Playskool, Leap Frog Baby) for infants and babies and board games, books, sports gear, gift cards, cosmetics, backpacks and craft supplies to kids aged 10 through 18.
Last year, the program distributed approximately 74,000 toys (including stocking stuffers) "and this number would be similar over the past few years," McLean says. As for cash donations, McLean says, "All the money that is donated to us is distributed to registered charitable agencies who apply – and we have a very rigorous application process.
"We try and accommodate as many requests as we possibly can. With that money, those agencies can put on holiday parties and create some sort of holiday experience, whether that's hosting a meal for the children and their families or distributing gift cards. And of course, we distribute toys.
"But we are really lucky to be able to work with Toronto Social Services because, in terms of the toy aspect, all the agencies that work with them must submit details on the families so they can do a background check for us. We don't actually get the names of any of the families or the children. We get a list outlining how many individuals there are in each gender and age group and we fulfill those lists accordingly."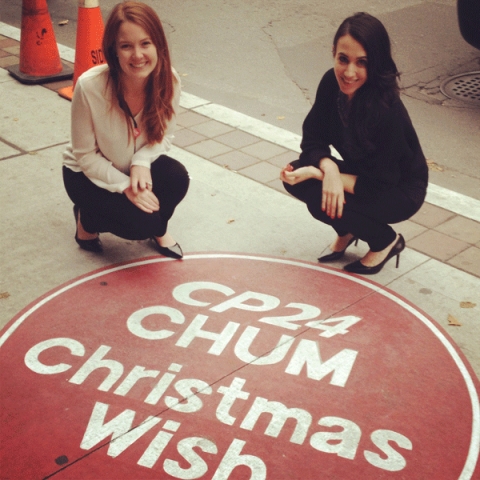 McLean adds that the web has been a big boost to the CP24 CHUM Christmas Wish fundraising efforts. "Two years ago we incorporated the online donation tool," she says, "and it has been unbelievably effective in providing people with easy access to donate to the program."
Of course, the efforts of countless would-be elves working behind the scenes has had immeasurable impact on the year-over-year success of the program and its ability to help needy families across the GTA. But McLean is happy to single out a particular hero for high praise.
"We could not do this were it not for our project coordinator Donna Dolan who works at our Mississauga warehouse. She starts with us every year around August or September — and has been with the program for 10 years — and she is so passionate, so hands-on, knows all the agencies and stakeholders and brings in a wonderful staff every year.
"They work their buns off at the busiest time of the year to make sure all the agency orders are filled in time for the holidays. She is outstanding."
Fragment x Air Jordan 1 Retro High OG Black/Sport Blue-White