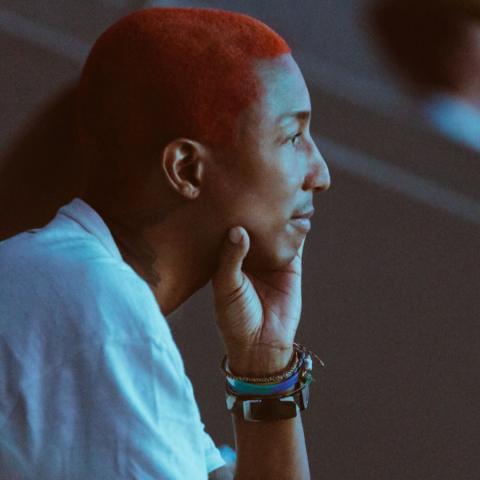 Pharrell Williams' new Black Ambition, a non-profit initiative that aims to provide a bridge to success for Black and Latinx entrepreneurs who are launching companies, is nearing its application deadline, Feb. 18.
Semi-finalists will be announced and peer circles will begin in April. Finalists will be announced and mentorship will begin in June.
"Recent events and tragedies have illustrated the always existent stark divisions in the American experience, and while entrepreneurship has long been a tenet of the American dream, marginalized people have faced long-standing barriers to success," said Williams, a Grammy Award-winning recording artist, producer, songwriter, philanthropist, fashion designer and entrepreneur, in a press statement.
"With Black Ambition, the goal is to help strengthen the pipeline of talented entrepreneurs and close the opportunity and wealth gaps derived from limited access to capital and resources."
According to The Black Ambition website, if Black and Latinx people were supported to succeed as entrepreneurs at the same rate as white people, the United States could add 1.1 million new businesses and 9 million new jobs to the economy.
Black Ambition will involve two prize competitions, The Black Ambition HBCU Prize and The Black Ambition Prize, which will culminate in one event next July.
In partnership with historically Black colleges and universities (HBCUs), The Black Ambition HBCU Prize will offer prizes and mentorship for current and former students at HBCUs as they develop seed or early-stage ideas and launch companies in technology, design, healthcare, and consumer products and services.
The grand prize winner will receive up to a U.S.$250,000 prize. At least nine additional teams will receive smaller prizes.
Teams must include at least one current HBCU undergraduate or graduate student (full-time or part-time), one recent alumni within two years of graduation, or one former student within two years of attending the institution who is a member of the founding team. This HBCU-affiliated individual must identify as Black/African/African American and/or Hispanic/Latino/Latinx.
The Black Ambition Prize will find, support and seed early-stage companies in tech, design, healthcare, and consumer products and services. Ventures must have at least one founder or co-founder that identifies as Black/African/African American and/or Hispanic/Latino/Latinx.
The grand prize winner will receive up to a $1 million (USD) prize. At least nine additional teams will receive smaller prizes. A member of the company's founding team must have a senior role to qualify.
Independent application reviewers will score eligible applications on the strength of their idea, with the strongest applicants advancing to next July's event, where they'll make presentations to judges and investors.
In addition to financial awards, entrepreneurs involved with Black Ambition will receive mentorship and feedback as well as access to peer networks, expert connections, online resources and information about business resources.
Semi-finalists will also receive cohort-based mentorship. Finalists will receive personal mentorship, opportunities for media exposure and introductions to venture capitalists, angel investors and accelerator partners.
Black Ambition's long-term vision is for inclusive entrepreneurship to be the new normal. It will be led by an advisory team led by Williams, with support from The Bridgespan Group, a global non-profit organization that advises mission-driven organizations, non-profits, philanthropists and impact investors.
Artist, designer and philanthropist Virgil Abloh is involved with the initiative and contributed the Black Ambition logo and identity concept design.
Black Ambition is supported by funds from Adidas, Chanel, Chan Zuckerberg Initiative, The Rockefeller Foundation, Tony's Chocolonely, Visa Foundation, the Ron Conway-founded SV Angel and Jonah Peretti.
Chan Zuckerberg Initiative is a charity established and owned by Facebook founder Mark Zuckerberg and his wife Priscilla Chan, with an investment of 99 percent of their wealth from their Facebook shares over their lifetime. It was founded in 2015 to leverage technology, community-driven solutions and collaboration to help solve some of society's toughest challenges and build a more inclusive, just and healthy future for everyone.
The Rockefeller Foundation advances new frontiers of science, data, and innovation to solve global challenges related to health, food, power and economic mobility. It's focused on building collaborative relationships with partners and grantees and seeks to inspire and foster the well-being of humanity by identifying and accelerating breakthrough solutions, ideas and conversations.
The Visa Foundation, the philanthropic arm of Visa, works with charitable organizations to support underserved people and communities. Its central focus is helping low-income, financially underserved micro and small enterprises around the world. It also supports broader community needs as well as humanitarian responses in times of crisis.
Mattel has released a limited-edition UNO Artiste: Nina Chanel Abney set in partnership with Black Ambition, while Tony's Chocolonely is making a Black Ambition chocolate bar. A portion of the proceeds from both products will benefit the non-profit initiative.