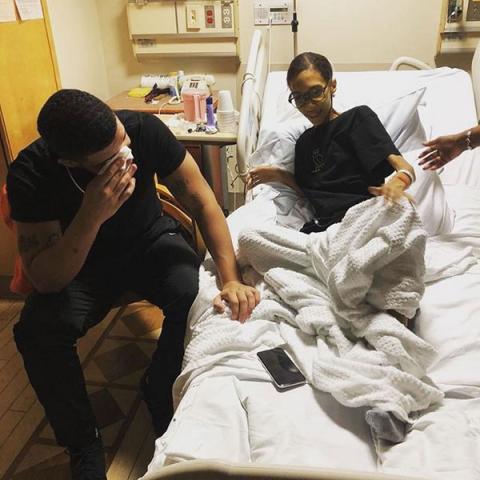 Pop star Drake is grieving the death of a fan-turned-pal he met through the Make-A-Wish foundation which provides "wishes" to children with critical illnesses. "You know how much I loved you," he wrote.
The "Hotline Bling" star posted a heartfelt note to Instagram, tagging @the.kaydiaries, also known as Kay The Queen.
"Gonna miss you a whole lot," Drake wrote. "We met through make a wish and we built a genuine bond you would text me and check on me while I was on tour and tell me positive things and share your dreams and goals. I am crying in this pic but it was tears of joy cause we just prayed for you with your father. I am sorry I missed your text on my birthday that's eating my soul right now but you know how much I loved you and was looking forward to seeing you after tour. I don't know why I am writing this on IG I just need to get it out cause it's sitting heavy on my heart. Will remember you forever K!"
Formed in 1980, the Make-A-Wish foundation is an international non-profit organization that has strong ties to high-profile musicians, entertainers and athletes who are frequently asked to meet with these children for their "wishes." The organization estimates it's granted more than 450,000 wishes since its inception.
With the release of his "God's Plan" video in February Drake has been challenging people to be nicer and better. In said video Drake's team gave away $996,631.90 to people and organizations in and around the Miami area.
Supporting sick fans is something Drake is doing with increasing frequency. The singer also recently bailed out on the MTV VMAs at New York's Radio City Music Hall to instead go to the Ann & Robert H. Lurie Children's Hospital in Chicago to meet fan Sofia Sanchez.
Additionally, in January 2018 teamed up with the Toronto Raptors basketball team to dedicate $1 million towards improving conditions of city basketball courts
Watch Drake's "God's Plan" video
Asics Onitsuka Tiger