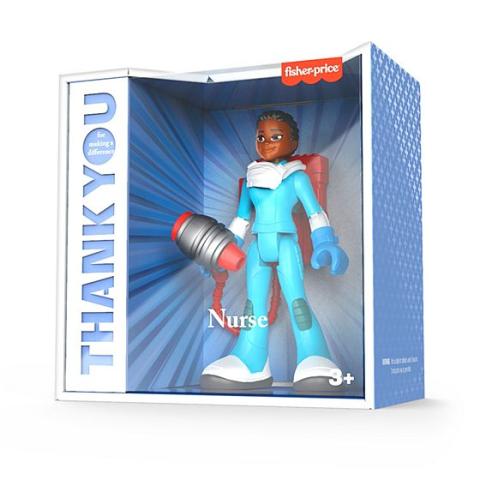 Mattel is inviting people to play it forward. The toy company has launched a line of Fisher-Price action figures honouring formerly under-recognized heroes, and it's donating the money from their sale to #FirstRespondersFirst.
The Thank You Heroes series features figures of four doctors, four nurses, four emergency medical technicians and four delivery drivers that can be purchased individually. There's also a set of five "Little People Community Champions" to round out the series.
"We're talking about those brave souls who carry on doing their jobs despite the risks in order to keep the rest of us safe, secure and healthy," it says on the page. "We salute these heroes, and we think they're pretty amazing role models for kids. Let's play their heroism forward by lending a helping hand and sharing a little gratitude."
From April 29 through May 31, 2020, net proceeds from the online sale of each of these items will be donated to #FirstRespondersFirst. They can be purchased here and cost $20 (USD) each.
#FirstRespondersFirst is a fund of the Entertainment Industry Foundation (EIF), which is dedicated to providing essential supplies, equipment and resources to frontline healthcare workers during the COVID-19 crisis.
"Our frontline health workers are the pandemic's first responders," it says on the #FirstRespondersFirst web page. "And they are lacking even rudimentary resources as they risk their own health and endure burnout, exhaustion and many other challenges on our behalf.

"These health professionals are our first responders in the fight against the coronavirus. They will also be our guides and community allies on the road to our full recovery as a healthy nation. They're taking care of us. We need to help take care of them."
EIF is a non-profit organization that was founded in 1943 and has raised more than U.S.$1 billion since then.
By mobilizing and leveraging members of the entertainment industry, as well as cultivating the support of public and private organizations and philanthropists committed to social responsibility, EIF builds awareness and raises funds while developing and enhancing programs on the local, national and global level that facilitate positive social change.
Sneakers