During the 72nd  Primetime Emmy Awards last night,  hosted at the Staples Center in Los Angeles by Jimmy Kimmel with just a few socially distanced guests popping in and out and a giant digital backdrop displaying 130 nominees live at home, or elsewhere, from 10 countries, a good portion of the winners made a point to include their thoughts on a cause, ranging from Black Lives Matter to mental health coverage to the importance of voting.
There were also pre-recorded monologues from Lena Waithe's about intersectionality, and America Ferrera about representation. And filmmaker Tyler Perry and The Perry Foundation received the Governors Award, for "outstanding achievement in the arts and sciences or management of television."  His foundation helps the economically disadvantaged in areas ranging from human rights to agriculture, education to heath. In his remarkable acceptance speech, he told a story of his grandmother's quilt and his mother's message to him, and reflects on opening his own doors and then opening them for others — Black people, White people, gay, straight lesbian, transgender, ex-cons, Latin and Asians.
The awards show, which salutes the best in television and was broadcast on ABC, also raised close to $3 million for charity. 
"For every Emmy we hand out tonight, the show that wins will donate $100,000 to a great charity that feeds children who need it — No Kid Hungry," said Kimmel at the start, and later wrapping up with the night by announcing "We raised $2.3 million for No Kid Hungry. And the Television Academy is adding an additional $500,000 on top of that for a total of $2.8 million tonight. And you could donate too," he said, giving out the web address, nokidhungry.org/emmys
The awards proceeding also included some essential workers —   nurses, teachers, farmers, truckers — "people who do so much to keep this country going," said Kimmel, handing out awards "to those who are much less essential than they are."  These were accompanied by on screen messages such as "to our 4 million educators, thank you for shaping our nation's future"
Below, Samaritanmag has assembled portions of the acceptance speeches relevant to our readers: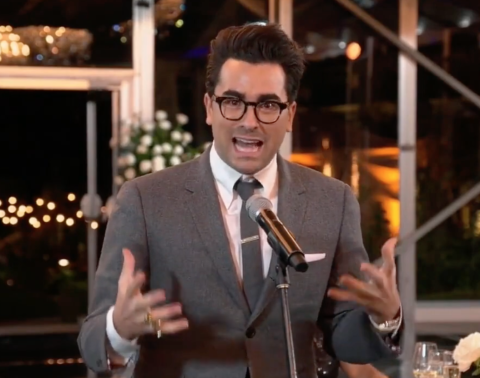 Dan Levy
Outstanding Supporting Actor in a Comedy Series, Directing for a Comedy Series (with Andrew Cividino; Writing for a Comedy Series, and Outstanding Comedy Series: Schitt's Creek
"Oh boy. Our show, at its core, is about the transformational effects of love and acceptance. And that is something that we need more of now than we've ever needed before.  I just wanted to say for any of you who have not registered to vote, please do so and then go out and vote because that is the only way that we are going to have some love and acceptance out there. Please do that. I'm so sorry for making this political, but I had to. Dad do the rest of the fun stuff."
Eugene Levy
Outstanding Lead Actor in a Comedy Series: Schitt's Creek; Outstanding Comedy Series: Schitt's Creek
"I also want to thank once again, this young man, who took our fish out of water story about the Rose family and transformed it into a celebration of inclusivity, a castigation of homophobia and a declaration of the power of love. So thank you, Daniel."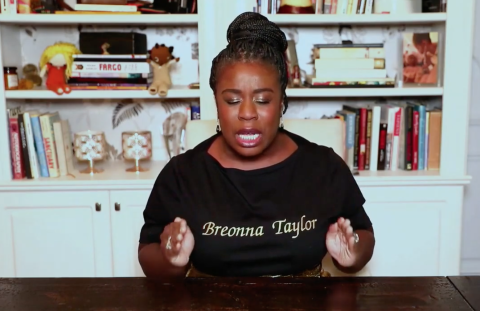 Regina King
Outstanding Actress in a Limited Series: Watchmen
"Gotta vote. I would be remiss not to mention that. Being a part of a show as prescient as the Watchmen. Have a voting plan, go to Ballotpedia.com. Vote up the ballot, please. Go to Ballotpedia.com and find out who is running in your municipal elections. It is very important. Be a good human. Rest in power RBG."
Mark Ruffalo
Outstanding Lead Actor in a Limited Series: I Know This Much Is True
"Our story is about a man. It's about family. It's about a man who is fighting for his brother who is living with mental illness. It's a story that's common throughout so much of the United States in the world today. And it asks some a big question: How are we going to deal and honour and take care of each other and our most vulnerable people? And we do that with love, and we do that with compassion, and we do that by fighting for them. And that is what we have to do today. We have to come together with love, for each other. And if you have privilege, you have to fight for those who are less fortunate, and more vulnerable. And that's what's great about America, our diversity.  And one thing I've learned in my family, from my wife Sunny, and my son Keen, and Bella and Odette, is that we are stronger together when we love each other and we respect each other's diversity. And so we have a big important moment ahead of us. Are we going to be a country of division, hatred, a country only for a certain kind of people, or are we going to be one of love, strength, and fighting for all of us? All of us have the American dream and the pursuit of life, liberty, love, and happiness, in this great country of ours. That's what we're facing right now, so get out and vote. Make a plan and vote for love and compassion and kindness."
Cord Jefferson
Outstanding Writing for a Limited Series (shared with Damon Lindelof: Watchmen
"Thank you to my therapist, Ian.  I am a different man than I was three years ago. I love you. You have changed my life in many ways. Therapy should be free in this country. And, lastly I think I would be remiss if I didn't recognize all the men and women who died in the Tulsa [race] massacre in 1921, the original sin of our show, This country neglects and forgets its own history at its own peril often. And I think that we should never forget them."
Uzo Aduba
Outstanding Supporting Actress in a Limited Series: Mrs. America
(wearing a T-shirt emblazoned with Breonna Taylor's name): "I want to say thank you Shirley Chisholm for her championship work for all people who have been forgotten, the marginalized, who she represented… and [looks down at her r-shirt] let's go change the world."  Chisholm was first African American Congresswoman and the first to run for President of the United States (1972).
Damon Lindelof
Outstanding Limited Series: Watchmen
"I knew this was never my story to tell and the only reason I'm standing here now is because of the people who are standing alongside me, the ones who are zooming and zapping in from around the world. They told their stories, and it's one of the great honors of my life to be able to accept on their behalf. And I'd like to share what I've learned from them along the way:  "History is mystery, it's broken into a million puzzle pieces and many are missing. We know where those pieces are, but we don't seek them out because we know finding them will hurt. Sometimes we caused that hurt, maybe we even benefited from it. But we have to name it before we can repair it. Be careful, be clumsy, run hot, stay cool. Be the bull in the China shop. Pick up what you broke and glue it back together, don't stop until it's great. Affirm. It's never great enough.  Descent. Be consistent. It brings paradox, never contradict yourself. And finally stop worrying about getting canceled and ask yourself what you're doing to get renewed. We dedicate this award to the victims and survivors of the Tulsa massacre of 1921. The fires that destroyed Black Wall Street still burn today. The only way to put them out is if we all fight them together."
Emmy award winning actress Cynthia Erivo intro to screenwriter, producer and actress Lena Waithe's video about intersectionality.
Erivo: "When we don't see ourselves on television, we start to feel invisible. When we do see ourselves, it reminds us that we are invincible. Our stories may seem unique to some, but they resonate with many. Our stories are your stories. Television acts as a mirror to our society, to our world. We deserve to see our own reflection Leah Waithe is an unstoppable creative force who is committed to making sure that we all see ourselves reflected. Even when the world is determined to make us disappear."
Waithe (video clip): "People are given a purpose in this life and mine was to tell stories. It's a way to connect and it's a way to help other people see themselves. Growing up. I watched a ton of TV. I was raised in a three-parent household: my mother, my grandmother and television. I remember watching A Different World and very, young Jada Pinkett said her name. She said her name was Lena James. And, of course, I'm watching it with my family and they, of course, all gasp at the same time. And it was such a moment.  I really felt like the universe was speaking to me and saying, 'Yes, you. I'm talking to you, Lena.' So I just really felt seen in a way that I hadn't ever felt seen before. I still think there's a lot more territory to be covered in terms of intersectionality with blackness and queerness. And we need to continue to tell stories that don't necessarily look like our lives 'cause that's the only way we're really going to grow as a society. I think that even if I did something wrong, or somebody doesn't like the way I do something, I reserve the right to do it my way. We've at least earned the right to tell our stories, the way we see fit."
Kimmel on the late Supreme Court Justice Ruth Bader Ginsberg:
"Ruth Bader Ginsburg was a compassionate and and tireless champion of equality and justice, who said her legacy was to make life a little better for people less fortunate than she. Sounds like pretty good words to live by to me."
RuPaul
Outstanding Reality Competition Program; Outstanding Host for a Reality or Competition Program: RuPaul's Drag Race
"All the kids get to tell their story on our show and it's beautiful, and a special thank you to the viewer and a special note to the viewer. Kiddo, I know how you feel right now. Just know that you are loved and don't give up on love. Believe in love and the power of love, ok?"
Tyler Perry
Governors Award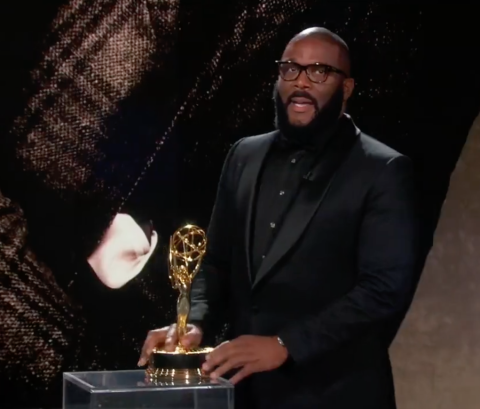 "When I was about 19 years old, I left home and my grandmother, she gave me a quilt that she had made, and this quilt was something that I didn't really care for. It had all these different colours and these different patches in it. And I was quite embarrassed by it. I had no value in it at all. When the dog got wet, I dried him off with it. When I needed to change the oill on the car, laid it on the ground. I had no respect for this quilt. Many years later, as I was walking past one of those fancy antique stores that I could finally go in and shop, I saw in a window a quilt that looked just like the one that she had given me. And as I'm in the store, wondering where that quilt was, there was an attendant who walked up to me and said, "Let me tell you about this quilt. It was made by an African American woman who was a former slave and each patch in the quilt she had put in represented a part of her life. One part was from a dress that she was wearing when she found out that she was free. Another part was from her wedding dress when she jumped the broom. And as I was hearing this story, I became so embarrassed. Here I was, a person who prides myself on celebrating our heritage, our culture, and I didn't even recognize the value in my grandmother's quilt. I dismissed her work and her story because it didn't look like what I thought it should. Now, whether we know it or not, we are all sewing our own quilts with our thoughts, our behaviors, our experiences, and our memories. Like in my own quilt one of my memories when I was about 10 years old, I remember my father standing at the door and I was wondering why he stood there so long. He was frustrated and he walked away and I asked my mother what was going on. She said he had worked all week and he was waiting for the man to come and pay him. And he never did. They needed the money at the time. And I tell you, she was so frustrated, she turned to me and she said, "Don't you ever stand by door, waiting for White folks to do nothing for you." I got to say, my mother wasn't a racist, but in her quilt, she couldn't imagine a world where her son was not waiting by the door for someone. In her quilt, she couldn't imagine me actually building my own door and holding that door open for thousands of people. In my mother's quilt, she couldn't imagine me owning land that was once a Confederate army base where Confederate soldiers plotted and planned on how to keep Blacks enslaved. And now on that very land, Black people, White people, gay, straight lesbian, transgender, ex-cons, Latin, Asian, all of us come together, working, all coming together to add patches to a quilt that is as diverse as it can be, diversity at his best. I stand here tonight to say thank you to all of the people who are celebrating and know the value of every patch and every story and every color that makes up this quilt that is our business. This quilt, that is our lives. This quilt, that is America because in my grandmother's quilt, there were no patches that represented Black people on television. But in my quilt, her grandson, is being celebrated by the television Academy."
Zendaya
Outstanding Lead Actress in a Drama Series: Euphoria
"I know this feels like a really, really weird time to be celebrating. I just want to say that there is hope in the young people out there. I know that our TV show doesn't always feel like a great example of that, but there is hope in the young people. And, I just want to say to all my peers out there doing the work in the streets, I see you; I admire you; I thank you."
Actress America Ferrera introduced by actress and activist Yara Shahidi
Shahidi: "The stories we tell on TV shape how we see ourselves and others and how we are seen can many times determine how we are treated. The dream of television is the freedom to live a full and nuanced life outside of boxes and assumptions. We continue to strive for a more complete definition of inclusivity. In this piece, America Ferrera reminds us that when TV has more voices, it's just better."
Ferrera: I was 16 years old when I got my very first audition and I was this little brown chubby valley girl and spoke, you know, like a Valley girl. I walked in, did my audition. The casting director looked at me and she was like, 'That's great. Um, can you do that again? This time sound more Latina.'  'Um, so like, do you want me to do this in Spanish? 'And she was like, 'No, no, no, no, do it in English, but just, you know, sound really Latina.'  'I am a Latina and this is what I sound like.' And she just looked at me and was like, 'Okay, sweetie, thank you, bye. 'And then I, of course, [I] told my family and they were like, 'They wanted you to speak in broken English. They wanted you to sound like a chola What did you think was going to happen? They were going to have you starring in the next role meant for Julia Roberts?' And I was like, 'Yeah.' [laughs]. That is what I thought [laughs.]' That realization for me has fueled me to create more opportunity for little brown girls to fulfill their talent and their dreams.'
Andrij Parekh
Outstanding Directing for a Drama Series (episode "Hunting"): Succession
"I want to dedicate this Emmy to all the kids whose names, like mine, are difficult to pronounce, to those who don't look like their classmates and are defined as outsiders, as high hyphenated Americans. And not simply just as Americans. This is proof that you belong, and this Emmy is ours."
Jesse Armstrong
Outstanding Drama Series: Succession
"Being robbed of the opportunity to spend time with our peers and the cast and crew, I think maybe I'd like to do a couple of un-thank yous. Un-thank you to the virus for keeping us all apart this year. Un-thank you to President Trump for his crummy and uncoordinated response. Un-thank you to Boris Johnson and his government for doing the same in my country. Un-thank you to all the nationalists and sort of quasi-nationalist governments in the world doing exactly the opposite of what we need right now. And un-thank you to the media moguls who do so much in keeping them in power. So un-thank you."
Air Jordan III (3) Black/Cement 2011