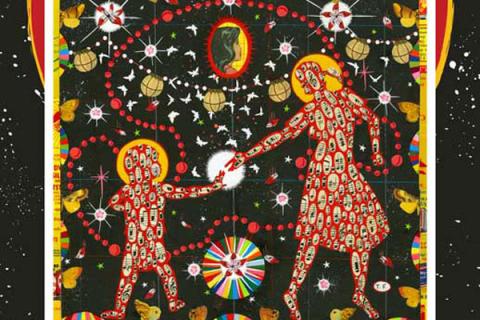 Emmylou Harris, Jackson Browne, Steve Earle and Graham Nash will be part of an all-star five-date tour this fall to support refugees in the U.S.
The Lantern Tour will feature Harris, Earle, Browne and Nash along with the likes of Mary Chapin Carpenter, Shawn Colvin, Jerry Douglas and Lila Downs,. The tour will make stops in Nashville, Washington, Collingswood, NJ, Boston and New York. Proceeds from the tour will go towards Women's Refugee Commission (WRC).
Founded in 1989, the WRC's goal is to improve "the lives and protects the rights of women, children and youth displaced by conflict and crisis." The organization's various programs serve to make sure refugees in the U.S. are safe, have their human and legal rights respected, and have a pathway towards self-sufficiency.
"Together we can help ensure that displaced women, children and youth have access to all they need to restart their lives and thrive," said Harris on The Lantern tour website.
A further post on The Lantern site cites U.S. President Donald Trump's divisive and cruel immigration policies as one of the reasons for the tour:
"The Lantern Tour brings together art and advocacy to stand with families seeking safety at the U.S. border and the nightmare that has become their existence. From separating families to detaining them to making it harder for people to claim asylum, migrant and refugee families – including children – are under attack by the Trump administration. The Women's Refugee Commission is at the front lines – at the border and in detention centers – to protect the rights and lives of women and children fleeing danger and crisis. The concerts will feature an evening of acoustic music by legends in the music industry that will allow us all to unite our voices in song and solidarity."
This is far from the first time the likes of Harris and Earle have toured on behalf of humanitarian causes. In recent years Harris has also supported refugee-related causes under the LampedUSA banner, with a similarly spirited tour in 2016 featuring the likes of Earle, Robert Plant, Daniel Lanois and Ron Sexsmith.
Plant spoke briefly in November with Samaritanmag about the 2016 Lampedusa: Concerts For Refugees Tour.
The Lantern tour dates:

October 23 Nashville, TN @ City Winery
October 25 Washington, D.C. @ Warner Theatre
October 26 Collingswood, NJ @ Scottish Rite Auditorium
October 27 Boston, MA @ Orpheum Theatre
October 28 New York, NY  @ The Town Hall
(Please support Samaritanmag's original journalism by making a PayPal contribution to info@samaritanmag.com so we can increase the amount of content and writers we hire. Samaritanmag is the anti-tabloid, covering good people trying to change bad things)
30 Winter Outfit Ideas to Kill It in 2020 - Fashion Inspiration and Discovery